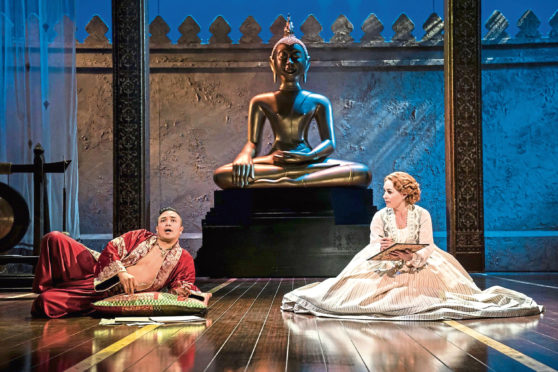 A weight of expectation comes with playing an iconic role such as Anna from The King And I.
There is also a literal weight for Annalene Beechey, because she wears a stunning dress that hits the scales at an incredible three stone.
"I wear it for most of the second half of the show," she said. "I have to put it on in the wings because it doesn't fit through doors.
"I dance in it, so when it comes to two-show days I'm glad for the 19-minute ballet scene, because I'm allowed to sit down during it.
"But standing up again becomes a real effort, because it creates a vacuum effect which makes it hard to pull myself up off the floor!"
Annalene, who has been playing the role in the West End production, is delighted to come back to Edinburgh, as the city holds fond memories.
"I was in Les Miserables the first time it came to Edinburgh, in 1993. It was my first job and I was only 19, and we spent nearly six months in the city, including Christmas and Hogmanay. I had an absolute ball.
"So I'm looking forward to coming back, and my husband and two sons are joining me."
Starring alongside Annalene is Jose Llana, who played The King in the Broadway production.
"The King And I, for me, is one of those shows that all young theatre performers fall in love with," Jose said. "As an Asian-American actor, I knew it would be in my future, and it gave me my start.
"I made my Broadway debut in it in 1996, so to come back to it is sentimental, taking it all around America and now getting to do the same in the UK."
Set in 1860s Bangkok, the musical tells the story of the unconventional and tempestuous relationship that develops between the king of Siam and Anna Leonowens, a British schoolteacher who the modernist King, in an imperialistic world, brings to Siam to teach his many wives and children.
The Rodgers and Hammerstein production is a classic from the golden age of musicals, featuring songs such as I Whistle A Happy Tune, Getting To Know You and Shall We Dance, performed by a company of more than 50 performers and a full-scale orchestra.
"It has withstood the test of time and the story of two people coming together from different cultures still holds up today," Jose continued.
"People forget how progressive Rodgers and Hammerstein were. At the centre of it is an opinionated, strong, outspoken woman, who stands up to a king and they gain each other's respect."
Appearing alongside Annalene and Jose are two young local actors, sisters Perrie and Nikita Wong, who were chosen from 22 hopefuls who auditioned at the Playhouse last month.
Perrie, eight, said: "I still can't believe this is happening. I'm so excited to be joining The King And I, especially with my sister. Making our debuts together on the Playhouse stage with this wonderful cast is beyond our wildest dreams."
And six-year-old Nikita added: "The audition day was so much fun learning the music and the dance steps, I loved it. I'm nervous, but doing it for real on stage with my sister is going to be so cool."
---
The King And I, Edinburgh Playhouse, October 18-26