As he celebrates 20 years of solo success and becoming a dad for the fifth time, Ronan Keating talks about grief, worrying less, and feeling blessed.
How does it feel to be marking 20 years as a solo artist?
It's a blessing. It's been a great experience and enjoyable to look back on the 20 years with joy and a sense of achievement.
You also had the joy of welcoming baby Coco, what's that been like?
Absolutely wonderful. She was born during a dark time, so finding positivity was important, and she was that for us. Every morning, she's just a ray of light.
One song on your new album was a tribute to Stephen Gately, wasn't it?
Yeah, The Big Goodbye, a duet with Robbie Williams. The week Stephen passed he started writing the song after hearing the news, and 10 years later he reached out to me. The first time I heard it was very emotional. I remember standing in my kitchen when Rob emailed it to me, with tears in my eyes. It was the 10-year anniversary of the day I heard it, so there was a lot of emotion.
Did Stephen's death alter your perception of life?
Absolutely, it scarred us. You just don't expect anything like that to happen to someone you know and love so much, and at such a young age, with so much living left to do. It's still hard to believe he's gone. It makes you hug your children that little bit tighter.
You'd already experienced how fragile life can be with losing your mum, hadn't you?
Yeah, I lost my mum when I was 21. That was hard, that's still hard, not having her around, especially when I look at my kids and think what they've missed out on, too.
Do you speak to them, Stephen and your mum?
I do. I can still hear what my mum might say to me, or what Stephen might say to me in situations. I often thought about it through lockdown too.
How much has your wife Storm changed your life?
She's taught me to open my eyes to the things I value, like slowing down and appreciating what we have around us. When I met Storm, we started to just stop a bit and take it all in.
How do you look after your mental wellbeing?
I think it's about listening to yourself, paying attention to yourself, and remembering it's never as bad as it feels – I've learned along the way.
Do you have any regrets?
No. I'm very happy in my skin. As long as you're happy with the place you're in – and I am.
What's the best piece of advice you've ever received?
"Your health is your wealth" was my mum's motto, and it's true. I want to watch all my kids live and travel and grow. I want to be around and the only way I'm going to do that is if I'm healthy..
What would you tell your younger self?
Have more fun! We were flat-out and took it very seriously. I enjoyed it, but it was full-on.
---
Ronan Keating's new album, Twenty Twenty, is out now on Decca Records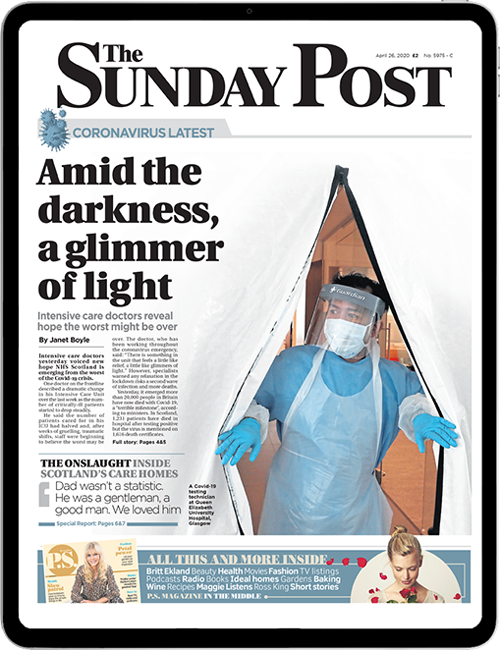 Enjoy the convenience of having The Sunday Post delivered as a digital ePaper straight to your smartphone, tablet or computer.
Subscribe for only £5.49 a month and enjoy all the benefits of the printed paper as a digital replica.
Subscribe