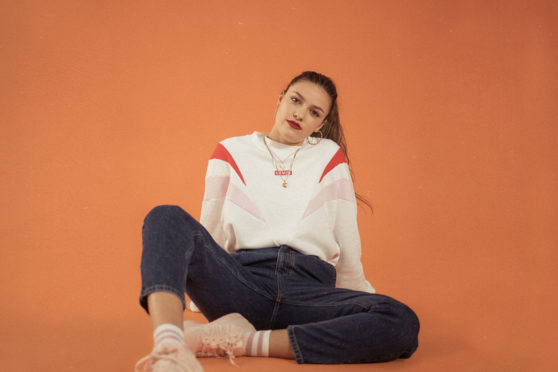 Given that Elton John and Cyndi Lauper are now confirmed fans, Bow Anderson reckons the release of her first single has been a resounding success.
The Edinburgh-born star was thrilled to get the backing of the music legends after the nerve-wracking task of launching her debut song Sweater out into the world.
And despite the coronavirus pandemic and lockdown cutting opportunities to go out and play shows, the 23-year-old can't wait to release more music.
"I'm buzzing, I couldn't have asked for the response to be any better," she says. "Sweater's existed for a fair amount of time now and the longer you leave it, the hype builds up.
"Lockdown happened and we wondered if we should wait to release it, if it might give it less of a chance. We just went with it and honestly I couldn't be happier."
.@eltonofficial showcases new music from @partynextdoor and @CharlotteOC + he introduces you to @BowAnderson. Tap in to #RocketHour. https://t.co/ogHtDjyeWs pic.twitter.com/vUfWGdFrf8

— Beats 1 (@Beats1) May 9, 2020
As well as airplay on Radio 1 and a spot as Tune of the Week, Sir Elton gave Sweater a spin on his Apple Music radio show Rocket Hour.
"That was crazy," Bow recalls. "I found it on Instagram, someone had tagged me in a post and I wondered who was talking about me. I didn't recognise the voice at first but saw Elton John was tagged as well.
"I thought, 'wait, surely that's not him' and had to compare voices. It was him!
"It's one of those pinch moments, it's what you dream of as an artist, that respect and approval from people like that. It's definitely a sign that something's gone right.
"Then I came home one day and my mum said: 'Cyndi Lauper's said something about you!'
"I don't know how she heard the song and how it got around. That's just ridiculous as well, she's another legend, it's crazy. I'm very humbled, happy and excited for more to come."
The success of Bow's first single is all the more impressive given that it's come at a time where the only gigs she's been able to do are online.
She's recently backed the Music Venue Trust with a live performance as part of the #SaveOurScottishVenues Festival.
"It's a really important thing," Bow says. "All these venues, that's where artists start off. They give you time to make mistakes without the pressure of people judging you too much.
"It allows you to develop and get your name out there a bit. If you do multiple small venues you start to get a genuine fanbase around you, people that like you.
"They're really important to start the foundation of an artist and give you the experience."
Now back at home in London, Bow spent nine weeks of lockdown back with her family in Edinburgh.
"I went up thinking it would be a couple of weeks," she laughs. "It was quite hard because I'm not very good at staying indoors. I've never been like that.
"But I'm trying to look at the positives and it was really nice being able to spend time with the family. I've not been to Scotland for more than ten days maximum for about five years. Going back for nine weeks was very strange but nice!"
Playing on her old piano at home, Bow ensured her creativity continued unabated.
"It was out of tune but it does the job. I used that to dabble. Music's like therapy for me, if I'm feeling a certain way I can just sit at the piano and play and sing and it makes me feel better.
"I've not put loads of pressure on myself during lockdown. If I did I'd be an absolute stressball and probably wouldn't gain anything from it.
"I've done some Zoom sessions with guys that I work with regularly. It was strange at first, very alien to do a session online, but it's been alright. It's adapting to a scenario we've never been in before and trying to make the most of a bad situation."
Bow is no stranger to having to alter plans and take a different route.
Before she fell in love with music and performing, she was on course to represent Great Britain in trampolining.
Enrolled to dance classes when she was three, and involved in a number of sports, it seemed that her athletic ability would lead to great heights.
But in a freak trampoline accident in her late teens, Bow dislocated her leg.
Suffering such a serious injury proved to be a turning point, and she switched her attentions to performance school, where she was encouraged to sing while being unable to dance.
"I'd always loved music but was very critical of my voice," she admits. "I'd compare myself to massive artists at the time.
"Adele had just released Someone Like You, Sam Smith was arriving… all these artists with amazing voices were coming out and I was comparing myself to them. I was very harsh on myself!
"Then I just got to a point where I decided music was for me and fell in love with it. I watched Dreamgirls and that was my first proper introduction to Motown.
"I went back and looked at Aretha Franklin, Etta James, Otis Redding, the real deal soul singers. I went to London when I was 19 and now here we are!"
Bow describes Sweater as the "blueprint track" for her style, taking elements from the classic Motown and 60s soul sound.
"I didn't just want to do it like how it was, because it's been done and I wanted to try to make it fresh and a bit more current," she adds.
"Sweater was the first sound where it has the soul reference but a fresh, new, kind of hip hop and pop influence. We did think about other releasing other tracks first, but we always came back to Sweater."
Bow admits it irked her as an artist for the past couple of years not having something tangible for people to listen to.
"I think the highlight so far is now literally having something out there," she says. "Being an artist and not having something for people to listen to is quite frustrating.
"But now, to get such a positive response is a bonus. I've got more singles coming out this year. I was meant to be doing a support tour and festivals but with everything that's going on I'm not sure when I'll be able to play live.
"I'm working towards an album and hopefully some more gigs once everything calms down."
---
Sweater is available to stream now