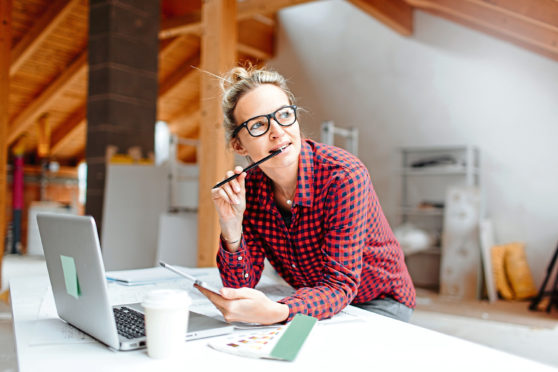 As the housing market stagnates in some areas, many homeowners are choosing to improve their existing property, rather than move – and new research suggests you can add significant value by doing so.
"Over the past few years, house price growth has slowed, so homeowners have turned to other options to add value to their homes – with renovations being a clear opportunity," says Chrysanthy Pispinis of Post Office Money, which conducted the survey.
Before you get started, though, it's important to carefully weigh up all the costs involved…
How much are homeowners spending?
According to the research, nearly two-thirds of homeowners have made improvements to their properties over the past five years, spending £14,015 on average.
The costs can stack up differently depending on whether you're using savings or borrowing.
Three-quarters of home-improvers surveyed used their savings, while one in six opted for a personal loan or credit card, and one in 16 (6%) used equity release or mortgages.
A separate study also suggests some costs may be increasing. Shawbrook Bank's analysis shows the average size of a home improvement loan has increased by 16%, when comparing the first quarter of 2019 with the same period for 2018. This could be due to fluctuations in sterling and increases in the cost of imported goods.
How much can home improvements add to the value of a property?
Analysis found properties with certain home improvements were on the market for around 19% higher than the average asking price.
However, it's important to bear in mind that the price a homeowner wants for their property isn't necessarily the price they're going to get – and what may be a desirable renovation for buyers in one part of the country may be less attractive elsewhere.
If you're renovating with eventually selling up in mind, estate agents may be able to give some pointers on what features local buyers are looking for.
Post Office Money's research found that properties boasting a landscaped garden were particularly likely to have much higher price tags than average.
Such homes, as well as others with attractive features, tended to be on the market for as much as 77% above average house prices.
What's the best way to keep on top of the costs?
Paul Went, managing director of Shawbrook Bank's consumer division, recommends setting a clear budget.
Take time to explore different financing options to decide which is best for you – whether it's by using savings or by borrowing. If it's the latter, shop around to find the best deals and keep abreast of how potential changes to interest rates may affect your costs.
Consider seeking a professional valuation to help understand what the potential return on investment might be from the renovations.