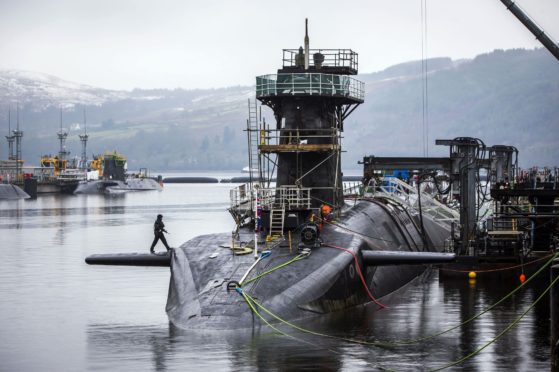 The £2 million purchase of a hotel overlooking Faslane's nuclear submarines by a Chinese businessman is raising concern in intelligence circles, experts reveal today.
The Rosslea Hall Hotel, sitting on a spur of land on Gare Loch, is in the perfect position to observe submarines arriving and leaving the base four miles away, with the ships passing through a narrow channel within 300 yards of the hotel. The naval base is home to the UK's four Trident ballistic missile submarines and by the end of this year, eight nuclear-powered attack submarines.
The four-star hotel, a popular wedding venue, was bought in 2018 by 26-year-old Chinese businessman Tom Xu and his parents. There is no suggestion the Chinese government had any involvement in the purchase and Mr Xu, whose wife is Scottish, has told The Sunday Post he is bemused by the concerns.
However, experts have pointed out that Chinese investors have bought, or tried to buy, other properties close to western naval and military establishments. One proposed deal, the purchase by a Chinese company of a hotel complex near a huge naval base in southern California, was blocked over counterintelligence concerns.
Now politicians want to know if the Rosslea Hall deal was properly assessed by British authorities while calling for a wider inquiry into China's investments in Britain's infrastructure.
Writing in The Post, former First Sea Lord Admiral Lord West said Rosslea Hall would be ideal for observing submarines and described its purchase by a Chinese businessman as "extraordinary".
The Rosslea Hall deal is highlighted in a new book analysing the changing international strategies of China and Russia. Author David Kilcullen, a former US government security advisor, said the sale, and the attempted purchase of the Hotel del Coronado in near a major US naval base in San Diego, California, in 2016, have similarities.
Dr Kilcullen said: "The suggestion is not that Rosslea Hall is some kind of spying station but that it may part of a wider pattern of Chinese real estate acquisitions that are pretty close to a lot of western military.
"If you look at the map, if you are in a submarine casting off from Faslane, you are in direct visual line of sight from that hotel, all the way through the chokepoint out through Gare Loch. Once you're through that chokepoint, where you will have to have passed a couple of hundred yards from the hotel, you are then maybe two hours steaming time away from the open ocean.
"I'm not suggesting that anyone involved in the purchase of the hotel had any contact with Chinese intelligence, and in fact the Royal Bank of Scotland lent the money to purchase the hotel, so presumably there was UK government due diligence that went on.
"The company does not own any other properties and a few months after forming the company they updated their country of origin on Companies House to Hong Kong, rather than China. It's interesting."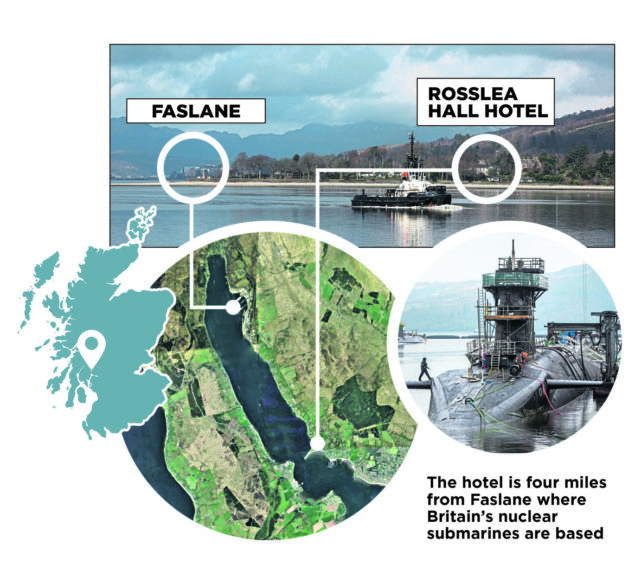 Rosslea Hall was one of a group of three UK hotels which went on the market in September 2017 for £28.25m.
Mr Xu's company Victoria Xu Ltd was created in January 2018 to buy Rosslea Hall in a deal financed by the Royal Bank of Scotland. Mr Xu's parents run private schools and a distance learning company in China.
He flatly dismissed any suggestion that his family has links to the Chinese government or that there is anything suspicious about their decision to buy the hotel. He revealed that the choice of Scotland was partly motivated by the fact he studied philosophy at St Andrews University and that his wife is from Aberdeen.
Mr Xu said: "It obviously happens to be near that base but it's just a beautiful property. My wife is from Scotland. I lived here for ages, that's why I purchased it."
He said the location, close to Faslane, was an attraction – but only because of the business it brought in.
"We get really good corporate clients locally and from Glasgow, contractors who work at Faslane. It makes a lot of business sense to purchase my first hotel there."
Mr Xu, who lives in England, said: "A lot of Chinese, Hong Kong and Singaporean people buy hotel properties in the UK, some of which are just outside Buckingham Palace or the offices of MI5. If you think about those, they are even more threatening to the security of the UK than a little country house hotel in the west coast of Scotland."
He said his parents put up some of the money, and his application for a loan from the Royal Bank of Scotland was then subject to money laundering checks, including a call from the police.
He told The Post: "It was checked before I purchased it. There was a lot of anti-money laundering checks which I have gone through. Before the completion of the purchase the Scottish police did get in touch with us to check and confirm my identity.
"From my understanding police should have records of me. I not entirely sure if the Ministry of Defence got in touch, it was two years ago."
He said there was nothing suspicious about the family changing their country of origin from China to Hong Kong.
"I am Chinese but we're all from Hong Kong. In the end Hong Kong is Chinese. I was born in mainland China but I pretty much grew up in Hong Kong. I moved to Hong Kong when I was 12 or 13. My family are business people so we move between China and Hong Kong."
And he flatly dismissed any suggestion that he or his family have links to Chinese intelligence, saying: "No, they're all just purely businessmen. I'm a businessman. We're just here for business."
Dr Kilcullen's book, The Dragons and the Snakes: How the Rest Learned to Fight the West, details how countries like Russia and China and terrorist groupings are transforming the rules of traditional conflict by mastering new tactics of disruption. Dr Kilcullen said that Chinese authorities appear to be deliberately making numerous foreign investments, so that it is difficult for western powers to establish which are significant, and which are not.
Chinese investors were prevented from buying the Hotel del Coronado by the Committee on Foreign Investment in the United States, who claimed the deal might risk national security, allegedly in response to counterintelligence concerns raised by US Navy leadership.
He said Chinese investors are also buying up strategic shipping ports across the world. He said half a billion Australian dollars was spent on a controlling stake in the Port of Darwin in the same year that the Australian government announced a $20bn investment in Darwin's military infrastructure, which is used by the US.
He said: "Not only is Darwin a potential listening post equal to or better than Coronado or Rosslea, it's a piece of critical infrastructure – one that is now potentially subject to Chinese control."
In 2013 China began the The Belt and Road Initiative, a global development strategy involving investments in almost 70 countries. Chinese money is buying up key shipping hubs across the world. Eight of the world's top 10 container ports are in China, are majority-Chinese-owned, or received huge Chinese investment.
Politicians have now asked for assurances that British authorities were aware of the Rosslea Hall purchase and the nationality of the intended new owners.
West Dunbartonshire MP Martin Docherty-Hughes, a member of the Defence Select Committee, said Chinese investments in UK infrastructure should be examined by the committee.
He said: "There needs to be an investigation into how they manage Chinese investments in UK infrastructure, and I hope to do so with the Defence Select Committee over the course of this parliament.
"The recent Huawei controversy (where they hoped to invest in the UK 5G network) shows how seemingly insignificant investments by Chinese companies in the UK economy can have repercussions further down the line. And as with the investment in Hinkley B Nuclear Power Station, UK authorities have thrown caution to the wind in favour of seemingly easy solutions. It is a naivety for which they may pay dearly – anyone who has studied modern Chinese history knows the way that they have carefully leveraged investments in places diverse as East Africa, Sri Lanka and South America which they later exploit for their own geopolitical ends."
He said he welcomed Chinese tourism in Dunbartonshire, but added: "I also know that UK companies would never be allowed to invest in a property overlooking the entrance to a Chinese nuclear submarine base, so why should the UK Government allow this?"
MP Ian Murray, a member of the Foreign Affairs Select Committee, said: "The purchase of a hotel so close to Helensburgh is clearly an investment that should require additional checks, and clarification from the UK Government about whether this happened would be welcome."
The Ministry of Defence said: "The MoD takes the security of its personnel and establishments very seriously but we do not comment on specific security arrangements or procedures."
---
I'd hope this was looked at. It does seem extraordinary
By Lord West Of Spithead, Former Admiral, First Sea Lord, And Chief Of The Naval Staff
The Rosslea Hall Hotel would be an ideal spot from which to monitor the movements of our submarine fleet.
It is in range to pick up various signals if you had the right kit. Things like conversations between tug skippers, on protective boats, the chat when someone is going up on the shiplift, the huge indoor crane system at Faslane which lifts the subs right out of the water.
You can get all sorts of information if you are able to analyse it all. It's amazing what you can glean if you're able to record it, and you need to be close to record that sort of stuff.
Then there is visual observation. Clearly from that hotel you can see when a Trident boat – a "bomber" – goes in and out, because they have to go past the hotel on the surface. But it's not just the bombers, it's also the attack submarines, and what you can glean from that is whether they are likely to be doing special ops by any unusual fittings that are apparent. So the less time you give people to study in great detail the fin and the upper deck, the better.
I would like to think the authorities will have checked the hotel, or do check the hotel occasionally, because it does seem extraordinary.
In terms of having a Chinese company owning a hotel like that with its amazing position to look over the narrows, I would hope that someone did do an assessment of what risks there might be.
I don't think we should delude ourselves. Unlike our country, the Chinese have a very clear strategic view of what they want to achieve in the next 30 years and are going about that with great focus. Whether it's buying up harbours or whether it's identifying areas where resources are something they particularly want and going in there and investing, for example, in lots of parts of Africa and South America.
I have no doubt whatsoever they would look at the strategic implications of things like our ballistic missile submarines. It is something that does worry me and I would hope the purchase of Rosslea Hall is something that was looked into in some detail.
---
Balancing investment and security
By Dr Chris Ogden, expert in geopolitics
China's rise to international prominence over the last four decades has been driven by its economic growth.
Now possessing the world's largest economy – $25.4 trillion in 2018 – China accounts for 20% of global trade.
The economies of countries across the world depend on the Chinese economy. Not only in the trade of products, raw materials and services but direct investment.
The UK has seen significant Chinese investments relating to airports, railways, nuclear power plants, skyscrapers, property, football clubs and, most notoriously, in 5G telecommunications networks (by Huawei).
As the UK moves into a post-Brexit world, we can expect to see the injection of more Chinese direct investment, including across Scotland.
The relationship between Chinese businesses and the Chinese state is often blurry, with the latter regularly funding investments abroad.
As such, Chinese ventures that appear to be benign are increasingly viewed with caution. Negotiating the balance between investment and national security concerns lies at the heart of any country's acceptance of Chinese investment.
Our leaders need to be able to fully consider both the short and long-term implications of allowing such investments. Ensuring the overall cost-benefit analysis rests firmly in the recipient country's favour is critical, as is separating economic factors from political ones.
We must understand why such investments are regarded with suspicion, so as to fruitfully engage with a culture that can be very different from our own, and to find proactive ways to do so in an unbiased, informed and objective manner.
Dr Chris Ogden is senior lecturer in Asian Politics at St Andrews University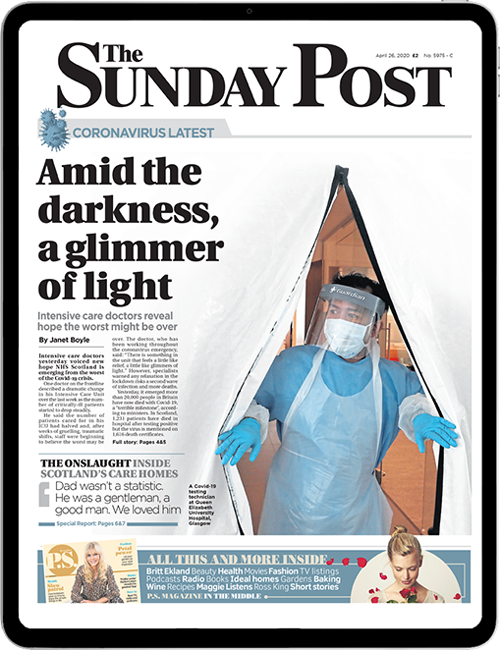 Enjoy the convenience of having The Sunday Post delivered as a digital ePaper straight to your smartphone, tablet or computer.
Subscribe for only £5.49 a month and enjoy all the benefits of the printed paper as a digital replica.
Subscribe