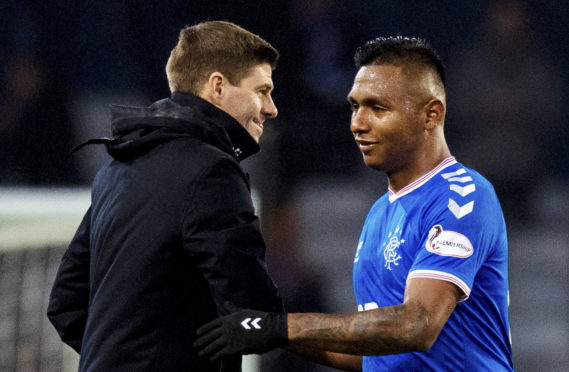 Steven Gerrard believes Celtic players will attempt to rile Alfredo Morelos this afternoon.
The Rangers striker has been praised by his manager for cleaning up his disciplinary act.
Morelos was sent-off five times last season and collected 19 yellow cards.
The Colombian hasn't been red-carded this term and Gerrard would hate that to change in today's Old Firm clash.
"We know that he will be provoked at certain times," said Gerrard.
"He needs to keep focussing on the football and if he does, I'm sure he'll continue to improve the record from last season.
"That's all we ask of him – play on the edge and be who you are.
"We don't want to take anything away from him because that's what Alfredo is. He's an aggressive player, he is a forward runner, he likes to play on the edge.
"We don't want to take any of that away. But it needs to be channelled in the right way because letting your team-mates down on a stage like this isn't helpful at all.
"He's shown improvement all season, and certainly in a European situation because we know you won't get away with things that you might in the SPFL.
"We've also played against Aberdeen twice and there were no problems. We played an Old Firm game at home, again with no problems.
"Alfredo is a player who has the X-Factor and, being his manager, I know all his fans – and even the media – want to see him play football, not sitting in an early bath.
"Everyone wants to see him on the pitch because everyone loves to see him play football."
If his disciplinary problems are behind him, one flaw remains in the striker's game.
He hasn't scored in 10 games against Celtic.
Gerrard doesn't attempt to defend his record. He wants him to hit the net and put an end to his barren run.
He said: "That's the truth, that's the reality. He hasn't delivered in that one fixture. This is the opportunity to put that right.
"He relies on service as well. I'm not going to be one to criticise him for that, because we have to have people around him to provide the service.
"We have done that a lot this season and if that service is there, I wouldn't back against him turning it round."
Gerrard has undoubtedly improved the Rangers' team during his 18 months at the club.
However, he accepts the verdict on his work won't be favourable if he fails to bring silverware to Ibrox.
He believes two top sides will be competing for the silverware today, but doesn't care if they don't serve up an encounter packed with quality football.
"I'd sacrifice that for a win," said the Gers boss, who is poised to sign a two-year extension to his contract that will tie him to Ibrox until 2024.
"Cup finals are about the outcome.
"I respect the country I am working in and the club I am representing.
"It is good, people speaking positively about the Scottish game but, with all due respect, the priority for me right now is the outcome of a cup final.
"I'm not a manager who's come in and asked for a project or a certain amount of years.
"I've accepted that you're under that pressure to win and I'll be judged on that.
"That's life. Once this Rangers job comes to an end, I'll be judged on days like today."
Celtic currently have the financial upper hand and that helps when it comes to recruiting players.
They also have a long period of success that will be difficult for Gerrard to end, despite his experience of lifting trophies as a player.
He said: "I am not going to be a manager that sits and plays the victim because their wage bill is bigger than ours.
"I am very much a manager that wants to focus on what happens on the pitch.
"My job and challenge here was: 'Could I build a team to compete?'.
"I think, on certain occasions, we have done that against this opposition and we've also been very competitive when big challenges have faced us in Europe.
"Are we there? Are we the finished article? Is it where I wanted it?
"No. I still want to keep trying to fine-tune it, to improve it, grow it and make us even more competitive than we are. But I have still got to try to deliver now.
"Cup football's about shocks and upsets and different things – referee decisions, big players stepping up at big moments.
"You'd rather have the know-how. But it doesn't guarantee you're going to win the next one."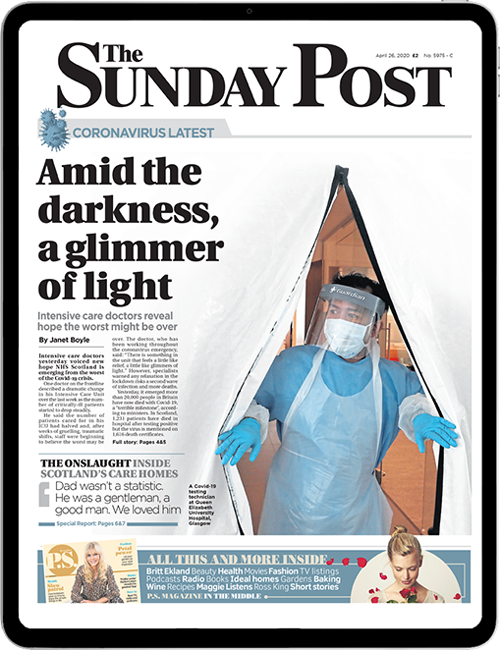 Enjoy the convenience of having The Sunday Post delivered as a digital ePaper straight to your smartphone, tablet or computer.
Subscribe for only £5.49 a month and enjoy all the benefits of the printed paper as a digital replica.
Subscribe