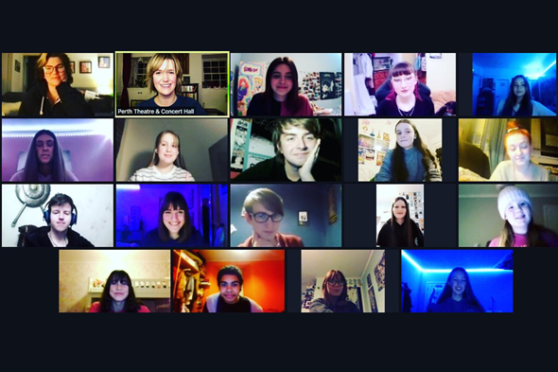 When the pandemic hit, theatre groups across Scotland were left without live performances, spaces to rehearse and, perhaps most importantly, face-to-face contact with their fellow performers.
With lockdown restrictions and grim news headlines not exactly lightening the mood, it looked like many young talents would have to give up the thing they loved indefinitely, possibly for good.
Fortunately, the appropriately named Positive Stories for Negative Times project was formed to provide a lifeline.
A collaboration between Glasgow theatre company Wonder Fools and Edinburgh's Traverse Theatre, it has seen some of the UK's most exciting playwrights gift their work to young people to perform and adapt as they wish for free.
Demand for the project has been huge, and in the five months since it opened, almost 3,000 young people have attended sessions.
Wonder Fools co-founder Robbie Gordon said: "We do a lot with young people and all of a sudden, groups across the world were just cancelled in an instant. They just felt gutted, like we all did, when so much we had to look forward to was stopped.
"What we wanted to do was find a way to get work happening again online, outside, and back in theatres eventually. We thought we might be able to be a wee part of that solution.
"We spoke to groups of young people across Scotland, asking what they needed, and the project came out of all of those conversations. People wanted regular space, to see their pals, to be creative and to have exciting material to explore as well."
The project has enlisted five of the UK's most exciting playwrights to create a programme of plays for the groups to use.
Among those involved are Sabrina Mahfouz, Stef Smith, Chris Thorpe and Bea Webster as well as Gordon and fellow Wonder Fools co-founder Jack Nurse. Each play tells stories that are politically urgent, stand up against oppression and share unheard voices.
Gordon has been delighted with the response to the project so far, with Positive Stories for Negative Times being extended to July 2021 thanks to high demand.
He's also been impressed with the breadth of creativity on show in the productions, which have been brought to life not just in all corners of the UK but also in Spain, Canada, Iceland and the USA.
"It's just so exciting," he said. "We initially said we'd have 50-75 groups, 75 being the ambitious all bells and whistles version. I think currently there are about 200 groups, 3,000 young people, spanning seven different countries. It's all thanks to the amazing team.
"The creativity is almost unfathomable. We've got everything from people making films, to live Zoom performances and audio drama. There's a group of young people directing a women's group using the plays, there's a care-experienced group doing a radio station with a podcast vibe. People are just, like we've all done, using everything in their household to bring them to life."
Look at the wonderful cast of Is This a Fairytale? by Bea Webster for #WFPositivestories. We have had so much fun creating and working on the script. Book your tickets now: https://t.co/1FvF9BKMrH@HorsecrossPerth @wonder_fools @traversetheatre pic.twitter.com/sUZDfSTu2T

— HX Learning & Engagement (@HXLearning) March 1, 2021
With the online platform, the project has also given access to theatre and performance to areas where it hasn't reached before.
The fact it is free has been a crucial element to the project's success.
"Before the pandemic, a lot of classes were extremely inaccessible," Gordon said. "For a lot of people they're priced out of going. What we wanted to do was make it completely free.
"There are no barriers for organisations or young people who just want to get the plays and go for it. We've written a handbook which should mean that, regardless of your experience, you should be able to do it. That's really exciting for us, trying to demystify putting on a play. Anyone can do it and it's for everyone as well.
"Everyone's bettering each other and it's linking the sector up in these uncharted waters we're in. To be able to have this connection with all these groups has been brilliant and we've got a bit of an open door policy. We've got to visit so many exciting theatres from the comfort of our own home."
Of course, like many creatives, Gordon can't wait to get back to live shows with audiences and performers together in one physical space.
He added: "Our whole craft is about working with communities. We write a lot of our plays by visiting communities, having cups of tea with people that have stories. That entire part of our process has really had to change. I miss meeting people, hearing stories and performing stories back to people. Getting to see the whites of people's eyes and that togetherness.
"But I feel like I've gained something in meeting groups in Scotland that I'd never have had the chance to.
"We're meeting a group of people living with dementia and their families to write a play. We're sitting there every week thinking that there'd be no way all these people would come week in week out to a regular group, but because it's dialling into Zoom from home, we've formed this bond with a group of people we'd never have had the chance to."
---
---
Bored Bad Women of the Rooms
Members of Dundee-based theatre group hidden route have been working on their adaptation of Sabrina Mahfouz's Bad Bored Women of the Rooms.
Performed over Zoom, it's an adventure through the centuries telling stories of women and girls who have spent a lot of time stuck in a room and who have not necessarily been very 'good'.
Performer Joe Stevenson, 17, said: "We're acting as if we're in a party setting, all in our own rooms on camera. We move to different rooms, in each there's a story to be told.
"Each story is of women in history who have had a reputation with crime, and who've set the mark for badass women and what they can do.
"A part that's stuck with me from the script was 'how many women, just because they haven't been caught, how many stories haven't been told because they were too good at what they did."
Co-star Andromeda Gibb, 19, added: "It feels super relevant, not just because of the time but because it shows people from different eras. There are a lot of things you can tie it to, it feels like a real story of feminism and equality, even through the perspective of 'we're not the good guys!'."
Oh to be back in our beloved rehearsal room! https://t.co/cB5Gg7DIdO

— hidden route (@hiddenroute_) February 14, 2021
The play tells the stories of Nesmut, raider of Ancient Egyptian tombs, to Madame Ching, the most famous pirate of all time.
Fused with fictional or real-life tales from the performers themselves, it aims to not only a be narration of doing epic, noble or naughty things, but also the extraordinary thing of getting through the days as best we can, in a room.
Andromeda said: "I've had so much fun. I guess I thought that being online meant we wouldn't be doing anything but I'd go along anyway because it might keep my spirits up.
"As soon as we got the script, I felt that buzz you get from the first read through. I was instantly ready to start acting, because I felt like that was something that could have been ripped away from me by the pandemic.
"The project has really benefitted a lot of people in our group's mental health, having the option to connect with everybody and generally giving us a space.
"I think Zoom can be a bit overwhelming as well sometimes, even though we're used to it now it's still different to what we're accustomed to. We know that we can turn our camera off, have a minute to ourselves, come back and we always make sure we ask how everybody is."
She added: "There aren't really any lines in the script that will make people uncomfortable but we just make sure that, as it's a really feminist piece, the lines given to people who have male identities are aligning with everybody and we make sure people are comfortable with who's telling the story. Overall it has given us something to unite with and something to smile about."
Joe, who joined the group after moving to Scotland from down south, said: "hidden route is something that you want to be there and takes away from little feelings of loneliness when you're in your room 24/7 and can't see anyone. You get that collaboration, that euphoria at the end of the session.
"Our group is still finding new things we can do with Zoom. Little things like internet connections and cameras not working, or your mum calling you for dinner, there are things like that that can take away from the feel of being in the group, being in that moment, but I feel like we've made the most of it, even now it's something to look forward to – that energy you get within the group."
"With Zoom, you can record your performances and the group can watch it again, use it to improve on some of the things and also show it to everyone. You don't have to pay to see it, you can share the link. It's so easily accessible."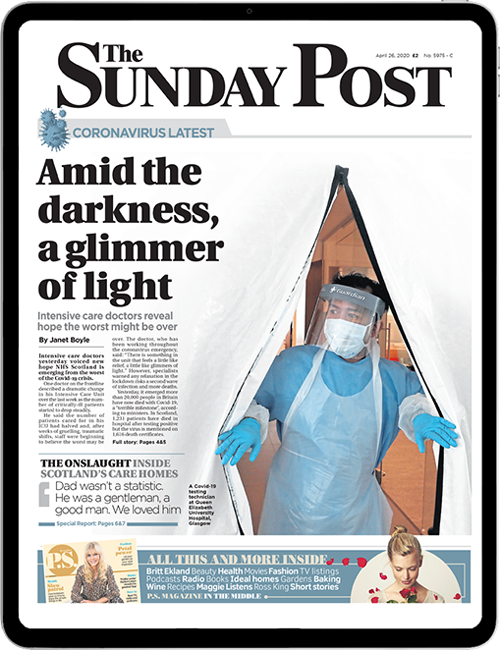 Enjoy the convenience of having The Sunday Post delivered as a digital ePaper straight to your smartphone, tablet or computer.
Subscribe for only £5.49 a month and enjoy all the benefits of the printed paper as a digital replica.
Subscribe