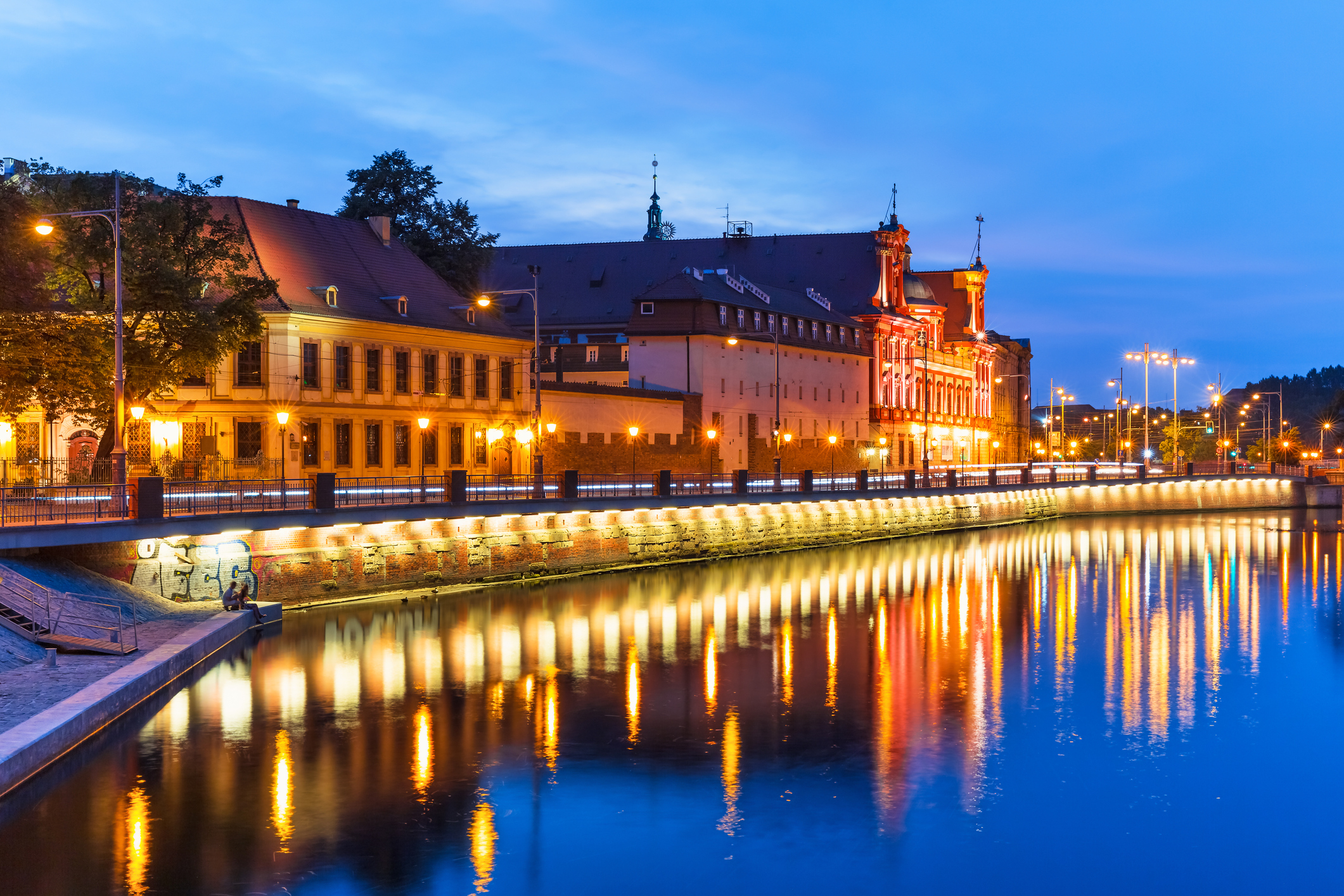 IT'S a tricky city to pronounce, presuming you've even heard of it.
But once you've nailed its name, Wroclaw (pronounced Vrots-Vaaff) in south west Poland, is easy enough to visit, especially for a short break.
It's less than a two-hour flight from the UK, served direct by budget airlines (airports include Luton, Bristol and Liverpool) and is remarkably good value, with a pint of beer or a cappuccino costing just over £1 each.
Wroclaw, presently European Capital of Culture, is itself the capital of the province of Lower Silesia. It's made up of 12 islands, connected by more than 130 bridges and plenty of cycle paths.
I hire a bike from my hotel, the new Doubletree by Hilton, a striking, elliptical building close to the Old Town, and cut through the leafy Slowacki Park to the ivy-covered National Museum overlooking the river Oder.
The museum is home to Silesian paintings, silverware and ceramics, but keen to enjoy the mild autumnal weather, I cycle on, passing pleasure boats, cafes and families out for a stroll.
I pick a bridge – which happens to be Most Piaskowy (Sand Bridge), the oldest in Wroclaw – cross over and find myself on Ostrow Tumski (Cathedral Island), known for its religious buildings, dominated by the twin spires of Wroclaw Cathedral.
Stone statues of lions flank the entrance. One is almost worn away, the other is largely intact. I learn later that the former was the statue women would touch if they wanted to be married within a year. The other was for would-be grooms.
I bump over the island's cobbled streets to Tumski Bridge, where romance rears its head again – the bridge's railings are covered in padlocks attached by couples keen to demonstrate everlasting love, by tossing the keys into the river.
Back in the Old Town, I join a walking tour, beginning at The Rynek, a pedestrianised market square lined with gabled houses with decorative facades and open-air cafes selling traditional Zywiec beer.
Our group's guide, Michal Filarowski, explains the city was largely destroyed during the Second World War, and that none of the medieval-style buildings are original.
As we wander around, I spot two of the city's quirkiest tourist attractions – a couple of bronze dwarfs.
The mischief makers are a nod to the Orange Alternative, an anti-communist movement that used nonsensical slogans to ridicule the regime in the '80s. When the authorities painted over anti-government graffiti, the movement painted dwarfs instead.
Papa Krasnal (Papa dwarf), an official monument to the movement, was erected decades later. Soon afterwards, businesses, noting Papa's popularity, created specialist dwarfs of their own.
You'll now find dwarf beauticians, butchers and bakers. I even meet a bespectacled fellow wearing a stripey scarf at the university gates.
I finish with a coffee in the city's indoor market. Its vaulted ceiling is said to have inspired Wroclaw's architectural landmark, the domed 20th Century Centennial Hall.
That's one of the things about Wroclaw. There are so many beautiful, quirky places to eat and drink steeped in history that you'll find yourself spoiled for choice, even just for a quick coffee.
If beer is your thing, you'll love the Browar St Mostow Craft Brewery where you can sit above the vats and enjoy a very local pint.
During the communist era, the brick building was a movie theatre for workers at a local manufacturing plant. The brewery serves a selection of ales and wheat beers, and has just started producing Schops, a 16th Century wheat beer for which Wroclaw was once famous.
But if you're more of a wine buff, try OKWine Bar. Run by local TV presenter and wine buff, Katarzyna Obara, this bar and restaurant is white, bright and modern, with a terrace overlooking the river.
It has more than 2,000 wines to choose from, with a list that includes international favourites and vintages from Georgia, Canada and Lebanon and even Lower Silesia.
I sit surrounded by fruit, vegetables and massive displays of flowers. But I'm most intrigued by the mushrooms, collected from forests across Lower Silesia.
One stallholder talks me through his offering; there are kurki, borowiki, podgrzybki and prawdziwki – all delicious, but utterly unpronounceable, of course.