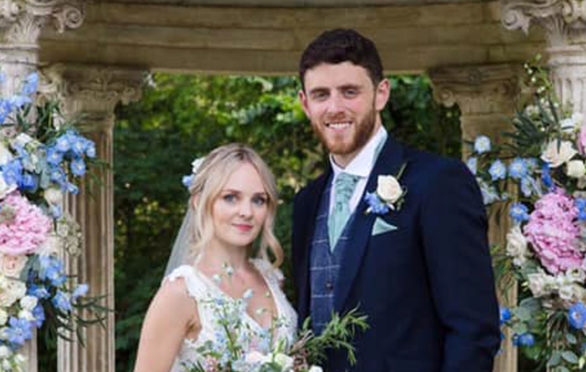 The family of a newlywed police officer killed on duty have spoken of their grief as detectives continued to question 10 people in connection with his murder.
PC Andrew Harper died just four weeks after his wedding day when he was hit and dragged by a car while responding to an emergency call about a burglary.
Yesterday his father Philip Harper said: "We're absolutely devastated and we're in a bad place."
PC Harper's family also released a photograph of him taken on the day he married wife Lissie.
Thames Valley Police have arrested 10 men and boys – the youngest aged just 13 – in connection with the murder on Thursday night.
Yesterday officers were granted an extra 36 hours to hold the suspects for questioning.
The results of a post-mortem revealed that PC Harper died of ­multiple injuries.
Detective superintendent Ailsa Kent said: "The cause of death is ­consistent with our current belief that Andrew was caught between a vehicle and the road and then dragged for a distance."
Forensic teams have continued to search the scene near the village of Sulhamstead, Berkshire, as well as a travellers' site close by.
Grieving officers also placed floral tributes at the spot where PC Harper died, with one describing him as "Thames Valley's finest".
Yesterday Christine Fulton, who co-founded the charity Care of Police Survivors after her police officer husband was stabbed to death on duty in Glasgow in 1994, offered support to PC Harper's family.
She said: "It was horrendous when I first heard. Then, when you realise he had only been married for four weeks, it's just tragic. It's just awful. We will write to his family via the police force. When they are ready, we are here to help."
Mrs Fulton, from Kilmarnock, Ayrshire, added that PC Harper's death will have a shattering impact on his fellow officers.
His death was witnessed by a ­colleague who fought to save him.
Matthew Barber, deputy police and crime commissioner for Thames Valley, said: "You realise this is the second morning Andrew's family will wake up without him.
"It's a personal tragedy for them first and foremost and will leave a lasting impression on the force and the surrounding community."
By last night, a fundraising page set up by PC Harper, had been flooded with donations of more than £9,000.
The officer had been planning to tackle the 20-mile, 200 obstacle Dirty Weekend race in Peterborough in May next year and had set a target to raise £500 in aid of Children with Cancer UK via the Virgin Money Giving site.