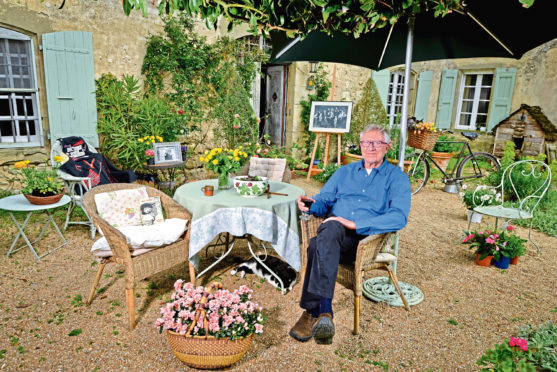 During the 1970s, actor Robin Ellis delighted TV viewers as the original swashbuckling Captain Ross Poldark, whose adventures in 18th Century Cornwall had millions glued to their screens.
Adapted from a series of books by the late British author Winston Graham, 29 enthralling episodes of Poldark were transmitted between 1975-77, and Robin, now 78, has nothing but happy memories of playing the lead role.
He admits, however, that he wasn't first choice for the part which signalled his big break in the acting world. "Initially, they'd chosen Leigh Lawson, Twiggy's husband, but when he was offered a film the BBC re-opened the search. I had three auditions before being offered the part!"
Outdoor filming took place in Cornwall during a two-week period before returning to rehearse and record the episodes in London.
Robin enjoyed his time filming amongst the wild, rocky Cornish landscapes – despite the occasional tumble from his horse.
"I'll never forget being thrown off while filming a scene on the moor. It was my first mount in the opening series. The horse was a 12-year-old steeplechaser and extremely lively.
"I was a towny and not really a horse man – in fact, I only rode for money!" laughs Robin.
"One day, Dennis, my steed, decided he didn't want me on board. Luckily, I wasn't injured."
On another occasion, Robin was involved in a stunt which didn't go to plan. The scene involved his character being attacked by thugs and falling off the back of his horse. A mattress was carefully placed in position but as Robin threw himself off, the horse moved and he landed heavily on his back.
The public's response to Poldark was extremely positive and it wasn't long before bags of fan mail arrived. "I tried replying to as many as possible. Thankfully, I can't remember receiving any particularly embarrassing requests but might have got the odd marriage proposal – it's ages ago now so I can't really remember."
Prime time exposure meant Robin's face became familiar to fans and he started being recognised in the street. "Some actors don't like that but I enjoyed it. It's a positive thing, an indication that people like the programme.
"Once, I was at Earl's Court Underground when someone tapped me on the shoulder. I thought it was another Poldark fan but the woman said: 'I really enjoyed your Edmund in King Lear at Stratford.' That was a wonderful moment because it was an acknowledgment that I'd done other things as well!"
In fact, his acting career has encompassed many stage and screen roles, including playing Detective Brown in the opening episode of Fawlty Towers, a role in the small screen version of the musical She Loves Me with Gemma Craven plus series like Dangerfield and Heartbeat, among others.
"I'm proud of appearing in the opening episode of Fawlty Towers. I was offered the part just before filming started on Poldark. In fact, I had to go back and re-record some of the Fawlty Towers' scenes because they altered the storyline," recalls Robin. "Trouble was, by then my hair colour was different because of Poldark. So, it had to be dyed and pinned up to look the same as before."
More recently, Robin was flattered when asked to appear in the latest version of Poldark as Reverend Halse.
"I've had a few scenes in each series and think the new version is fantastic. Mind you, I found it a bit nerve-racking just popping in for a day or so but was always made welcome," says Robin, who's not surprised that the new series is equally popular.
"The storylines, characters and, of course, locations still attract – and I'm sure people have gone on to read the original books, too."
Robin has been acting, initially as an amateur, for over 60 years. He joined a local drama society aged 17 before performing with the National Youth Theatre.
While studying history at Cambridge University he appeared in more than 20 plays and knew immediately that acting was where his future lay. After graduating, he worked in various repertory theatres before his screen debut in the late 1960s as a highwayman for Granada TV.
In addition to performing, Robin co-ran a voiceover agency. "As well as running the agency from a small office in Soho, I did voiceovers for 15 years. I didn't make huge amounts of money but it was fun."
Nowadays, Robin lives in south-west France with American wife, Meredith, running cookery workshops and writing cookery books.
"We bought the house in 1990 while visiting friends in the area and spent nine years travelling back and forth. We moved permanently in 1999. With no children to worry about and both sets of parents dead, there were no complications.
"Here living in France, I run occasional cooking workshops and write cookery books. I was diagnosed with Type 2 diabetes at the end of 1999 and that became the hook for my books."
Robin has always enjoyed cooking. "People kept telling me I should write a book and, eventually, I did. I gathered a series of recipes which took into account my diabetes and through a friend secured a meeting with a publisher. Now, my fourth book is to be published in June."
Robin admits his diabetes diagnosis was a shock. "Initially, I slipped into the 'Why Me?' syndrome but, thankfully, got out of that frame of mind quickly.
"The trouble with Type 2 is that you don't always know something is wrong. I wasn't suffering any symptoms, such as a dry mouth or losing weight.
"Mine was spotted when a friend, who'd just been diagnosed with prostate cancer, suggested I had a blood test. Although my prostate was fine, the doctor discovered my blood sugar level was sufficiently high to suggest I was either pre-diabetic or well on the way."
Robin was familiar with diabetes because his mother developed Type 1 in the 1950s. Living with the condition for 30 years, she suffered some of the problems diabetics are prone to, such as blackouts.
"It taught me how serious the condition can be, especially as she needed insulin injections twice a day," he said.
Writing has become an integral part of his career. "After being diagnosed, it seemed more legitimate to present a list of recipes to a publisher which are not only good for me but, hopefully, others living with the condition and people without diabetes, too."
Workwise these days still involves applying the old greasepaint from time to time and, in recent years, he's run nine successful four-day cooking workshops with guests coming from all over the world.
When he's not working, Robin enjoys relaxing at his 18th Century stone-built home, a former rectory a few miles from the village of Lautrec in the South of France.
It's clear he's enamoured of his life in France. When he was younger, however, Robin was a self-confessed "townie" and could never envisage living in the countryside.
Now, he wouldn't swap the rural life for anything. "As the years passed, it was increasingly difficult to head back to London."
Being in the countryside means there are myriad walks to enjoy. "In terms of exercise, I complete a regular stretching routine and walk several times a week," he says.
Despite his obvious love for all things French, I wonder if he ever misses the bright lights of London?
"No, not really. We go back regularly because we still have friends in the UK.
"Actually, we've just bought the deconsecrated church next door and hope, one day, to stage concerts and events in it. Plus, we're waiting to become French citizens." That says it all.
Robin Ellis's Mediterranean Vegetarian Cooking: Delicious Seasonal Dishes For Living With Diabetes is published by Little, Brown in June. It's available to pre-order on Amazon.