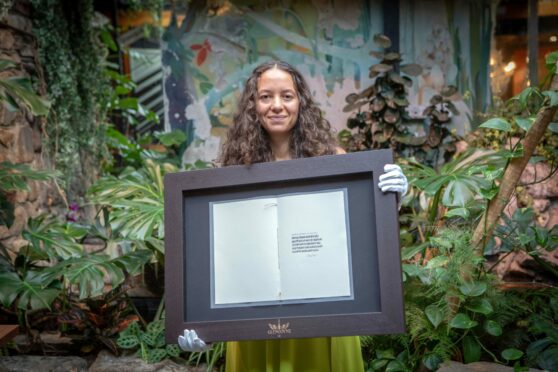 In our digital era, art is often instantaneous. Every word written by history's literary giants is just a click away while we can enjoy tours of the most famous art galleries and their treasures while never leaving our laptop.
However, a poem, sort of published at an iconic restaurant, is the opposite of that, revealing itself line by line over the next 50 years.
The literary artwork was created by conceptual artist Jonathon Keats using a poem written by Jeda Pearl and, now framed and hanging in the Ubiquitous Chip in Glasgow's West End, explores the concept of time.
The words of the poem have been covered by a layer of UV-sensitive ink through a specialised printing technique. The ink will be exposed to ultraviolet light, causing it to slowly fade over the years to eventually reveal Pearl's poem, 'mynd oor gloamin corrieneuchin', which is Scots for 'remember our intimate conversation at dusk'.
When speaking about the project, Pearl said that she thinks that the artwork will eventually come to imitate life: "It's lovely to have a piece of my work turned into an unusual artwork that will physically change over time.
"Our experience of or relationship to a single piece of art will naturally change over time – we may re-read a book we love many times or visit a piece of public art many times. I like how these pieces of art will also change physically, echoing how change is a constant presence in life."
The work was commissioned by Glengoyne, producer of Scotland's slowest distilled whisky.
It is part of a larger global exhibition with other poems being displayed in whisky bars in London, New York, Amsterdam, Australia and Taiwan. The project aims to encourage people to slow down, and to celebrate the role that time plays in creating something special.
When approached by Glengoyne to write a poem for the project, Pearl, a Scottish-Jamaican writer, looked to her time spent in the Scottish countryside for inspiration: "Access to nature, especially the scenic countryside, is a privilege that I often took for granted before I developed a chronic illness.
"Although I haven't visited the Glengoyne distillery, I've had access to the Scottish countryside through family trips over my adult years.
"From my bed, where I often work, I could easily imagine the waterfall and glens and the feeling of being surrounded by the expanse of the wilderness where time can slow down.
"I wanted to try and capture the essence of long conversations with friends that stretch into the night, imagining this intimate conversation taking place after a day spent wandering the glen.
"I think we're all craving for more unrushed stretches of time where we can gather with people we care for."
The Ubiquitous Chip, one of Scotland's best-known and most-enduring restaurants, celebrated its 50th anniversary earlier this year and co-owner Colin Clydesdale said that he is excited by the thought of his restaurant's patrons enjoying this artwork for many years to come: "We have been here for 50 years – and serving fine whisky has always been a big part of that – and the thought that people will continue to come here for another five decades to enjoy a dram and appreciate such innovative art is rather lovely."
When Pearl saw the finished artwork for the first time, she said: "I imagined many different people – friends, lovers, colleagues – having fun trying to guess what the poem might say, making up their own poems. This makes me smile."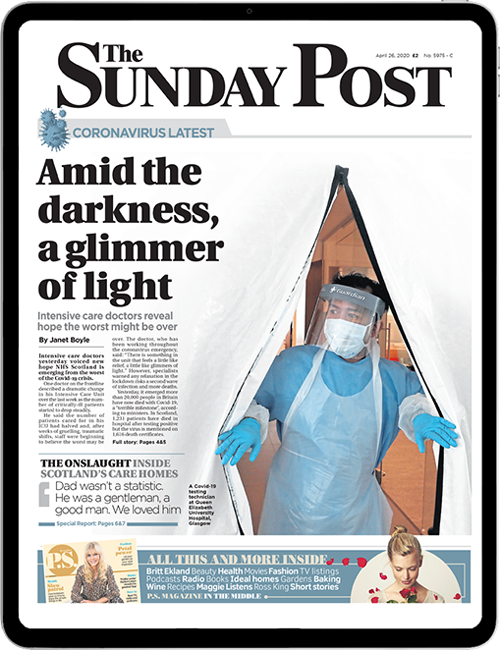 Enjoy the convenience of having The Sunday Post delivered as a digital ePaper straight to your smartphone, tablet or computer.
Subscribe for only £5.49 a month and enjoy all the benefits of the printed paper as a digital replica.
Subscribe