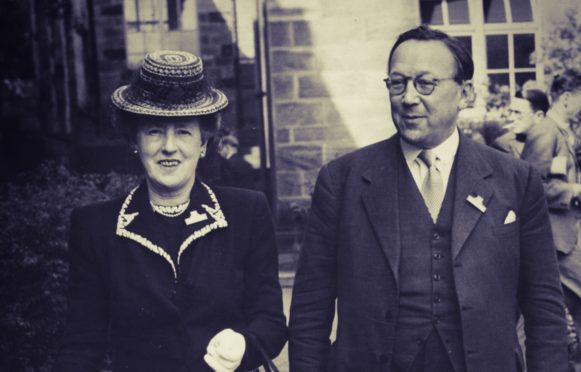 He is the Scot who helped win the war, a scientific pioneer whose trail-blazing radar devices heped down the Luftwaffe and defeat Hitler.
Sir Robert Watson-Watt's contribution to Britain's defences was immeasurable, but he was also a fierce defender of his personal life.
Now, a trove of thousands of letters and documents given to his great-grandson have shed new light on a public life of genius and achievement but a personal life marked by tangled love affairs and financial troubles.
Blake Parnham, 26, has pored over thousands of pages of documents detailing the life of the electrical engineer from Brechin who became one of the pivotal figures in the Second World War.
Blake said: "My grandfather died two years ago and he left me a trunkful of Sir Robert's handwritten speeches, previously unpublished radar research, books, medals as well as photographs and personal correspondence. He told me these belonged to my great-grandfather who won the war and invented radar.
"From these, I've been able to illuminate the man that Sir Robert was and not just the scientist he was portrayed to be. They reveal a really conflicted person."
Winston Churchill credited him with saving Britain from the German Luftwaffe and his Chain Home radar system was believed to be responsible for Adolf Hitler's 1940 decision to put off the Operation Sea Lion invasion of Britain.
Sir Robert used radar technology to provide advance warning to airmen as far back as 1915, a year after the start of the First world War.
But his private life was far from simple.
His first wife, Margaret, petitioned for divorce on the grounds of adultery.
"He did not deny it which would have been quite a scandal in the upper echelons of British society," said Blake, 26.
The history student is currently working with Toronto-based company United Front Entertainment (UFE) on a film about his great-grandfather's life, based on the discoveries.
Bryan Davies, a partner and co-founder of UFE, said: 'We want to tell an unknown story of this man from Brechin, Scotland, to the world."
Among the revelations were that Sir Robert, who made his contribution to the war effort after a spell at the Met Office, became bankrupt and relied heavily on his wives' money to keep him afloat.
He only agreed to the end of his first marriage after receiving a £10,000 award for his work, then squandered the money in a hopeless business enterprise after emigrating to Canada. A month after his first divorce he had married his second wife, Jean, who complains in the letters about having to pay off his numerous debts.
Bryan said: "He married his first wife, Margaret, in 1916. His affair with Jean, who became his second wife, began in 1942. Sir Robert was divorced by Margaret in October, 1952, after he received the largest ever award for innovation on his work for radar.
"It wasn't until he had that money that he was able to make his divorce arrangements with his first wife."
Born in 1892 and a graduate of the University of Dundee, Sir Robert had been recruited by the air ministry to find a method of detecting and tracking aircraft. He also proved rumours of a Nazi death ray that could destroy entire cities were unfounded.What came next was radar, his discovery that would prove essential in the outcome of the Battle of Britain and the war as a whole.
Sir Robert's Chain Home system of radar towers along Britain's south-east coast proved valuable in detecting enemy aircraft.
But privately Sir Robert didn't feel he got the credit he deserved.
"It resonates from the various letters and material we have that Sir Robert with some justification was not given his due by some of the people in the British military establishment," said Bryan.
"Churchill thought highly of him and Lord Beaverbrook thought very highly of him. He got a 1940 Club medal, of which there were only 10, from Lord Beaverbrook so they had a lot of respect for him.
"But Sir Robert makes it plain in his writings that he has a chip on his shoulder from not getting his due."
After the war, he campaigned for nuclear disarmament, befriending a former Nazi general, Wolfgang Martini, who had narrowly escaped being tried for war crimes at Nuremberg.
The letters reveal Sir Robert and his wife Jean attending a lavish dinner hosted by the general.
He also held secret meetings with Soviet scientists from 1954 to 1961, the events of which are not documented in the official history books.
Bryan said: "On the science side, he was a participant in the 1969 and 1970 Pugwash conferences, which were never recorded. But there is good evidence Sir Robert made strong contributions to the first ever ban of chemical and biological weapons eventually enacted by the United Nations in 1961."
Parnham added: "His life and career could have been the plot of an Ian Fleming novel. From Nazi death rays to Cold War intrigues, battles with superiors and multiple adulterous affairs that show him to have been a complicated and enigmatic figure in the world of science and technology."
It's no wonder Sir Robert's activities brought him under the gaze of the British intelligence services and the CIA.
But his private life continued to burst with intrigue.
Within months of his second wife dying suddenly in 1964, Sir Robert had begun a relationship with Dame Katherine Forbes. They married in 1967. She died in 1971, near Inverness.
He died penniless two years later, also in Inverness, where he was buried alongside Katherine.
"He lived his last couple of years at an RAF old folks' facility until he died in 1973," said Bryan. "It is sadly ironic that Sir Robert was born into modest means and at the end of his life, he died with £6,000 in his estate.
"He did amazing things, traversed amazing places, travelled the world, knew ex-Nazi generals and scientists behind the iron curtain. But he was never a person of means.
"He was a very poor businessman and it's intriguing to us that his second wife left him nothing of her estate and his third wife left a £1,000 annuity and nothing of her estate."
He added: "On the social side, it is absolutely amazing the social connections he established, particularly in the United States with prominent families in New York. He and his second wife Jean regularly had lunch with the Mayor of New York. Sir Robert almost had a double life.
"He had this high-flying social and stimulating life and career but his Canadian engineering businesses went bankrupt in 1960, and we have a number of letters from Jean complaining to her family that she is paying off debts for money he borrowed from other people.
"He borrowed money from people in Scotland and was extremely late in paying them back.
"He had a public persona of success but on the other side he did not have very much money."
Blake plans to donate his find – valued at around £150,000 – to a British museum. The find of more than 5,000 documents has led a UK-Canadian research team to set to work on making a film about Sir Robert's life.
He said: "In 2017, I inherited the collection of memorabilia. 5,000 pages of notes, private letters and some very rare medals that add a remarkable new dimension to the conventional radar story.
"I have also found vinyl recordings of some of Sir Robert's speeches, dating from 1950-58. They had been sitting in the shed out behind my house and I only discovered them when I chronicled some of the classical records out there.
"When we finish our project I will donate that collection to British institutions."
The radar pioneer had a taste of his own medicine when, in 1956, Robert Watson-Watt was given a ticket in Canada after being caught in a radar speed trap. He reportedly told the officers: "Had I known what you were going to do with it I would never have invented it!" and later wrote a poem about unpoetic justice.