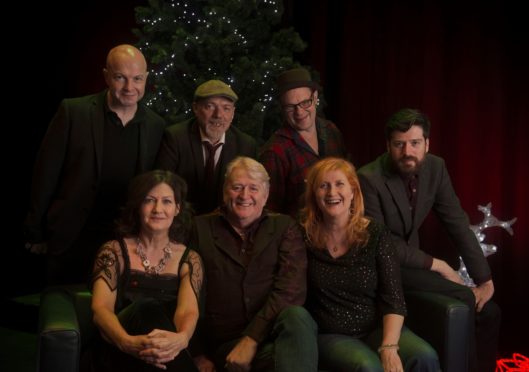 Phil Cunningham has spent most of his life on stage. So it's appropriate he'll celebrate turning 60 by hosting a birthday concert as part of Celtic Connections, a festival he has become synonymous with over the years.
The multi-instrumentalist turned professional when he was just 16, meaning he's now been on the road for 44 years.
Along with his late brother, Johnny, he was part of Silly Wizard, a '70s folk group.
"Those were exciting times," Phil reminisced. "My parents were very brave to let me do that, to move to Liverpool and live in what was basically a squat.
"We worked the English central belt, and that was the beginning of it."
Phil is still working out the details of his 60th birthday show.
"Having made so many friends and played with so many musicians, it's difficult to work out who I'll involve," he continued.
"There will be a house band and a small orchestral section, and loads of guests, but Transatlantic Sessions begins a couple of days later, so it's important to make sure it's different enough from that line-up.
"I'm quite delighted about turning 60. My brain still operates in the same childish way as it always did, but sometimes my body doesn't work quite as well.
"I think about how lucky I am most days. When I get up in the morning I write music, listen to some music, play a gig. It's not a normal life, but it is for me."
For the past 10 years, Phil, also an accomplished broadcaster and presenter, has been teaching at the Royal Conservatoire of Scotland.
"I love being involved with the young players, the standard is quite incredible," he said.
"The musicians as they come in now are of the standard the graduating students were 12 or 13 years ago.
"They are the future of our past, and the music is in very safe hands."
Phil is best known for his 34-year partnership with fiddler Aly Bain.
They first met when Phil was 14 but were thrown together at a gig in London when Aly's accompanist didn't turn up and Phil offered to step in.
That began a long friendship that continues – although there was a bump in the road this year when Aly was rushed to hospital for triple bypass surgery.
"We had a big scare and it all happened very quickly," Phil admitted. "We had to cancel the first half of our tour but he was back on stage on August 31 and he's playing up a storm.
"It was a big operation and he uses all the muscles around the heart to play the fiddle, so we had to ease him into it in rehearsals, but he feels like he has a brand new engine."
Aly will inevitably appear at Phil's birthday bash, but before that it's almost time for Phil's annual Christmas Songbook tour, where he plays festive songs with old friends (pictured above) like Eddi Reader, Karen Matheson and John McCusker.
They're in Stirling next Sunday, and then on to Aberdeen, Glasgow, Inverness, Perth and Edinburgh.
"This is its 14th year," Phil added. "It's become a really fun thing to be a part of and we're told it's the way a lot of people start their Christmas celebrations.
"We're all just pals on stage and it's great to get together for a few days because we're all busy individually throughout the year."
---
The Big Six-O Birthday Bash, City Halls, Glasgow, January 26