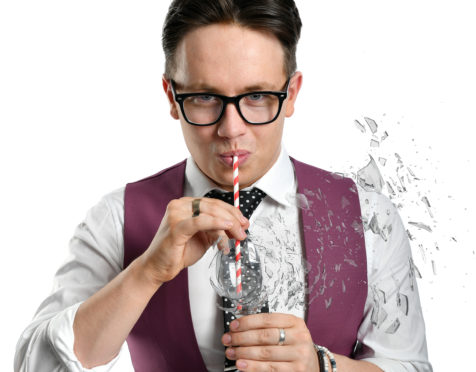 Magician James Phelan hopes the Edinburgh crowds will like his show – a lot – when he makes his Fringe debut later this month.
The 26-year-old is following in the footsteps of his uncle, the late Paul Daniels, who performed at the Fringe several times and encouraged James to come to the festival.
James was extremely close to Paul, so much so that the former TV favourite did his last magic trick for his nephew while on his deathbed three years ago.
It was shortly after Paul fell ill that James decided to give up his job in marketing and pursue magic full-time.
"My aunt and uncle encouraged me to come up to the Fringe and be a part of it," said James, whose mum is Debbie McGee's sister.
"I remember coming up to Edinburgh to see them. And when I was six, I went with them for a weekend while they were working on the QE2.
"In first year at school, a teacher asked what I wanted to be when I was older, and when I said a magician she told me I'd never make anything of that. My uncle did, I responded.
"She asked who that was and when I said Paul Daniels she became so embarrassed she called my mum to apologise."
Although Paul, who died from a brain tumour, was an inspiration to James and taught him a lot, James says his magic show is very different to his uncle's.
"There is not a lot of him in there at all. I've tried to stay away from it because I won't win," admitted James. "It's an hour of lighthearted fun, where you don't have to think about Brexit and can just enjoy yourself."
James recalls performing tricks at a wedding when he was five, getting the bug early from watching Paul on primetime television.
"He taught me a lot," he continued. "When I was younger, maybe 13 or 14, I would put shows together and he would sit with me and go through them, working on the tricks.
"He didn't want me to be like him or anyone else.
"I didn't think about the family history when I decided to do this, I just wanted to do magic. It's only recently I looked in the mirror and realised it would have been easier if I had chosen a different career.
"Being Paul's nephew opened a few doors, but it shut just as many.
"But I did have the benefit of seeing a lot of magic growing up, so I have quite a broad knowledge, and that helps."
James had entered Britain's Got Talent and made it to the semi-final stage when Paul became ill, so decided to quit the show.
"He'd been doing panto and it was afterwards the illness really started," James explained. "He couldn't talk and had stopped doing magic.
"I went in to see him one day and I had a pack of cards on me, because I was wrapped up in BGT at the time, and he took them off me and showed me this colour change trick he'd come up with.
"My auntie said it was the first magic he'd done in weeks.
"The first trick he showed me when I was a boy was also a colour change card trick, so it was nice it was the last one."
As well as millions of YouTube views, James has a magic show on BBC radio – the broadcaster's first since the 1950s. And he has also completed filming on his own TV series, Celebrity Troublemaking, in which he performs magic on stars such as Strictly winner Joe McFadden.
No matter how far technology advances and the world changes, James believes there will always be a fascination for magic tricks.
"I watched an old TV interview my uncle did where he said magic is the most primal art form, and therefore always will be. And he was right."
---
James Phelan: Troublemaker, Gilded Balloon – Dining Room, July 31-Aug 26