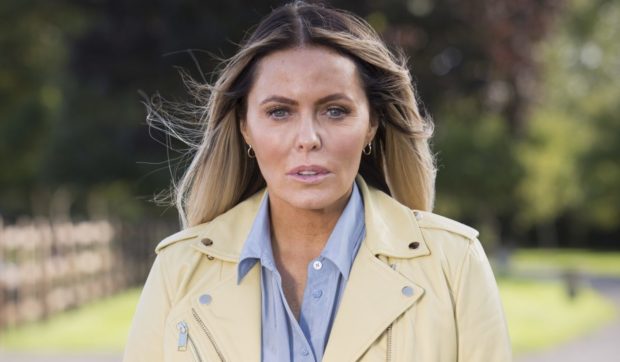 When it comes to dreaming of what she'll do post-lockdown, Patsy Kensit has a few ideas. Perhaps a visit to a Glasgow restaurant, a long walk near Loch Lomond and, interestingly, scoff a couple of rolls and potato scone.
Scotland is a place close to Holby City star Patsy's heart. She stayed here when she was married to Simple Minds star Jim Kerr and, speaking from lockdown in her London home, the Scottish delicacy is on her mind.
"Oh I love everything, about Scotland. It's so wonderful," she said. "I had so many happy years there. Potato scones, great walk in the mountains, the restaurants in Glasgow and Edinburgh. I had an incredible time and incredible life there in my years with Jim."
When The Sunday Post caught up with Patsy she was isolating after coming into contact with someone with Covid, with 10 days of staying in the house ahead of her.
After decades being followed by the paparazzi, Patsy is – a lack of potato scones aside – revelling in being comfortable at home. The pressure to look glamorous isn't quite the same when it's only her cat, rather than a photographer, likely to see her and, even then, the pressure to feel glamorous isn't the same as it once was.
"Oh, god, I'm in my tracksuit right now," she said, laughing. "I try to put something resembling clothing on in the morning but the minute I get in these days I'm in my pyjamas. I've got my fluffy granny pyjamas and cashmere socks and cuddle up with my cat, Bowie. It's all about comfort.
"Do I get ready to look glamorous when I go out? Oh, no – I look like a bag of laundry most of the time.
"I have no interest in that any more, I'm living a lovely private life now which I didn't have for many years. That's something I cherish deeply."
This week Patsy is appearing in the second series of McDonald & Dodds, the hit ITV detective show. Alongside the two leads, she's starring opposite former Spandau Ballet and Krays star Martin Kemp.
Patsy is 52 now and has known Martin since she was 14; the pair are, she said, fast friends. Only the day before, they were on a Zoom call talking about future projects together, cursing Covid for dashing another TV drama.
"Martin has written something for both of us, it's something like Minder," she added. "It's a husband and wife thing. That looked like it was going to get made, we got the schedule for shooting then suddenly it's not happening, which was heartbreaking. I think we'll get to do it, we have very good chemistry.
"With McDonald & Dodds, I liked the idea of this group of people who were sort of scenesters in the '80s and who have remained in a sort of bubble and had a great life together. They're almost like family.
"I grew up with Martin Kemp, we're very old friends. I was delighted when I heard he was doing it."
Despite having Martin on set for McDonald & Dodds, there was an apprehension in her first few days of filming.
It's odd to think that someone, who's been acting since she was four years old, would worry about a job which is second nature and saw her star in everything from Emmerdale to Lethal Weapon 2 opposite Mel Gibson.
"It troubles me a little," she said. "I was quite fearless when I was younger. I've been acting since I was four and I'm 53 next month. I've worked every year of my life, every year I've done some sort of acting.
"Yet as I get older I find myself getting a little bit fearful. I'm sort of increasingly doubting myself. I don't know – is that something that comes with age?
"When you're young you think you can rule the world. Yet when you get to my age you think how lucky you've been to have done so many incredible things and have so many incredible roles.
"When you're a woman of a certain age the parts aren't out there. I've been really lucky to have continued to work. I love British television. I mean I've done a lot of Hollywood movies but I love British drama when it's well written and executed like McDonald & Dodds. It's like a movie."
As well as being a fan of the ITV detective show, Patsy has been indulging her more ghoulish nature.
Although the subject matter – of children attacking their parents – has caused a few raised eyebrows, especially with her sons, James, 27, who she had with Kerr, and Lennon, 21, from her marriage to Oasis rock star Liam Gallagher.
"I've been watching loads of those horrible shows about kids that kill their parents," she said. "You know, the ones about boys who shut their mothers in a cage. My boys are like, 'You're sick, mum, you like weird stuff!'
"I love gory shows but in the second lockdown I've been feeling it a bit more. Now I'm more likely to watch episodes of Friends. I watched Tootsie starring Dustin Hoffman the other day, that's one of my favourite movies.
"I'm trying to pull myself back into watching comedies, I think murder, murder, murder, probably isn't good for me during isolation!"
Her sons, Patsy said, are missing visiting during lockdown; her tradition of making Sunday lunch for them has been put on hold, for now.
"I'll come home and there they are, in the sitting room with the cat," she said. "They're usually around me all the time but with Covid that's not really happening.
"I've not seen them for weeks. It's painful. My heart goes out to anyone going through this, but I'm just glad I haven't been sick, Covid terrifies me.
"My kids have been really responsible, I'm so proud of them. The boys are really mindful of following the rules."
Lennon, Patsy's son with rock star Liam Gallagher, seems to be pictured in tabloids regularly.
Being on the wrong end of a paparazzo's lens was something from which she was keen to protect both of them for as long as possible.
"I never let my kids get photographed when they were growing up," she added. "I was really protective. They would get invited to the new Disney movie when they were eight or nine and I'd say no, we can't go. I'd tell them we'd go when it was open to the whole country.
"And they hated me for that! But my reasoning for it was that I didn't want to make that choice for them, to put them in the spotlight like that.
"I'd tell them that they might be young now but when they were teenagers they wouldn't want to be around their parents very much!"
Although her sons cringe when she talks about them in interviews, Patsy seems to come to life when on the subject of her boys.
"My boys are the most important thing in my life," she said. "They're my pride and joy.
"James is a really very sound, together, motivated, smart guy. He's great. And Lennon is artistic, he's a musician, he likes to draw. He's been modelling to make some money. I don't blame him, but it's not what he wants to do. The band is his thing.
"Oh, I've said too much. They're always telling me to not talk about them. They're really great, I'm so proud at how they've turned out."
Never mind potato scones, that sounds more like mother's pride.
---
McDonald & Dodds, ITV, on Sunday, February 28 at 8pm.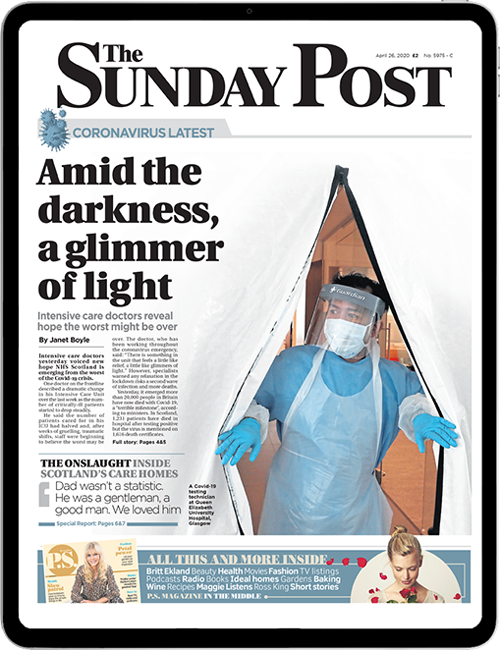 Enjoy the convenience of having The Sunday Post delivered as a digital ePaper straight to your smartphone, tablet or computer.
Subscribe for only £5.49 a month and enjoy all the benefits of the printed paper as a digital replica.
Subscribe