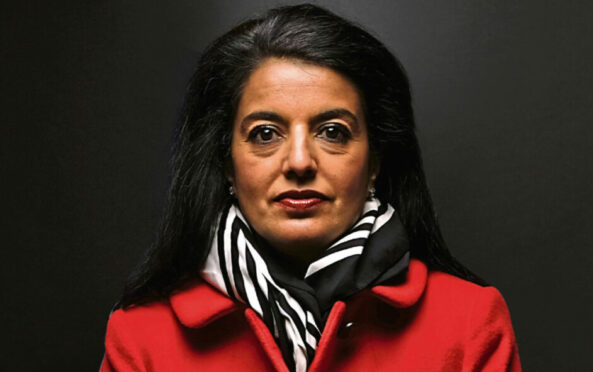 Her career in uniform broke new ground as she rose through the ranks to become the highest-ranking woman from an ethnic minority in the Met's history.
Now, having left the force, Parm Sandhu is breaking new ground again, this time on TV, as she helps steer a team of amateur detectives in an innovative crime series.
The former Metropolitan Police chief superintendent is the fourth child of Punjab immigrants to the UK and faced racism and sexism during her 30-year career. She said it was a matter of picking and choosing her battles while serving in the London force.
She believes racism still exists among a core of officers, and agreed a financial settlement with the Met last year after suing over discrimination.
Despite her concerns she encourages young people from ethnic minorities to consider the police as a career.
"There are still hurdles. However, they are ones that can be managed," she said. "One of the most important things I did was to be a mentor and I still am.
"It's important to make sure there are people following and we, the older crew who have passed through, make it easier for them to get past.
"There are always going to be hurdles, whatever organisation you go to, any male-orientated organisation is going to have challenges.
"It's a fantastic job and I would recommend it to anybody – male, female, anyone from a diverse background. I think you really can make a difference."
Masculine culture
Sexism, too, blighted most of Sandhu's career, as a result of what she described as a very masculine culture of which there are still remnants today. Showing any kind of weakness, she says, was a cardinal error for ambitious officers.
"When I started, if you said you were stressed people would look at you like there was something wrong with you," she said. "You could never say you weren't mentally coping. As soon as you mention that word 'mental' people thought you were breaking down.
"I've had to stand in front of my team and tell them about the deaths of colleagues. I remember going to the back of the yard, standing behind a police van and having a little cry because, as a woman, I couldn't show that.
"Even now you have to be strong, but people now wouldn't think anything less of you. When I first started, that would be your career over.
"'She can't cope, she's a woman, she's temperamental, it must be her time of the month…' We used to get all those comments, and they're still there because of the masculinity."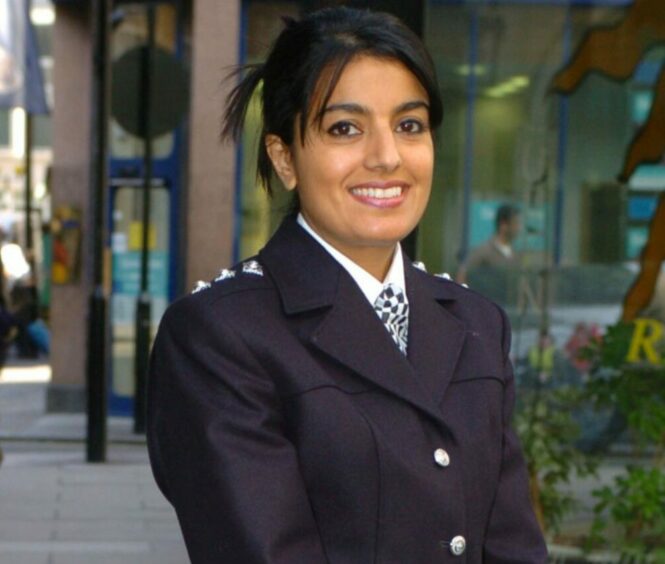 The issue has been in sharp focus over the past few days following the sentencing of Wayne Couzens, the police officer who kidnapped, raped and murdered 33-year-old Sarah Everard in March.
Couzens, who used his occupation to falsely arrest his victim, will spend the rest of his life behind bars. In the wake of his conviction, Sandhu called for a complete overhaul in a bid to win back public trust in the police.
"There needs to be a huge rebuilding of confidence in policing," she said. "The majority of police officers do a fantastic job and are dedicated and hard-working, but there are a few people who destroy the reputation.
"We need to start looking at how the police behave, what we can do to safeguard women and young people. Vetting needs to be looked at, and how we manage internal and external complaints against the police.
"We must get back to where people trust the police enough to call them in a moment of crisis. I'd hate ever in my lifetime to know that we were in a situation where people were frightened to pick up the phone and ask for help."
Not taking it home
In her three decades with the Met, Sandhu gained experience of counter-terrorism, domestic violence, cyber-crime and anti-corruption.
Spending so much time delving into the darkest of crimes, she found it important to create boundaries between her time at work and at home.
"From quite early on I compartmentalised it," she said. "I had little boxes in my head. I didn't go home and talk at the dinner table about dead children. You can't do that, it would absolutely destroy you.
"Even now, when I open that box in my head and think about some of the things that people do to children, it really upsets me. You have to have those coping mechanisms.
"You can't take it home to your family. Nowadays there are people you can talk to that can help you on how best to cope. Mentally, the kind of things police officers deal with on a daily basis can destroy individuals if they don't know how to cope with it."
Worked with some fabulous people. Had some good times and painful experiences but I know I made a difference. Good luck to those starting today as Stephen Lawrence said 'Be the best you can' @S_LawrenceTrust @sajidjavid @patel4witham @bbcasiannetwork https://t.co/ioqBBgjBvb

— Parm Sandhu (@SuptParm) October 18, 2019
Despite the toll working in the police force can have, Sandhu still looks back fondly on many parts of her career.
She joined the Met in 1989, having fled to London from an abusive arranged marriage, and feels she made a positive impact through her work.
"Had some good times and painful experiences, but I knew I made a difference," were the words she tweeted in her final days in the job.
She said: "I'm from a not-so-nice part of Birmingham, so it completely opened my horizons, my opportunities, and things that I could go and achieve.
"I met the Pope, I met Prince William, I spent a day with Tom Hardy. How many people ever get those opportunities?"
Heading for Gigha
Sandhu takes a leading role in Murder Island, an innovative TV series filmed on the Isle of Gigha which debuts on Channel 4 this week. Eight amateur detectives are tasked with solving a mystery plot created by best-selling crime writer Ian Rankin.
Guided by senior investigators including Sandhu, they must try to identify the right suspect with a watertight case to win the prize.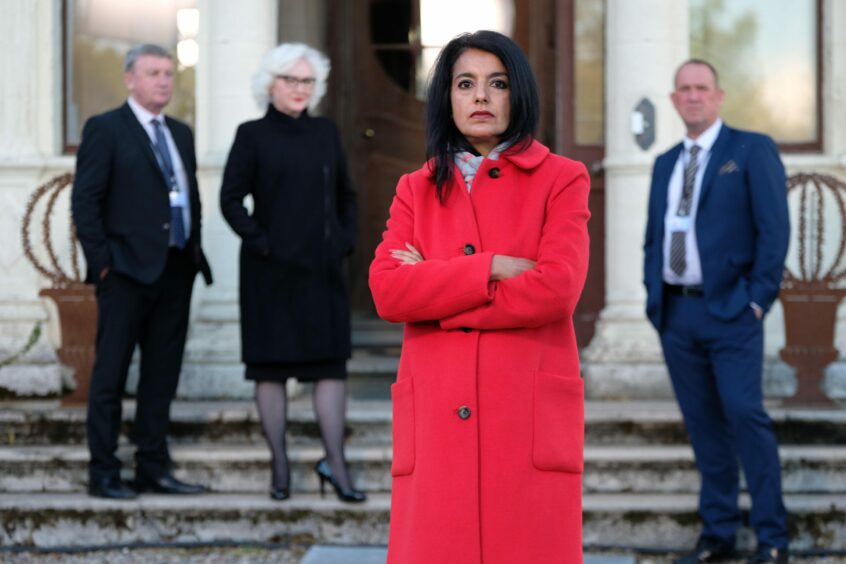 Playing the role of TV detective took Sandhu well out of her comfort zone but she enjoyed time spent filming in the Hebridean island's dramatic, moody surroundings.
"I put myself back into a murder team and thought about what I'd do," she said.
"We weren't given lines or scripts, we reverted back to what we've been doing for 30 years. Between us we've got 90-odd years of experience.
"The way I always looked at it is that I had a duty of care to the victim, the person who had their life taken away, but also to their family and their community. You have to keep that ethos all the way through."
---
---
CSI Argyll: Can rookie sleuths crack twisty case devised by Rebus creator?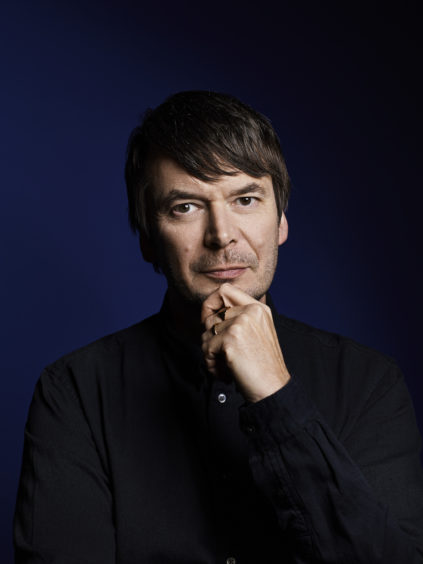 Parm Sandhu was already sold on the concept of Murder Island when she signed up – and when she found out Ian Rankin was involved she was jumping for joy.
The plot of the six-part series has been developed by the best-selling author and is designed to have plenty of twists and turns for the contestants to navigate.
Sandhu said: "When they gave me the outline of what they were planning, it's a completely unique way of filming anything. I've never seen a series like this before.
"I was very keen from the outset and then a little while later they said Ian Rankin was writing the plot. I'm one of his biggest fans so I was jumping up and down!"
The series sees budding crime-solvers leading their own investigation into the discovery of a body that has shocked the fictional island community of Hirsa.
Eight contestants work in pairs to sift through evidence, decipher forensic and pathology reports, and interview suspects. The amateur sleuths try to solve the crime and build a case that can stand up in court.
Inspector Rebus author Rankin said: "When it comes to writing a whodunnit I usually call the shots, taking the reader only to the places I want them to visit and showing them only the characters I want them to see. Murder Island is different.
"The detectives can follow any strand, uncovering clues as they go and asking the suspects any questions they like. Will I manage to stay one step ahead of them? I think I've constructed my twistiest story yet – so let's see!"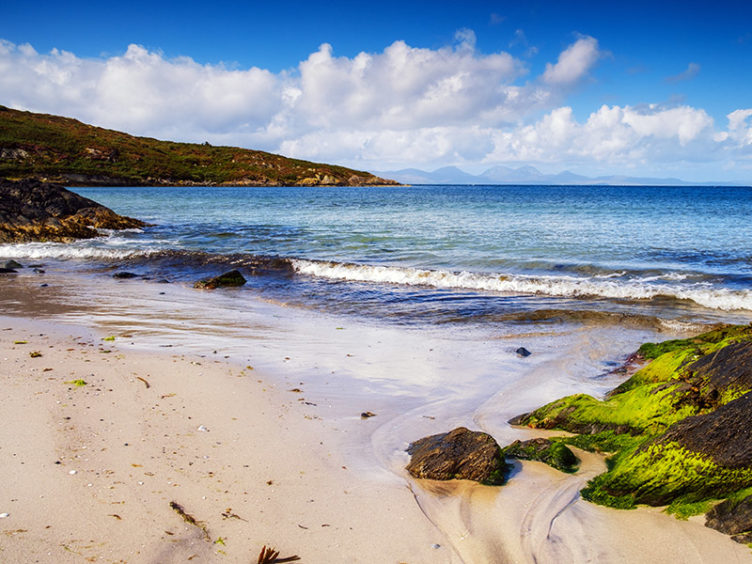 Failing teams must hand in their badges and be taken off the case and the island. If the last remaining team can identify the killer and build a case good enough to satisfy one of Scotland's leading lawyers, they could scoop a £50,000 prize.
Sandhu serves as senior investigating officer, flanked by retired detective Simon Harding and organised crime specialist Graham McMillan. They use their decades of experience to judge each team's merits.
"The crime scene was very good, very realistic," said Sandhu. "I'm hoping the blood wasn't real but it certainly looked it!
"On the first day when the contestants went to the crime scene, some of the mistakes were very basic. But they are the type any rookie detective would make.
"It's got to be about being methodical, analytical, and not cutting corners while building that bigger picture."
Their only training consisted of watching crime dramas such as CSI but Sandhu said the amateurs did "incredibly well." She added: "There were some very silly mistakes, like picking up glasses that had fingerprints and possible DNA on them, walking through blood and wondering whose footprints were left when it was their own.
"The teams couldn't go to their family or friends for help, they didn't have the internet. They were completely alone other than a phone call back home to check everything was going OK.
"They had no resources other than the clues, the help from us and whatever they brought to the table themselves.
"Everyone was ensconced in the island. It's an amazing place, I'd definitely go back – unless there's a murder in which case I'm staying away!"
---
Murder Island, Channel 4, Tuesday, 9.30pm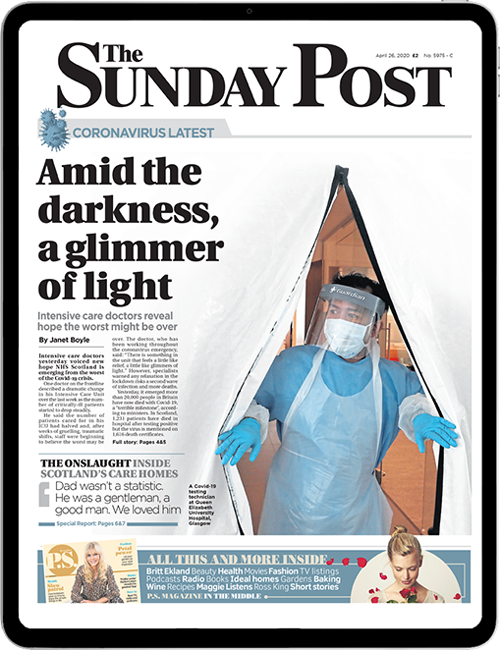 Enjoy the convenience of having The Sunday Post delivered as a digital ePaper straight to your smartphone, tablet or computer.
Subscribe for only £5.49 a month and enjoy all the benefits of the printed paper as a digital replica.
Subscribe