AN email arrives and it asks a question.
"You're Scone Spy, so why have you never been to Scone Palace?"
Why not indeed? It seems an obvious place to visit. It surely must be a good bet for a great scone.
And yet Scone Spy hasn't made the trip there.
Time to put that right. So thanks for your email, Mr G.
It's a beautiful, sunny day and there are people out wandering in the grounds.
I didn't expect it to be that busy, but what do I know? The car park is mobbed.
There are coach parties of tourists and a gang of foreign schoolchildren standing, gazing at the palace.
Truth be told, I can't tell if they're bowled over or bored.
It's a mixture of both, I think. Some appreciate the stunning sight of such an old, impressive building, complete with peacocks wandering around outside.
Others have a glazed look of indifference. It reminds me of my younger self, when my dear mum and dad would drag me around stately homes. They'll learn.
There are people sitting outside at the tables, enjoying lunch in the sun.
Who needs the hassle of going abroad when we have glorious places like this?
I meet up with some relatives. They live nearby and they've jumped at the chance of joining me on a scone-scouting mission.
We make our way through the gift shop and along a long corridor to the Servants' Hall Coffee Shop.
It's a long room with the counter at the end. There's a huge queue and I wander up and down it, trying to peek in to see the fine-looking selection of baking.
"The scones are really good," says one charming American woman. How does she know that's what I'm here for?
"There are fruit, cheese and raspberry and white chocolate. All are great.
"But if you fancy something really decadent, go for the custard creams," she continues.
I think she's a regular. But no, it turns out she works here.
Further down the queue, my niece is having a heated debate with a customer about cricket.
It's quite the chat as they discuss the latest news from the world of wickets and wrist spins.
"Was that one of your teachers?" I ask her when we're seated.
"I've no idea who it was," she replies. My, they're a friendly bunch here.
We eat our goodies in companionable silence for a moment or two.
Fruit scone with Scone Palace's own jam and cream? Lovely. Just right.
Malteser traybake and lemon and coconut slice? As good as they sound.
And the giant custard cream?
Of course I had it as well as a scone. Life's too short not to. It was as good as had been described.
I'll start the diet tomorrow.
VERDICT
WARM WELCOME 9/10
LOCATION, LOCATION 10/10
SCONE SCORE 9/10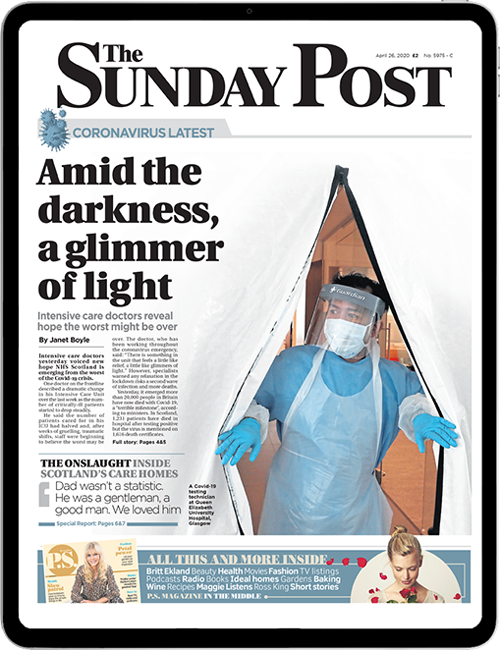 Enjoy the convenience of having The Sunday Post delivered as a digital ePaper straight to your smartphone, tablet or computer.
Subscribe for only £5.49 a month and enjoy all the benefits of the printed paper as a digital replica.
Subscribe