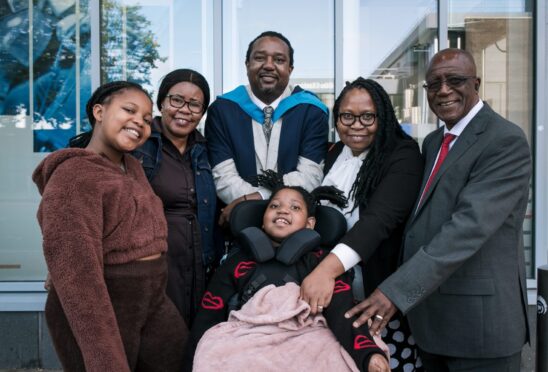 700 new graduates are celebrating after being awarded their Open University degrees.
It's the achievement of a lifetime, but for some it comes against the greatest of odds.
Today we salute them all – but none more than Farah, the woman who fought back from honour-based violence to graduate, along with Zimbabwean refugee Vitalis, who fled persecution in his homeland, and Edinburgh GP Jane, who battled breast cancer.
Together they proudly join the 200,000 Scots who have studied with the OU in the 54 years since its foundation.
Susan Stewart, OU director in Scotland, said: "There's no such thing as a typical OU student. But what they all have in common is hugely busy lives often with many challenges. This is what makes our graduation celebrations so special."
These are their stories.
The refugee
I wanted to give back to the country that had taken me in
High school teacher Vitalis Mumbure, 43, fled persecution in Zimbabwe in 2008 and says his experiences of being a refugee have inspired him to become a social worker in Scotland.
Vitalis received a BA (Honours) in social work (Scotland) on Friday, having already been awarded a first-class BA degree in sociology and psychology by the Africa University in Mutare in Zimbabwe.
He was in Scotland on a visitor's visa to attend the graduation of his nurse mother when he was warned there was a warrant for his arrest back home. Around that time then-president Robert Mugabe and his African National Union (also known as the Patriotic Front) were accused of human rights abuses including beatings, torture and murder.
Local ruling party officials suspected Vitalis was a spy because of his family connections. He explained: "My uncle was an auxiliary Roman Catholic bishop and was very vocal about human rights. Also, members of my father's family are married to British citizens and anyone associated with foreigners fell under suspicion at that time."
Paisley-based Vitalis was granted refugee status in 2009 and gained British citizenship  in 2021.
He said: "l saw social work as a way of giving back to the community. I am a refugee and l wanted to be a better citizen in my new home."
His family – wife, social worker and mental health officer Lusia, 43, and daughters Tanyar, 21, Munenyasha, 20, Cecilia, 10, and Tawananyasha, nine, who has cerebral palsy – are proud.
His success has landed him a role as social worker in the Older People and Physical Disability team at Glasgow City Council.
The doctor
After the shock of my cancer diagnosis, I couldn't give up
Edinburgh GP Jane Burnett's busy job meant her passion for writing had fallen by the wayside. But the Covid pandemic gave the 47-yearold mother-of-two pause for thought.
She told The Sunday Post: "Like many people, especially those working in healthcare, my life was upended by the pandemic. It made me think about goals that I'd let get dusty but hadn't quite given up on."
She decided to embark on an MA in creative writing with the OU. But what the doctor hadn't realised was that she was about to become a patient.
Jane was diagnosed with cancer in August last year. She had surgery at Edinburgh's Western General Hospital in October, followed in November by chemotherapy, enduring eight rounds over five months.
She said: "Suddenly my days were filled with hospital appointments, and each seemed to bring bad news with the cancer progressing to stage 3. I got a date for surgery, and it was the week before my end of module assessment (EMA) was due.
"After the initial shock of the diagnosis, when I just wanted to run away and I thought there was no chance I would complete my Masters, I decided I couldn't just give up.
"And I knew that more difficult days were coming. I didn't want to add to those with regret at having pulled out of my studies."
With advice from OU in Scotland's student support team, she submitted her EMA the day before surgery, going on to complete her degree with distinction.
Jane is now completing her first novel and a memoir about her experiences of being a patient rather than a doctor.
She is indebted to the OU and husband Paul, 53, and sons Bailey, 16, and Arlo, 14.
She said: "I feel proud of having achieved a distinction, especially as things nearly got derailed at the end!
"I feel that finally I can call myself a writer."
The survivor
I was left fighting for my life after a brutal sex attack by the man I was forced to marry
She had suffered a brutal sexual assault, resulting in massive blood loss and a fight for her life that she almost did not survive. The person responsible was the man she was forced to marry when she became pregnant with his child.
After surgery to save her, and as she lay in a hospital bed, Farah could never have imagined that one day she would escape the years in which she was repeatedly subjected to serious physical, sexual, and honourbased abuse, or that she would go on to achieve her girlhood dream of studying law – and graduating.
But the courageous Muslim woman – whose surname cannot be revealed for security reasons – achieved a BA/ BSC (Honours) Open degree, its focus on law, and next month will embark on an OU Master of Laws, with the aim of supporting other women who have suffered abuse.
Now divorced and having left the UK for a new life, she revealed how, at the age of 17, she dreamed of studying law.
Brave Farah, who still lives with the physical and mental scars of her torment, told The Sunday Post: "When my mother and father divorced, my mum decided that I, as her daughter, should be an independent, strongminded young person and that education was important. I should have studied law from 17."
But when she became pregnant, she was told she had brought shame on her father's family, and that marriage was now the only option for her.
She said: "Everyone disowned me. I was sent away to have the baby and the only way to get back into my family and community was to say I wanted to marry him.
"When I got married, I was an outsider and damaged goods. In my community, it's always the woman's fault, not the man's. What followed was physical, mental and sexual abuse, a series of miscarriages, and a forced abortion."
Amid the catalogue of horrors she endured, she recalls three major incidents, one of which landed her in hospital.
She said: "After he sexually assaulted me, I had to have surgery. I lost three-quarters of my blood.
"But I didn't realise at the time how dangerously ill I was because I was unconscious.
"It was only when I went for NHS counselling many years later, when I talked about what I remembered, they saw that there was a completely different story on my medical record: his account not mine. The sexual assault had been devastating and, at the time, when I was unconscious, the hospital took his and his family's word for it – that it was an accident."
She added: "Every time there was an assault and I tried to leave, he would threaten me and say that he could make me disappear and make it look unsuspicious.
"It turned out he was my power of attorney and I didn't know it at the time. He was trying to make me feel as if I was insane and he very nearly succeeded.
"Then after years of abuse and thinking it was my fault he tried to kill me. In the end, that's what made me leave. But getting away didn't stop the abuse.
"He found me and sent a couple of guys wielding weapons to threaten me at work. His intention was to terrorise me so I couldn't pursue my career. He succeeded that time and I had to move again, several hundred miles away to keep safe."
But she says her husband was able to track her through a network of friends and associates. He broke into her home and hacked her email account.
Eventually, through her own courage and determination, she sought help, but she has suffered a series of mini strokes and is left with post traumatic stress disorder, pain, anxiety and panic attacks.
However, since completing her degree, Farah's own life experiences and academic knowledge have enabled her to inform important changes in legislation concerning rape, violence against women and domestic abuse, including coercive control and psychological abuse.
As part of her postgraduate degree, she now plans to carry out research to improve legal help for victims of domestic, sexual and honourbased abuse.
Farah told the Post: "The OU made my passion and dream of becoming a legal research student real. To complete my degree is an absolute dream come true."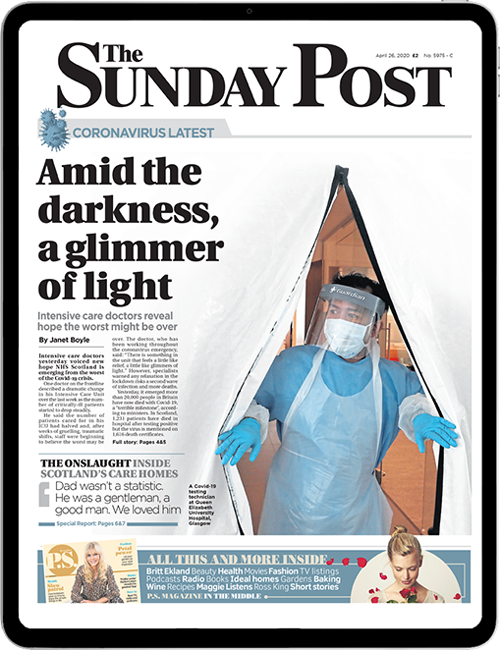 Enjoy the convenience of having The Sunday Post delivered as a digital ePaper straight to your smartphone, tablet or computer.
Subscribe for only £5.49 a month and enjoy all the benefits of the printed paper as a digital replica.
Subscribe