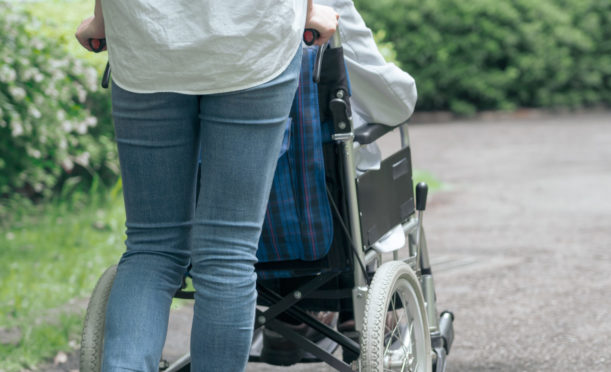 More than 30 organisations in Scotland have urged ministers at Holyrood and Westminster to do more to reduce the "intolerable pressure" carers are facing.
Oxfam Scotland, Carers Scotland, the Scottish Women's Budget Group, One Parent Families Scotland, the Scottish Trades Union Congress (STUC) and the Poverty Alliance are among those to have signed an open letter, along with the Child Poverty Action Group Scotland, the Scottish Council for Voluntary Organisations and Unison.
Carers Scotland said its research shows as many as eight out of 10 unpaid carers are having to shell out more to put food on the table and meet their bills during the coronavirus pandemic.
A survey issued alongside the letter also found that two-thirds of Scots (66%) believe care workers are paid too little, with 62% saying care work is not valued highly enough by the Scottish Government.
The letter, which has been signed by more than 100 organisations across the UK, has gone to MPs and MSPs demanding an increase in payments made under the Carer's Allowance and Child Benefit system.
They also want the five-week wait for payments under Universal Credit to be lifted and the two-child limit on some benefits to be scrapped.
"Injecting cash into social care" would allow employers in the sector to pay all staff the real living wage, the groups said.
"Right now, the focus is rightly on saving lives but we urge you to use your influence to ensure Governments across the UK use every tool they have to protect people from poverty," the groups said.
"While Governments have tried to cushion the immediate impact of this crisis, more needs to be done to alleviate the intolerable pressure carers face."
While the Scottish Government has introduced a £460 a year supplement to the Carer's Allowance and has committed to fund the living wage for social care workers giving direct adult support, the groups want politicians across the UK to "do more to protect all carers from poverty and to better value their contribution".
Jamie Livingstone, head of Oxfam Scotland, said the "coronavirus pandemic has brought into sharp focus the importance of care".
He said: "Carers are the glue that hold our society together, perhaps now more than ever before.
"Yet even before this pandemic, carers were more likely to live in poverty, that's just not right. We must act, together, to fix it.
"Today we have one simple call – for politicians across Britain to act now to end carers' poverty.
"Carers must be given the same level of support and respect they give to others – both now and for good."
Fiona Collie, policy and public affairs manager at Carers Scotland, said: "Our recent research, Caring Behind Closed Doors, laid bare the huge impact the coronavirus pandemic is having on unpaid carers.
"Carers told us they are facing increasing caring demands as well as overwhelming financial and emotional pressure.
"Eighty per cent of carers in Scotland told us they are having to spend more money on food and household bills during the outbreak.
"Governments must recognise the huge efforts of Scotland's 700,000 unpaid carers during this pandemic and act now to provide the support unpaid carers so desperately need."