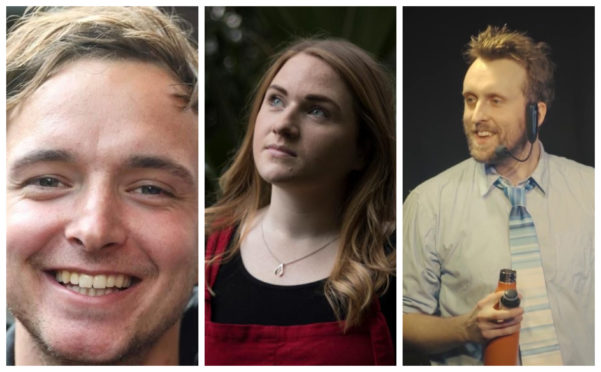 This week marks one year until the United Nations Climate Change Conference comes to Glasgow.
Originally scheduled for this year, the summit, also known as COP26, will see heads of state, climate experts and campaigners brought together to agree co-ordinated action to tackle climate change.
🌎 💚 🇬🇧 🗓️

Today marks 1⃣ year to go until #COP26!

Over the next year, we all must come #TogetherForOurPlanet and safeguard our environment for future generations.

Action cannot wait.#COP26Ambition pic.twitter.com/wzocdXjTLY

— COP26 (@COP26) November 1, 2020
The disruption caused by coronavirus serves as a timely reminder of the impacts global crises can have on society, and it's hoped that the summit coming to Scotland will help inspire people to make a difference.
Here, we talk to Scots who are helping to influence climate action about how they're using new and unique ways to do so, what impacts the pandemic has had, and their hopes for the future.
---
 I hope to use my place in the world to encourage people to make better choices

– ethical influencer Laura Young
For Laura Young, what started off as an Instagram account to document progress on a New Year's resolution has ended up seeing her promote a sustainable lifestyle to an audience of thousands.
The 24-year-old, a.k.a LessWasteLaura, was walking along Elie beach in Fife in the early days of 2018 when she made it her mission to do something about the plastic waste that was washed up on the shore.
She's now picked up over 40,000 social media followers and has spoken about kicking the plastic habit on the worldwide stage as part of TEDx talks.
"I made a resolution to change my own environmental way of living sustainably and ethically," she said. "I started to pay attention to what we could do as individuals.
"This was around the time of Blue Planet, where we were starting to see the impact of plastic in the ocean.
"I thought I should do something about it, even if it was just in my own life, to try to make a difference."
After just over a week of starting to live a little more sustainably, Laura thought she'd better start writing things down as family and friends began asking her how she was doing it, what products to use, and what they could do to help.
"I started the Instagram to document the things I was doing, the changes I was making, highlighting news stories or things like that," she said.
"It's grown way more than I thought it would, and it's become more of a community.
"For the first year, it was basically me shouting into a void, but over the last year and a half it has picked up quite a lot with me now working with organisations, from small independent locals to bigger companies, trying to influence a bit more sustainability on a bigger scale. It's been taken offline, to workshops and speaking engagements."
Laura, an environmental science graduate, has continued to learn herself all the time, seeing the real impact people can have in the face of the climate crisis.
"Slowly over the past three years I've seen the places where we can influence businesses and governments with a bit of activism. It started off as a passion, a hobby, but it's really moved forward from there."
As LessWasteLaura, she has become an ethical influencer, sharing how she lives in way that she hopes can make people choose to live in a way that's kinder to the planet.
"I hope, personally, to just use my place in the world to encourage people to make better choices," she said. "That's as small as the people I live with making better choices about what we eat, what we wear, how we travel, but also thinking bigger, to think about the workplaces I sit in.
"Can I make the company I work for a better place, can I influence my MP, my Government? I just want to use my spot to push for people to do better and I hope to see that change around me, but also see other people taking the opportunity to do that.
"I want to see a change that's fairer for everyone involved which brings equality to situations that don't have it. A fairer, more equal world that takes care of everyone I think would be the big goal."
Laura is realistic in her vision – she knows that her as an individual making changes to the way she lives won't save the planet.
And as well as showing all the different ways she's taking the sustainable option, she doesn't shy away from acknowledging where she isn't 100% perfect.
One post, for example, shows her filling up with petrol and explaining why she had to drive that day.
"People are seeing a regular person trying their best and encouraging people along," she said.
"Living it out really helps, it's about breaking it down and showing where we can all play into it. The key word is accessibility. We just need lots of people trying. I show a hundred things I've tried, even if you can do ten that's a great start."
Like many environmental activists, Laura knows that the coronavirus pandemic has, at times, pushed discussions on environmental issues to the back-burner.
But so many problems and inequalities raised by the pandemic are only going to be exacerbated by the looming climate crisis.
"I think one of the most difficult things is that climate change is spoken about as us having years left before the world explodes, but it's impacting people now and we need to remember that," she said.
"It might not be here in Scotland but there are people across the world being impacted by it.
"We have an opportunity to completely rewrite the way we do life and society. We've got a chance to almost start from scratch – everything's been ripped up, what do we want our recovery to look like?
"This is the opportunity to make it a just and green recovery, let's think about things that don't just impact the economy but also the environment. So many of these things intersect.
"The conversation about environmentalism has been lost in Covid a little bit, but there's this massive opportunity to bring climate change, anti-racism, gender equality and so many other things together in our recovery. It's about piecing these things together to make a just and fair world."
---
You've heard of the Paris Agreement, hopefully there'll be a Glasgow Agreement

– Dr Matt Winning, environmental economist and stand-up
There's not a lot to laugh about when it comes to climate change, but Dr Matt Winning hopes to use the power of comedy to help get the message across about saving the planet.
His day job is as a researcher at University College London, analysing strategy on combatting climate change.
But he also takes his expertise onto the stand-up stage to deliver lectures cleverly disguised as comedy shows.
Matt, originally from Paisley, said: "Comedy is a hugely effective tool. As a messenger, it really helps because people don't feel like they're being lectured to when you're a bit self-deprecating.
"It doesn't feel like you're judging them- I'm on their level, which really helps. It's a really good way of keeping people engaged as well, which is a hard thing to do.
"Studies have shown that when people are enjoying themselves it helps them remember things better."
After performing various shows based on regular stand-up topics over the years, it was at 2016's Edinburgh Fringe that Matt first discovered he could intertwine his two careers.
"I didn't want to push it too hard because I didn't think people really wanted to hear about climate change at a comedy show," he recalled.
"I tried to do it in a light-hearted way that wasn't too obvious but I don't think people quite got it. I didn't go hard enough."
For his next festival outing, he changed his writing process entirely and essentially scripted a lecture, but packed with jokes.
His shows in recent years have seen him try to work out how to carbon offset starting a family, and giving surprisingly entertaining briefings on the world's impending doom.
The shows have been a hit with audiences and critics, and Matt was about to embark on a UK tour before lockdown.
He said: "I was blown away by how positive people were, they were saying that they hadn't really engaged with the subject much before, and didn't think that I'd be able to make it funny.
"The main thing I get is that the audience feels like they've learned something, and it was entertaining. That's exactly what I'm trying to do.
"You have to talk about their life to engage people in the conversation. I could go and talk about fossil fuel companies and how difficult it is to reduce the emissions from cement and steel, but people will just switch off. It's not relevant to them.
"I try to focus on making people feel like they do have a voice and some sort of stake in the game, where we can lead the way a bit and make changes ourselves."
The pandemic has meant that live shows are few and far between at the moment. Without a live gig since March, it's the longest period in a decade that Matt's gone without performing.
But it's been a busy time back at the day job, exploring the ways in which coronavirus has impacted on climate change.
"People think that global energy demands and carbon emissions may well have peaked now," Matt explained.
"There may be some recovery, but we've dropped so far we'd only maybe reach the levels of 2019 again in four or five years. It probably won't go much higher than that again.
"It's a very small benefit, it will help us ever so slightly but it's affected a lot of other stuff. It's certainly not going to solve it in any way.
"We'd need to have the reduction again every year on top of each other for decades. You'd need to have Covid, then double Covid, then triple Covid."
Many of the impacts on life brought up by coronavirus seem like a dress rehearsal for the catastrophic consequences of a changing climate.
Matt compares the pandemic to a "quick and heightened version" of what is to come.
"They're very similar in a lot of ways," he explained. "It affects everybody, lives are impacted by it, and it was caused by human interaction with the environment and us doing more stuff that brings on these sorts of diseases.
"You've also seen a lot of anti-science stuff and protests about things. People working on viruses haven't had to deal with this before in the way that a lot of climate change people have, denial of the fact that it's even happening. The science is pretty clear, it's just people don't like the messages."
Matt hopes that, in the aftermath of the pandemic and when people are less "fatigued with bad news", more will begin to realise the connections between health, climate change and society.
And with the COP26 summit heading to Glasgow, he reckons it's the perfect opportunity for Scotland to be at the centre of history-making change.
He said: "Covid has already impacted climate change and the process by postponing COP26, but I'm hoping by this time next year people will have the energy to focus on climate change when that comes around. It's not going away.
"You've heard of the Paris Agreement, hopefully there'll be a Glasgow Agreement and that'll be the thing everybody talks about. The turning point in history, where we solve climate change! That's my hope.
"Glasgow's always synonymous with saving the world, I think that would be a good legacy to have. That's my call to the people of Scotland, or certainly Glasgow.
"The people of Edinburgh probably don't want everyone to remember Glasgow in a positive way!"
---
It's a very tumultuous time but also a great opportunity for positive change

– Joe Cameron, 2050 Climate Group

Young people across Scotland are preparing to be climate leaders of the future through the 2050 Climate Group.
Since 2014, the charity has been working to empower, equip and enable young people to lead and take action on the climate and be able to affect change locally, nationally and globally.
The volunteer-led, youth-run organisation brings together people aged 18-35 across the country who are keen on making a difference.
Recent collaborative group exercises saw their Leaders Network put together a vision for Scotland in 2050.
They want to see a country that's sustainable, achieved through things like decarbonised energy, restructured politics and compassionate education.
It would also be just, with wealth and value redefined, a universal basic income and affordable housing.
And 2050 Scotland would be beyond net zero, with an economy that doesn't create waste, climate science at the heart of education and nature harnessed to capture and absorb carbon.
All of this could've been put to the side by the imminent threat of coronavirus, but the group feel that the pandemic highlights just how important change is.
Joe Cameron, the group's Operations & Information Assistant, said: "It's a very tumultuous time but also a great opportunity for positive change within society.
"I think that offers many different emotions, quite surreal but also very exciting.
"Coronavirus is the immediate and scary threat and the disruption is horrendous, but it probably doesn't compare with potential climate breakdown in the future.
"That's why it's so important, while working on solving the pandemic, at the same time to make sure we don't lose sight of the more long-term challenge that we have."
Over 500 young leaders have been through the group's programmes so far, working on their personal and professional development.
They find out how to make a difference in the worlds of business and politics, and get access to a wider network of contacts and opportunities to have their voice heard.
They also have a chance to connect with like-minded young people across the country.
Joe said: "We're social beings and our success is through collaboration, everything is much easier when involved in a group with others to support and encourage you. And also, perhaps, just offer inspiration as well.
"I think having a community is a massive benefit, particularly nowadays when the climate problem is so huge and you wonder what you can do as one person, but there's always something, no matter what."
Important, too, is the diversity of the participants.
"It's something we've really looked at and it's an ongoing process, diversity and inclusion," Joe added.
"That's been a real wake-up call within the UK and beyond's environmental sector, the importance of diversity within the movement and the interlinks between climate change and social justice.
"It's something that we continue to work on, and one of our strengths is aiming for this and encouraging as many people to be active in this from around the country but also from various different backgrounds."
https://www.instagram.com/p/CHFz8-XDr3o/
Looking ahead to next year, the 2050 Climate Group will be getting involved in a number of projects around the COP26 summit in Glasgow.
Joe hopes that it can further stimulate the conversation on the environment and result in some real change.
"It's massive, not just for what it stands for in itself but to be here is a huge thing for us as a Scottish climate charity.
"There's a lot of exciting things planned for it within the wider environmental movement. It'll be exciting to see the various different projects on offer.
"While public awareness has increased dramatically over the last couple of years, hopefully this'll be a final huge catalyst where everyone realises the situation and can get on board with changing society to more sustainable and carbon neutral ways of life."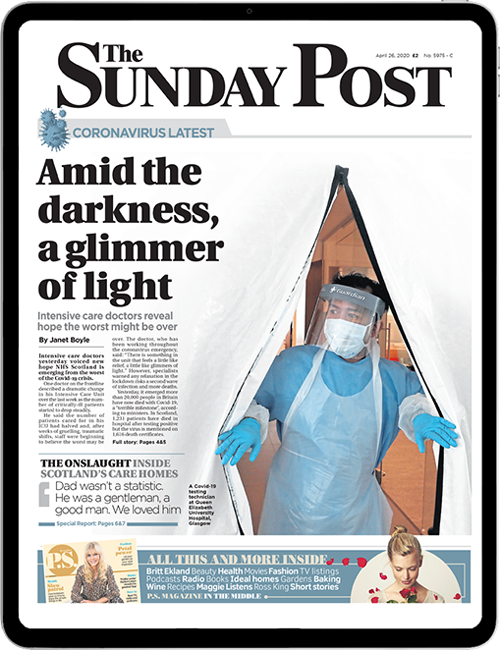 Enjoy the convenience of having The Sunday Post delivered as a digital ePaper straight to your smartphone, tablet or computer.
Subscribe for only £5.49 a month and enjoy all the benefits of the printed paper as a digital replica.
Subscribe