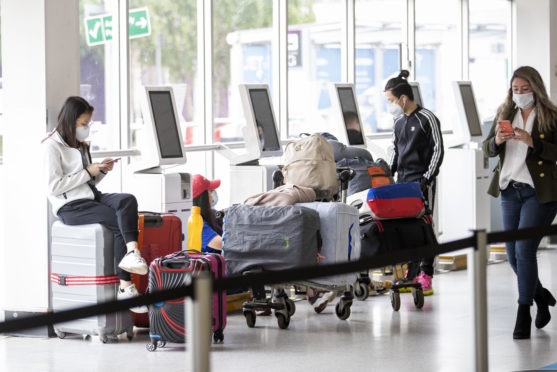 Public health officials in Scotland have not carried out a single follow-up check on people flying in from abroad since quarantine was introduced a month ago, we can reveal.
Launching the new regulations on June 7, Justice Secretary Humza Yousaf said people breaking the quarantine rule could face a fine of up to £500, which could rise to up to £5,000 if they were prosecuted.
He said quarantine was needed to control "the spread of infection at a time when levels of infection in Scotland are falling" with Public Health Scotland responsible for ensuring arrivals to the country are isolating for 14 days at an address given to UK border officials.
However, we can reveal that, since then, public health officials have not contacted a single person who has arrived here from abroad to ensure they are following quarantine rules, despite ministers suggesting a fifth should be spot-checked at home.
Asked why no arriving passengers have so far been contacted to ensure they are in isolation, the Scottish Government yesterday said follow-up calls will not begin until later this week, which is likely to be after Scotland's list of exempt countries, with so-called air bridges, are announced. An announcement is expected tomorrow.
Officials claim the delay in introducing follow-up calls was down to concerns over data protection, but, speaking yesterday, Mr Yousaf suggested arrivals to Scotland are completing passenger locator forms and public health officials make follow-up calls. He admitted, however, the system is largely based on trust.
He said: "The entire quarantine measures since its introduction has relied on people's self-compliance. Enforcement, although it's been there of course, is reactive. The border force will do spot checks as opposed to checking every single person's passenger locator form. Public health officials will then call about 20% of those who have been quarantining to give them advice and guidance and police would act on intelligence they would receive."
Police Scotland yesterday confirmed no fines have been issued as experts criticised the failure to enforce the rules as soon as they were introduced.
In contrast, public health officials down south are routinely calling a random sample of arrivals to England and Northern Ireland to ensure they are self-isolating and information is regularly passed to the police. Arrivals are called three times over three days and a text message for reply is sent on the fourth day.
Will Jones, Deputy Chief Operating Officer for Public Health England, said: "So far the majority of those called have confirmed they are following the requirement to self-isolate for two weeks on their return."
Professor Stephen Reicher, an expert in crowd psychology at the University of St Andrews and a Covid-19 advisor to the UK and Scottish governments, said: "It's blindingly obvious that if you're going to have a policy you've got to have some way of making sure it works. People are asked to isolate and we have no idea if they are isolating or not, so a policy where we don't know whether it's working or not is not a great policy. Consistency is important. People are always looking to see why this and why not that and if they can't see an overall logic it does undermine compliance."
Public health expert professor Allyson Pollock said Public Health Scotland "lacks the capacity" to make the calls to ensure arrivals are self-isolating. She said: "If the Scottish Government was serious about quarantine law it would be putting in the supportive measures and the monitoring.
"What it's sounding like is the quarantine is largely symbolic and really down to trust. It could be enforced but it would take a lot of resources. New Zealand did it by quarantining people in hotels for 14 days at the government's expense. It is very expensive but it can be done if you are serious about it."
Last week a war of words broke out between the Scottish and UK Governments over air bridges, with the First Minister claiming "shambolic" UK Government officials repeatedly changed the list of exempt countries before it was released publicly on Friday.
From July 10, people entering England from 73 countries will no longer have to quarantine. But Scotland has yet to agree to this, with Mr Yousaf saying a Scottish version of that list – possibly different to England's – could be published tomorrow at the earliest.
The First Minister has refused to rule out introducing quarantine for arrivals from the rest of the UK, saying last week it was "under review".
Lib Dem health spokesman Alex Cole-Hamilton said: "It is baffling that the First Minister should put such store in a possible quarantine for people coming over the English border yet have done absolutely nothing to check people arriving in Scotland from other countries who are meant to be quarantining."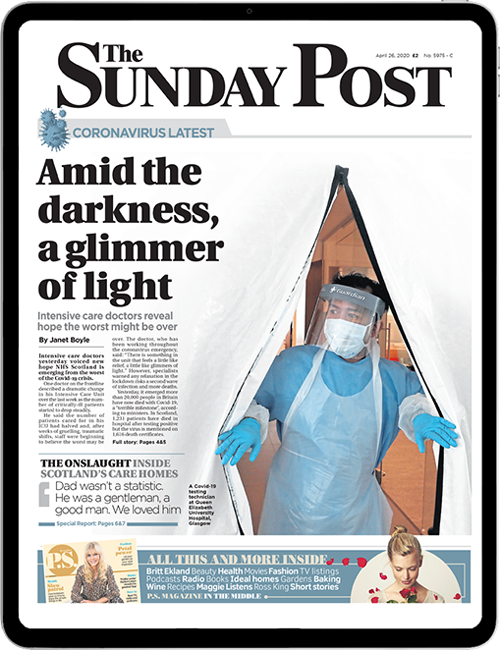 Enjoy the convenience of having The Sunday Post delivered as a digital ePaper straight to your smartphone, tablet or computer.
Subscribe for only £5.49 a month and enjoy all the benefits of the printed paper as a digital replica.
Subscribe