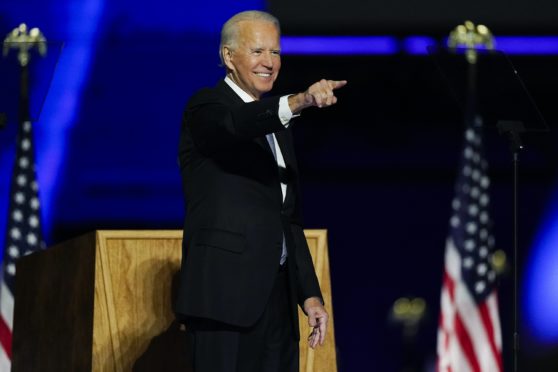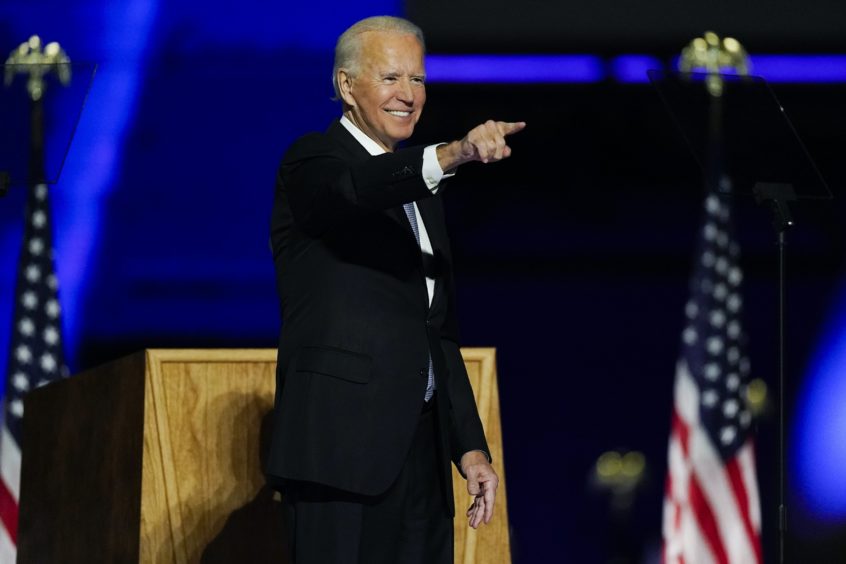 A life marked by terrible tragedy and soaring triumph has forged a special kind of president, according to friends of Joe Biden.
"Middle class Joe" from Scranton, Pennsylvania, will break new ground when he arrives in the West Wing. At 78 when he officially takes up the role in January, he will become America's oldest president.
Only the second Catholic in the White House, his deep faith allowed him to endure devastating tragedies in his life, losing his first wife Neilia and baby daughter Naomi in a car accident in 1972, shortly after winning his first Senate race.
Biden famously took the oath of office from the hospital room of his toddler sons Beau and Hunter, who both survived the accident.
Trusted as an honourable man of principal, Biden's family have always been at the centre of his world.
He remarried in 1977 to schoolteacher Jill Tracey Jacobs who has been seen at his side throughout the election.
The couple have a daughter Ashley, born in 1981, and they have two German shepherd dogs Major and Champ.
The loss of his son Beau, at 46, from brain cancer five years ago was a bitter blow and one of the reasons why Biden's signature policy on healthcare is 'personal' to him.
Biden has served in public life for over five decades, as a sixth term Senator for Delaware as well as the 47th Vice President of America during the Obama administration.
He and former President Obama are close friends, winning Biden many African American votes.
As a child, Biden suffered a stutter and was called 'bye-bye' by school bullies.
He played American football at Archmere Academy and as a young lawyer was turned down to fight in Vietnam after he failed his medical because of asthma.
Biden says his biggest vice is ice cream and it is no surprise that his favourite movie is Chariots of Fire.
Asked why, Biden said: "Someone put personal fame and glory behind principles. That to me, is the mark of real heroism, when someone would do that."
Biden ran as a presidential candidate in 1988 and then again in 2008.
He was forced to withdraw in 1987 after it emerged he had plagiarised a speech by one of his heroes, Labour's Neil Kinnock.
Last time anyone stood three times was Ronald Reagan in 1968, 1976, and in 1980 when he finally won .
He has promised to pass the 'Equality Act' within his first 100 days to bring in sweeping new rights for the LGBT community.
Biden has fierely denied sexually assaulting an assistant in his Senate office in 1993, and his accuser Tara Reade has found herself at the centre of investigations over her domestic abuse credentials and lying under oath.
His first words on hearing he had finally won last night after four days of bitter wrangling were 'I will keep the faith you have placed in me.'
Joe Biden faces an uphill struggle to unite America if Republican politicians continue to embrace Trumpism.
Biden, who has presented himself as the candidate of unity after a bitterly fought campaign, told Democratic supporters on Friday night that it was time to "get the vitriol out of our politics" and "be civil to one another".
But Christopher Carman, professor of politics at Glasgow University, said that Biden would need to revive the ideas of cross-aisle discussions and compromise to get anything done in Washington.
He said: Biden expresses respect for the institution of the presidency and the place it has historically served within the governing structure of the United States.
"You would expect him to return to many of the norms and decorum we would normally expect from the president.
"You can also expect him, almost out of necessity, to engage more with members of the opposite party when he can.
"But with Trump likely to constantly try to undermine a Biden administration, it is going to be exceptionally difficult for Biden to be the unifying figures he hopes to be.
"If Republican members of the Senate, in particular Lindsey Graham of South Carolina and Ted Cruz of Texas, continue to support Trump and Trumpism in the way they have been doing, it is going to be difficult for Biden to even get uniting policies through.
"It will be very difficult for Biden to bring the country together. Warm words alone aren't going to do it."
---
History-making US vice-president, Kamala Harris
Kamala Harris yesterday secured her place in history as the first female – and first black female – US vice-president.
Born in 1964 in Oakland, California, to a Jamaican-born father and Indian-born mother, the politician and lawyer has said she was inspired to fight injustice by her mother, an activist and researcher.
Ms Harris studied at Howard University, then for a law degree at the University of California, before embarking on her career in the Alameda County District Attorney's Office. She won her first election in 2003 becoming San Francisco's district attorney and, when elected California's attorney general in 2010, was the first woman and black person to hold the job.
She was elected to the US Senate in 2016 and gained attention for her questioning of Trump administration officials in congressional hearings.
Ms Harris launched her presidential campaign early last year with the slogan "Kamala Harris For the People", a reference to her courtroom work.
She was one of the highest-profile candidates and attracted 20,000 people to her first campaign rally in Oakland. She later pulled out of the race for the White House, instead endorsing former rival Joe Biden. He named her as his running mate in the summer, making history by selecting the first black woman to compete on a major party's presidential ticket.
Mr Biden praised her at the time as "smart, tough and experienced", adding, "She's a proven fighter for the backbone of this country".
He said: "Kamala knows how to govern. She knows how to make the hard calls. She's ready to do this job on day one."
Ms Harris, 56, now becomes the first woman and the first person of colour to be vice-president. She lives in Los Angeles with husband, entertainment lawyer Doug Emhoff, who has frequently joined her on the campaign trail, and is stepmother to his children, Ella and Cole, from a previous relationship. She revealed last year that the children call her Momala – as the family agreed they didn't like the term stepmom.
Forbes magazine last year estimated the wealth of Ms Harris and her husband at just less than £5 million, which included homes in Los Angeles, San Francisco and Washington DC.
In her memoir, The Truths We Hold: An American Journey, about her early childhood in California,
Ms Harris wrote: "We weren't rich in financial terms. But the values we internalized provided a different kind of wealth."
Ms Harris, a member of a Baptist Church in San Francisco, has also written a book on the criminal justice system entitled Smart on Crime: A Career Prosecutor's Plan to Make Us Safer, and a children's picture book called Superheroes Are Everywhere.
---
Who is the new First Lady in waiting?
First Lady in waiting Jill Biden enthusiastically backed her husband's bid for the White House but insisted she would keep her teacher's job if he got there.
She has worked in the classroom for 36 years and, since 2009, has been a professor of English at Northern Virginia Community College.
When her husband was vice-president to Barack Obama, Dr Biden was thought to be the first Second Lady to hold a paying job while her spouse was in that post.
She said a few months ago, as her husband campaigned for the presidency: "If we get to the White House, I'm going to continue to teach. It's important. I want people to value teachers, and know their contribution and lift up the profession."
Speaking of her passion for the job, she said: "I teach a lot of immigrants and refugees, I love their stories, I  love who they are as people, and I love the fact I can help them on their path to success."
Dr Biden added most of her students had no idea who she was, and that she asked the Secret Service to dress like college students and sit out in the hallway.
Born Jill Jacobs in Hammonton, New Jersey, she grew up in Willow Grove, Pennsylvania and married Joe Biden in 1977, becoming stepmother to Beau and Hunter, his two sons from his first marriage.
She taught English and reading in high schools for 13 years, and also taught adolescents with emotional disabilities at a psychiatric hospital.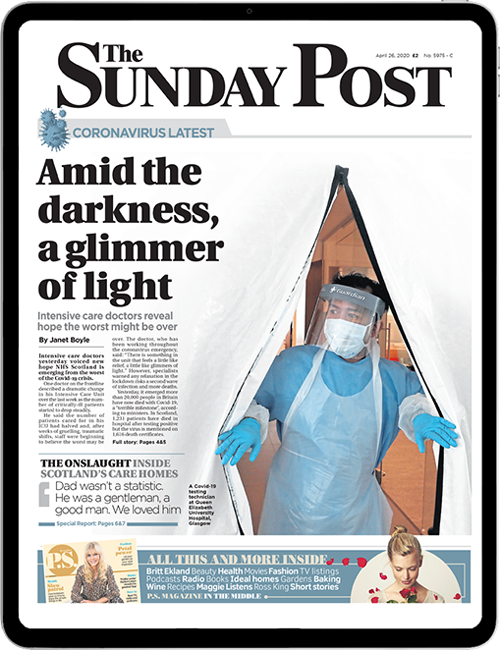 Enjoy the convenience of having The Sunday Post delivered as a digital ePaper straight to your smartphone, tablet or computer.
Subscribe for only £5.49 a month and enjoy all the benefits of the printed paper as a digital replica.
Subscribe