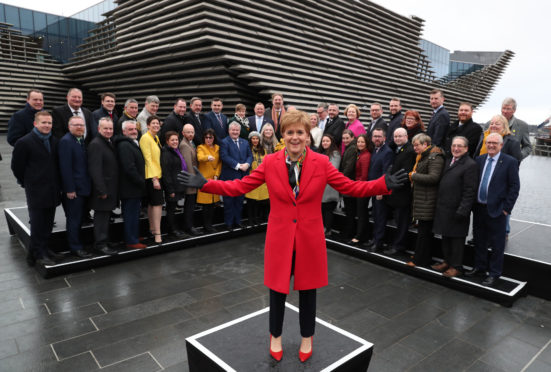 Nicola Sturgeon will within days demand Boris Johnson gives Scotland the power to hold its own referendums.
The First Minister is to write to Johnson later this week after the SNP won 48 of the country's 59 seats at Westminster.
The 2014 Scottish independence referendum was held with the agreement of then Prime Minister David Cameron.
But Ms Sturgeon, who wants a fresh vote next year in the wake of Britain leaving the EU, will ask for the power to be devolved on a permanent basis in a letter being sent with a document making the case for independence to Johnson.
She said yesterday: "I think it would make sense for that to be permanent. In 2014 it was temporary.
"You know these sort of things are up for discussion. I'll set out later this week what we are putting forward in the document I spoke about on Friday.
"But we want to put a referendum beyond legal doubt. I put forward a proposition, I have a mandate for that and I think that mandate should be respected."
The SNP secured 45% of the Scottish vote in the General Election on Thursday, while across the UK the Conservatives won 43.6%.
The SNP won 48 seats while Conservative MPs north of the border were reduced in number from 13 to six.
Unveiling her newly-elected MPs at the V&A museum in Dundee, Sturgeon insisted it was unsustainable for the Tories to keep saying no to a fresh vote on independence.
She said: "This idea that the Tories can just say no and sort of imprison Scotland in a union against its will, I just don't think will hold.
"The union can only continue to exist by consent if the Scottish people want it to.
"And you have to be prepared to allow the Scottish people to choose if you want to make the argument that it should be part of the union.
"So if Boris Johnson has confidence in the case for the union and the UK, and for Scotland staying part of that, he should have the guts to make that case and let people decide because he won't get away with just saying no and trying to bludgeon the nation of Scotland into seeing the world as he does, which most of us don't."
Ms Sturgeon added: "There is no doubt that the prospect of a Boris Johnson government for the next five years is worrying for people.
"It's a grim reality and in my view, it makes that case for Scotland being able to choose something different all the more urgent and all the more important."
Mr Johnson said last month that a letter from Ms Sturgeon demanding a second independence referendum would be marked "return to sender" while one of his ministers ruled out another referendum for five years.
Speaking on BBC Radio 4's Any Questions on Friday evening, UK Work and Pensions Secretary Therese Coffey ruled out a second independence referendum during the lifetime of the new parliament.
She said: "We have been consistent, as the Conservative and Unionist Party, very much so, that we absolutely said in our manifesto that we would not be looking to have a second referendum on that.
"There was one in 2014, the United Kingdom is something that we cherish very strongly, Great Britain and Northern Ireland, and that's why we were very clear about keeping the United Kingdom together."
According to Downing Street, in a telephone call between Sturgeon and Johnson on Friday the Prime Minister "made clear how he remained opposed to a second independence referendum".
But Sturgeon said of the conversation: "I wasn't sure how much he'd had a chance to catch up with the Scottish results.
"I pointed out to him, politely of course after I congratulated him, that the Scottish Tories, having fought the election on the single issue of opposition to an independence referendum, had lost – lost vote share, lost more than half of their seats. It was a watershed election on Thursday and it's very clear that Scotland wants a different future to the one chosen by much of the rest of the UK.
"Scotland showed its opposition to Boris Johnson and the Tories, said no again to Brexit, and made very clear that we want the future of Scotland, whatever that turns out to be, to be decided by people who live here."
She added: "It couldn't really be any clearer from the results of this election that Scotland doesn't want a Boris Johnson government, it doesn't want to leave the European Union, and it wants to be able to determine its own future, whatever that future turns out to be."
If Boris Johnson refuses consent for another independence referendum, the Scottish Government will consider a legal challenge in the courts.
Legal challenges to the Brexit process, spearheaded by SNP MP Joanna Cherry, resulted in the UK Supreme Court ruling that Boris Johnson's decision to prorogue parliament was unlawful.
Asked yesterday about court action, Ms Sturgeon said she would consider "all angles".
She said: "I look at all aspects of this but the simplest one and the one with the moral and democratic authority is for the Tories to accept how people ivn Scotland voted and that's the case I'll be pursuing."
However, senior SNP figure Alex Neil advised Sturgeon against a legal challenge.
The MSP and former Health Secretary said: "There are political risks in doing that.
"If we go for a legal challenge and he wins, he might feel emboldened or strengthened by it and feel it nullifies our electoral victory.
"Before taking that decision, I would be asking the Lord Advocate and constitutional experts about the chances of winning.
"I wouldn't rule out a legal challenge, but I would start off by putting massive political pressure on Johnson to concede that the powers should be transferred."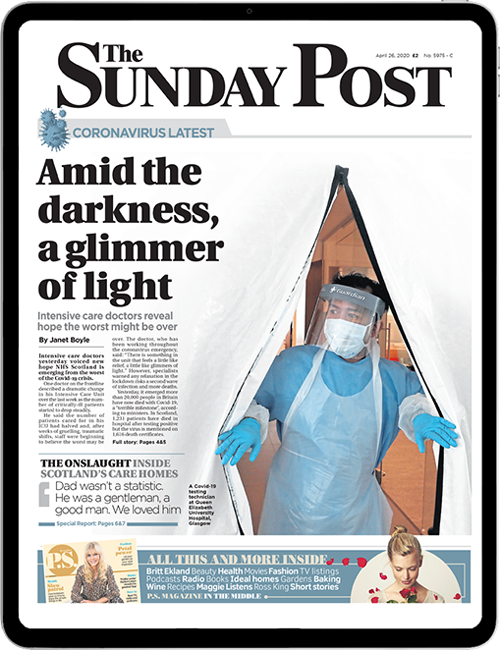 Enjoy the convenience of having The Sunday Post delivered as a digital ePaper straight to your smartphone, tablet or computer.
Subscribe for only £5.49 a month and enjoy all the benefits of the printed paper as a digital replica.
Subscribe