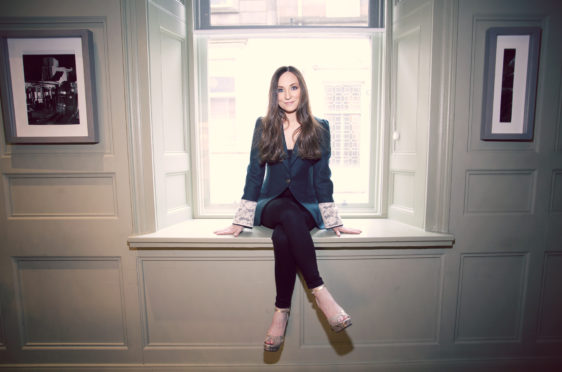 A star of traditional music has hailed one from the world of classics for keeping her children in key during lockdown.
Singer Julie Fowlis signed up her daughters, 10-year-old Aoibhe and Niamh, eight, for violinist Nicola Benedetti's music lessons online and was blown away. She said: "The kids have been great, as has their school, which acted really quickly in getting everything online. And the teachers have been really supportive.
"We've tried to use the time to do things we wouldn't normally do, so we've been playing so much music with them. The girls did a three-week online course of music-making with the Benedetti Foundation, which was incredible.
"They'd previously gone along to the event organised by the foundation in Dundee just before lockdown. It was truly inspirational and I'm really proud of Nicky and everything she's doing, giving opportunities. It wasn't established for people with money or privilege. It's open to everyone.
"The virtual sessions were set up in such a short space of time. My girls went to lessons every day and it was incredible what they got from it. It made a lot of the lockdown really positive. That idea of music for all is something I firmly believe in."
She is loving the music at home but fears the pandemic might risk the future of live music in Scotland.
"I've moved all my tour dates to 2021, and we're keeping our fingers crossed they can happen at that point," said Julie, who has achieved crossover success thanks to her songs on Disney's Brave movie soundtrack, as well as performances at the Commonwealth Games and on the television show Later With Jools Holland. "I think people will be ready to celebrate music again, but also nervous to go to festivals and gigs.
"It's a worry when you see how big the gap is going to be, in terms of infrastructure, to make shows happen. Venues, promoters, agents, everyone in the industry is under financial pressure, so I hope there will be enough support of the scene in general that it still exists in 2021.
"It's hard when so much is unknown. We can't follow a road at the moment – we are floating, waiting and wondering – and that's one of the difficulties. We have the phases laid out, which is helpful, but in terms of music there is not an obvious plan for returning to live performance and, even if it does happen, how does it happen?"
Julie, who lives near Inverness, had set aside much of the year to work on new music with her husband and collaborator Eamon Doorley, but did have a tour of America and a string of summer festivals in her diary.
Julie admitted that while it was never her intention starting out, she does feel pressure to fly the flag for the Gaelic language and help keep it alive. "I never set out with any agenda to do any saving," she said. " I was just playing the music I loved the most and I continue to do that. But singing in a minority language, when you're lucky enough to have big platforms to perform on, it does come with a bit of weight. You're representing a culture that's been under a lot of pressure for a very long time.
"When you speak a minority language, you're always trying to fight its corner. That's part and parcel of it, not just in terms of performing but in raising a family where we are using Gaelic as the first language.
"I'm exceptionally proud to get to sing in Gaelic. When I go away, people have such profound interest in the language, its history, its culture, and I often wish I could bottle that energy and interest when I'm away from Scotland and share it around here, because sometimes it feels you have to work hardest for the language at home.
"But I don't want to sound negative, because we have lots of positives, things like BBC Alba and Radio nan Gaidheal, which are great pillars and really help the language.
"A lot of people might feel like the language doesn't belong to them or they don't have a connection to it, which I can understand, but maybe by watching a few programmes it allows people a way in."
Julie, who has enjoyed a growing broadcasting career over the past decade, aims to fill the void of live music for performers and audiences alike through a new series shot during lockdown. Julie Fowlis: Ceòl Aig Baile (Music At Home) sees musicians from around the world, including Karine Polwart and Rosanne Cash, collaborating in live performances from their individual homes, with Julie presenting each week.
"I know how much work goes into these types of programmes, so I did wonder at the beginning if we could pull it off," she admitted. "It's been the fastest learning curve ever.
"It's been a real joy and something exciting to work on during lockdown. There are moments of total stress but the result has been really satisfying. We've had some lovely and unexpected collaborations."
Julie Fowlis: Ceòl Aig Baile, BBC Alba, Thursdays, 10pm.
---
Sound and Vision: Singer's favourite things
Boxset binge
Ask anyone who knows me – I don't really watch much TV! However, I did watch Killing Eve, and The Morning Show.
Favourite band/singer
So many favourites. I am just going to pick my favourite of this week! An amazingly talented singer and musician – Rhiannon Giddens.
First record
I think it was Bananarama, Greatest Hits.
Favourite film scene
From Yuli: The Carlos Acosta Story, where the young Yuli is taken to ballet school for the first time, and he runs away.
Best gig you've attended
Seeing Christy Moore at the Cambridge Folk Festival in 2016 was a very special moment.
Guilty pop pleasure
'90s dance-floor hits.
Favourite actor
Jodie Comer and Sandra Oh. Can I choose Maggie Smith, too?
Poem that changed me
Moladh Uibhist (In Praise Of Uist) by Ruairidh Mackay. It opened up a world of Gaelic to me, in its descriptions and understanding of – and connection to – local landscape.
A favourite play
The Cheviot, The Stag and The Black, Black Oil by John McGrath.
Ultimate dinner party guest
The great poet Sorley MacLean.
Museum or gallery that inspires you
An Lanntair on Lewis always has really inspiring exhibitions, most recently the Iolaire 100 by the amazing local artist Margaret Ferguson, for the 100-year commemoration of the loss of the Iolaire. I also loved our visit to the National Gallery of Art in Washington, DC, where we also performed, last year. Such an incredible place.
Book you re-read
Currently reading If Women Rose Rooted by Sharon Blackie, but always re-reading The Living Mountain by Nan Shepherd. There is always something new to be found in her writing.
The person you'd most like to go for a drink with
Right now – my best pals. I miss them!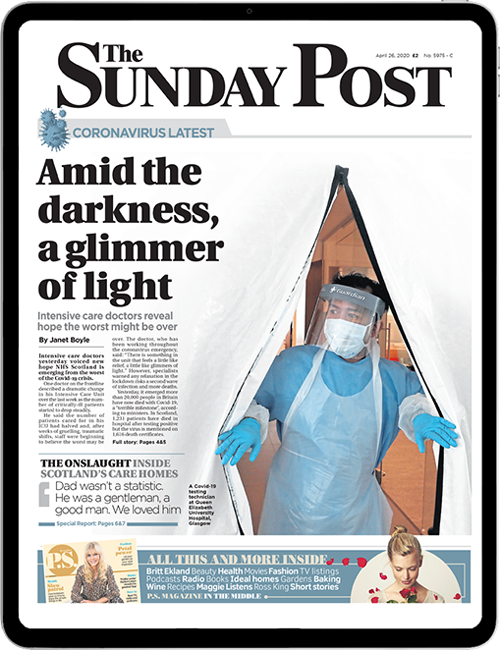 Enjoy the convenience of having The Sunday Post delivered as a digital ePaper straight to your smartphone, tablet or computer.
Subscribe for only £5.49 a month and enjoy all the benefits of the printed paper as a digital replica.
Subscribe