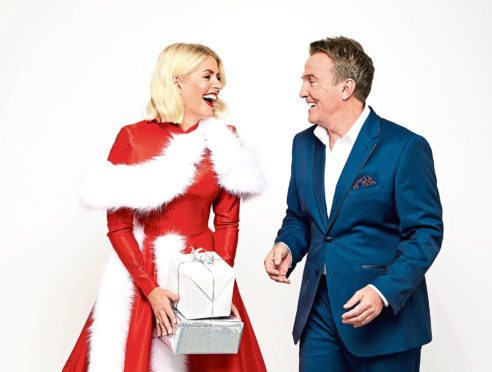 A magical trip to Lapland sounds just the thing to make Christmas extra special.
And that's what Bradley Walsh and Holly Willoughby will be giving audience members a chance to win as they spread the festive joy in BBC One's new family entertainment show Take Off.
The show will be jam-packed with games, incredible surprises, celebrity guests and much more leading up to a spectacular end-of-show finale.
And Ms Willoughby admits: "OK. Well, Take Off. We're both very, very excited about it.
"It is our brand new show. It's going to be Christmas fantastic.
"It's out on Christmas Eve and we're basically giving families the chance to win an opportunity to fly to Lapland."
"On a plane, obviously, not on their own, people can't fly, it's physically impossible!" points out her co-host, Mr Walsh.
"Or in a sleigh," counters the appropriately festively-named Holly.
"Or in a sleigh, yes that's true. I know nothing about this show, I only came out for a loaf of bread. You'll have to ask Holly. OK Holly, over to you!"
Asked what makes the show so special, Bradley's explanation that, "Well, I think working with Holly makes it so special for me," gets the reaction, "Aww, that's so nice!"
"All right, love! I haven't worked with Holly for a long, long while. The last time I worked with Holly we worked on…"
"Play To The Whistle!" says Holly, helping jog her co-presenter's memory.
"We did, yeah! Play To The Whistle, that was quite a funny show. Holly took the mickey out of me the whole time and treated me like an elderly person, which I'm not by the way."
"But I have to somewhat take control of the situation," counters Holly. "I mean, you might have noticed that a little bit here.
"So, you know, working with Bradley I really have to be on my toes and pay attention because I'm keeping us both in line."
"I don't agree with that!" Bradley splutters. "I don't know what you mean. What d'you mean? Is it because I've got a very juvenile sense of humour?"
"A little bit and it's sort of like you just need to make sure you're on track with things."
Bradley replies: "What, because I'm sort of off-piste sometimes?"
"Yes you are off-piste and you play – which I love. But I think that what people will love about this show is that it's the dream to go to Lapland and see Father Christmas at Christmas, it's the perfect thing to do.
"There are lots of surprises on the night," Holly goes on. "Lots of you will recognise Johannes from Strictly Come Dancing, and we've also got Curtis Pritchard from Love Island.
"We've got an aeroplane in the studio, you see, and they're kind of in charge of the aeroplane, serving drinks and canapes."
"It's got a flypast by the Red Arrows," claims Bradley, somewhat dubiously.
"And Jamie Cullum's coming, he's going to play the piano. It's gonna be good."
Holly adds: "He's gonna be singing and you might do a little bit of singing, Bradley?"
"No, I'm not going to be doing any singing at all. No, no, no. Next question please!"
Fair enough, what can viewers expect from the show, Bradley?
"This show's going to be fun, I think it might be – I mean I don't know about Holly but I'm really looking forward to it…
"And of course the irony is that Christmas is all about Holly, and the Holly and the Ivy, and I'm going to go down to the county court and change my name by deed poll to Ivy so we can have this show running every year, Christmas With Holly And Ivy."
"That's the commitment I'm looking for!" laughs Holly. "Is it too late to change the name of the show?"
---
Take Off With Bradley And Holly is on BBC1 at 8pm on Christmas Eve.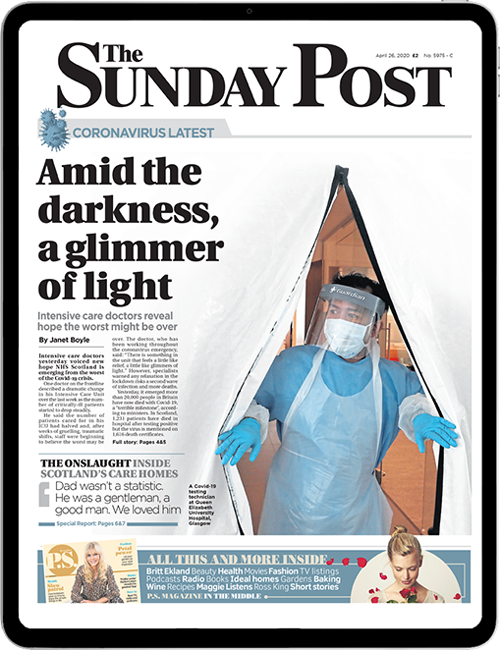 Enjoy the convenience of having The Sunday Post delivered as a digital ePaper straight to your smartphone, tablet or computer.
Subscribe for only £5.49 a month and enjoy all the benefits of the printed paper as a digital replica.
Subscribe