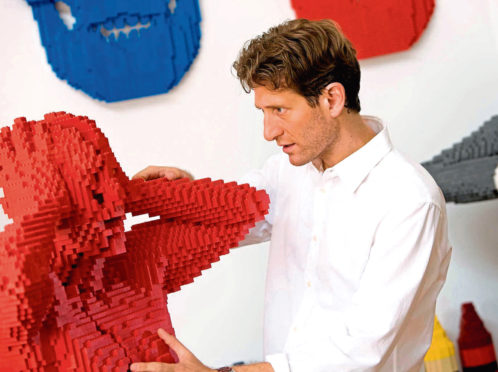 Could LEGO art one day rival van Gogh and da Vinci?
If artists like Nathan Sawaya have anything to do with it, it's more possible than you might think.
Working with the colourful bricks that remind us of childhood, the American artist, who was formerly an attorney, creates some extraordinary art from LEGO.
Impressive in sheer scale, they are also more striking than many a painting because of their 3D nature – and the biggest surprise is learning that Nathan does all this with the same LEGO bricks you can buy on the high street. It's just that he seems to have found ways to turn them into something utterly amazing, and even the greatest artists of centuries gone by would be impressed.
"Over a decade ago, I was working as an attorney – I was a mergers and acquisitions corporate lawyer – and I would come home at night in need of some creative outlet," explains Nathan from his base in New York City.
"I would draw or paint, and sometimes, I would do sculpture out of clay or wire.
"Then I got this toy from my childhood and I started experimenting with it.
"LEGO became my medium of choice. Eventually, I would leave the law firm behind and become a full-time artist using LEGO.
"There's something about it that makes it very accessible to many people, so when I create something out of LEGO, people can connect with that because there is a familiarity. Everybody has snapped LEGO bricks together, and people relate to this art very well."
They have related to his unique art on a global scale, with Nathan's The Art Of The Brick exhibition touring the world for the past five years. Now he's brought it to Manchester, where the exhibition gets a new home until next April at the Great Northern Warehouse.
The Art Of The Brick features 3D sculptures and huge portraits from Nathan's collection – everything from dinosaurs to a Mona Lisa – all made only from the ordinary standard LEGO bricks you can get in any toy store.
"I focus a lot on the human form," he says.
"That's the way I can put emotion into the art.
"But I can still have fun with it, and I understand that the audience is made up of kids and adults. I have done a dinosaur skeleton, a lifesize Tyrannosaurus Rex that took an entire summer to build.
"Some things are more representational, some are more avant-garde.
"The exhibition has been to almost 100 cities, it has been to every continent except Antarctica. But we have never been to Manchester, so this is a great opportunity!"
That far-travelled experience has emphasised to Nathan just how popular LEGO is – except, it seems, in a few places.
"We met folks when we were in Africa who had never seen LEGO," he says. "That was interesting, and when they snapped a few bricks together, they immediately got it.
"It is universal."
Nathan would like to think that his brand of art might inspire others to seek their creative sides.
"As an artist, I want to encourage people to experiment and explore their creativity," he explains.
s"I really do encourage them to grab some bricks at the end of each exhibition, and that is an important part of it."
Does Nathan have some sneaky uniquely shaped bricks that you and I couldn't find at our local store?
"I wish that was the case!" he laughs. "No, I use the exact same standard bricks in the standard colours, and I buy my bricks just like everyone else.
"The good thing is that if someone comes to my exhibitions and gets inspired to go home and build something of their own, they can go to a store and buy those same bricks."
Does Nathan struggle to get some art lovers to take his chosen medium seriously?
"When I started, I would go to art galleries and explain that I created art out of LEGO, and I think they imagined what they saw in toy stores – castles, trains, things like that," he says.
"It took a while, but now it is more accepted, and when they see what I do with the human form to create emotion, I think they realise it's very different."
So does he think LEGO works will one day sell for the kind of money oil and canvas masterpieces do today?
"You never know," he smiles. "It's entirely possible, but that is more up to the market and the collectors.
"I just create the stuff."
---
The Art Of The Brick is at Unit 5, Great Northern Warehouse, and prices start at £9.50 for children, £14.50 for adults, concessions at £12 and a family of four ticket priced at £42. Visit www.aotbmanchester.co.uk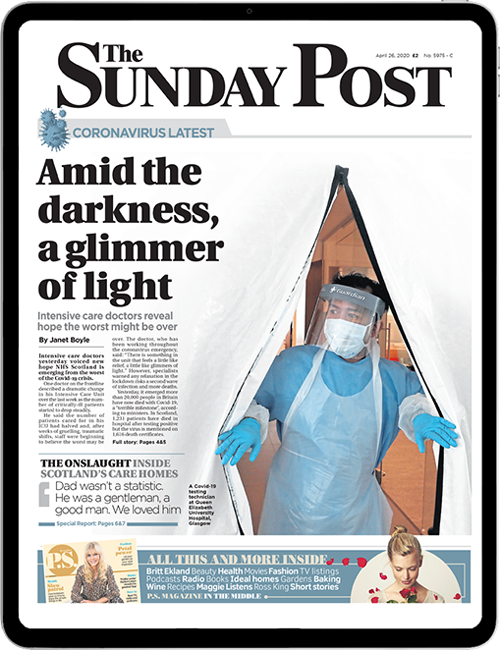 Enjoy the convenience of having The Sunday Post delivered as a digital ePaper straight to your smartphone, tablet or computer.
Subscribe for only £5.49 a month and enjoy all the benefits of the printed paper as a digital replica.
Subscribe