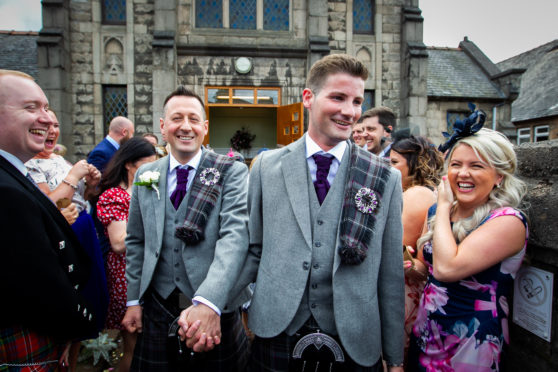 Their marriage is a modern love story for Scotland and yesterday Jamie Wallace and Ian McDowall became one of the first gay couples to tie the knot in church.
For college lecturer Jamie, 28, yesterday's ceremony at Rutherglen United Reformed Church was the culmination of years of fighting for equal rights as well as an act of love.
A film crew from BBC's Songs of Praise was there to record the landmark service and, afterwards, Jamie said: "As a committed Christian, being able to marry the man I love with all my heart and soul, before God, in the church I love, with my family, friends and the congregation around us, is something I've dreamed of.
"Now it's actually happened, I'm proud my church is welcoming and open to same-sex couples."
The United Reformed Church of Scotland is the first mainstream Protestant church to conduct same-sex marriages, with virtually all of their ministers supporting the change in law three years ago.
Others, like the Church of Scotland, have still to decide how to proceed.
The Catholic Church is opposed and lobbied the Scottish Government not to change the law, insisting "governments do not have the authority to say what marriage is or to change its nature".
But Jamie said: "My church embraced the new legislation in 2016, and its stance is a reflection of how in-tune it is with modern Scotland.
"Ian and I are the first same-sex couple to marry in the church in Rutherglen."
Permission was needed from the whole congregation.
Jamie said: "The church Synod approved same-sex marriage three years ago but, as each church is ­congregation-led, each had the power to decide whether they would do so.
"Rutherglen voted to accept same-sex marriage, and our minister Rev John Sanderson also agreed to officiate at same-sex weddings.
"If they hadn't said 'yes', we wouldn't have been able to get married there, even though it's where I worship and sometimes preach."
The ceremony will be televised on Songs of Praise on August 18 and will be presented by the Rev Kate Bottley, who also stars in television's Gogglebox.
A Songs of Praise spokeswoman said: "In an episode about Faith & Marriage we are filming the wedding of Jamie and Ian to find out what it means to them, as Christians, to be able to take their vows in church."
Moderator of the United Reformed Church of Scotland David Pickering said: "When you realise that, in our lifetime, to love someone of the same sex was a criminal offence, we've come a very long way. The United Reformed Church of Scotland is open and welcome to all, regardless of their sexuality, gender or race.
"There have been some who oppose same sex marriage, and they give traditional biblical values as their reason.
"But, for me, grace, love, justice and inclusivity is what traditional biblical values are all about."
The politician who drove forward legislation to allow same-sex marriage, MSP Alex Neil, said he was "delighted" the United Reformed Church in Scotland has embraced the new law and the spirit of inclusiveness.
He said: "Jamie and Ian's wedding is yet another welcome landmark as we continue to make sure, in modern Scotland, gay people have the same rights to marriage as everyone else."
He said detractors to same-sex ­marriage have been proved wrong. "They argued it would change the meaning of marriage, but that has not happened," said Mr Neil.
Jamie and Ian, 40, met three years ago.
At Christmas 2016, just weeks after Scotland brought in same-sex marriage legislation, Jamie and Ian got engaged.
Ian, a cyber security expert from Clydebank, said: "It was a night to remember.
"It was the first time I'd attended Jamie's church. We'd been to the Watchnight Service and, although I'm not religious, the congregation made me feel I was one of them.
"I would have married Jamie anywhere but I know how much it meant to him to be married in his church. So today has been extra special."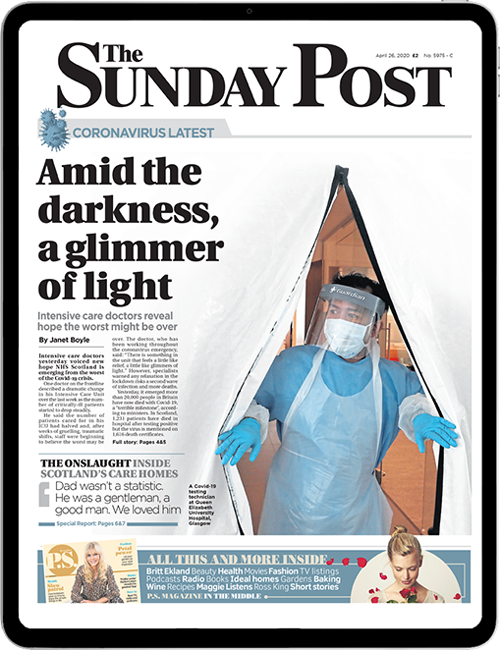 Enjoy the convenience of having The Sunday Post delivered as a digital ePaper straight to your smartphone, tablet or computer.
Subscribe for only £5.49 a month and enjoy all the benefits of the printed paper as a digital replica.
Subscribe