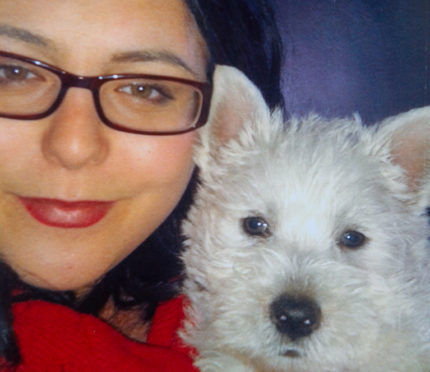 Police have joined forces with a dog shelter charity in a landmark move to help victims of domestic violence escape their abusive partners, we can reveal today.
Officers have been trained to identify and support women who have stayed with abusive partners because they fear family pets will be killed or injured if they leave.
Three out of four pet-owning abuse victims say their partners have threatened or hurt their animals in an attempt to bully and control them.
However, new laws in Scotland outlaw psychological abuse and Police Scotland and charity Dogs Trust are working to give their pets refuge if they want to flee an abusive partner.
One victim, Kara Ewen, 26, told how she endured six years of serious violence and mental abuse after her partner, who has since been jailed, threatened to kill their pet dog if she left him.
Mark McLeod had given Kara the West Highland terrier, named Hobo, as a present after beating her. But he soon used the dog in an attempt to stop her leaving.
Now that she has finally left her abusive partner, Kara lives with the guilt of not knowing if Hobo is alive or dead. Kara said: "He knew how much I loved animals, so Hobo was the perfect gift, something he could use as a weapon to keep me in line."
From this month, an abuser using threats or violence to
control a partner will face jail and police now recognise violence towards animals in a household is a key indicator of serious domestic abuse.
Police Scotland have invested in extra training for 14,000 officers as well as joining forces with Dogs Trust. The head of the force's specialist Domestic Abuse Task Force, detective superintendent Gordon McCreadie, said the initiatives will help curb the abuse and threats endured by women like Kara.
DS McCreadie said: "To his victims, Mark McLeod was a monster. To us, he was one of the worst of the worst.
"It was time Scotland recognised the way abusers like him operated and sought control.
"He used the threats of disappearance of pets as a way of seizing control over a number of his victims, and it's every bit as despicable as some of the other behaviours he displayed.
"McLeod is not alone in this. We've seen pets stabbed, killed, or hung from trees.
"A mother may want to flee an abusive relationship, but the worry about what will happen to a beloved family pet if its left behind can make them stay rather than upset their children further. Abusers like McLeod make full use of this.
"We're delighted the new act makes threats like this a crime, and that we have been able to establish working relationships with several partners so we can provide support and somewhere safe for pets to go until they can be reunited with their family.
DS McCreadie urged everyone to be on the look out for signs of abuse.
He said: "Sometimes the earliest signs of an abusive relationship can be seen through the dog brought to a vet with a broken leg.
"We ask vets or dog walkers to be aware to that possibility if they encounter a story that doesn't add up, or an injury that has been caused by a deliberate twist rather than fall, perhaps there's a victim or family experiencing abuse.
"Perpetrators take control however they can, and Scotland has worked very hard to ensure all kinds of controlling behaviour can be used against them. That's why we've worked closely with a number of partners so anyone thinking of leaving an abusive relationship, there is support available including this great scheme."
DS McCreadie continued: "We also have the disclosure scheme available to anyone who finds themselves in a relationship where they suspect a partner has been abusive in the past, or for anyone concerned about a loved one in this situation. It allows us to make a disclosure, so victims can make an informed decision about whether to flee or stay."
Cabinet Secretary for Justice Humza Yousaf said: "The new legislation is a landmark moment in tackling domestic abuse and allows the us to hold perpetrators to account.
"It is the first in the UK to allow sentencing to reflect the harm that can be caused to children growing up in an environment where domestic abuse takes place and properly recognises the devastating impact of coercive and controlling behaviour on survivors and their loved ones.
"I want to be clear that this behaviour is absolutely unacceptable. As well as training of relevant organisations and professionals we are also running a public awareness campaign as part of our commitment to safeguard those at risk."
Scotland's new domestic abuse laws outlaw cruelty to animals as part of legislation designed to curb psychological bullying and controlling behaviour.
Experts say 75% of abusive partners with pets will threaten the animal to force their victim to remain in the relationship.
Carole Marsden of the Endeavour Project and Paws For Kids charity said: "We've been working with abused women across the UK for 21 years and find 75% of those who have family pets have had violence against them used as a threat or means of control.
"We are delighted Scotland's new domestic abuse laws are taking these steps and hope the rest of the UK will be more proactive in this area now too. Last year we helped 109 families escape abusive relationships, and 44 of them used our pet fostering service."
Police Scotland's link up with charity Dogs Trust ensures victims have somewhere safe to take their pet so they no longer need to worry about them being harmed.
Carole added: "We are a nation of animal lovers, but in homes where there is violence and abuse, pets are often threatened, injured or killed by violent men to maintain control over their partners and children."
She said in a recent survey of 50 women pet owners living in refuges because of domestic violence, two out of three said their abuser had threatened to harm their pets, while two out of five said he had actually harmed them.
Almost 95% said if there had been a pet fostering service it would have made it easier for them and their children to escape the violence. Well over half had to give up their pets when going into the refuge as there was no facilities available to them.
Amy Hyde is outreach manager for the Dogs Trust's Freedom Project which is now available in Scotland. She said: "We've seen horrific injuries to animals caught up on domestic abuse situations, dogs who have been stabbed, thrown down flights of stairs or burned with cigarettes.
"The pet becomes a target because it's a way an abuser can control their partner.
"A family pet is much loved, and women will often decide not to leave rather than take the risk of their animals being hurt. It's deeply upsetting for everyone caught up in that situation, particularly when children are involved. We now work to ensure domestic abuse victims and their families can have somewhere to care for their dog while they flee for their own safety."
The Dogs Trust have a number of volunteers prepared to foster pets until families can be relocated and settled into a new home.
Amy said: "Since we began working on setting up the Freedom Project in Scotland last year we've fostered 30 dogs. We expect that number to spiral with the introduction of the new Domestic Abuse Act.
"Across the UK, so far this year we've had around 100 requests for this kind of support, so we are always desperate for foster carers to come forward. We pay for food and vet bills, and we give all the support required as pets coming from an abusive situation can be traumatised. Our foster carers say it's an extremely rewarding thing to be able to give an animal shelter knowing they are also helping a family flee a violent and abusive relationship.
"There's nothing better in the world than reuniting a family with their pet once they have relocated and settled into a new home.
"It's simply the best feeling to see them all back together, safe and happy."
After her ex-partner McLeod was jailed for almost 14 years, abuse survivor Kara, originally from Brechin in Tayside, said yesterday: "Scotland's new domestic abuse laws have given women like me the chance to walk away knowing they don't need to live with either the threats or abuse towards our family pets.
"And for the first time, even just the threat of it can put an abuser behind bars."
"He got electric collars for them but when they cried and I tried to take them off he said he'd put one on me."
Desperately trying to persuade his partner to stay despite his brutal behaviour, Mark McLeod gave her a fluffy white West Highland terrier.
Little did Kara Ewen know that soon her little dog would be used as a weapon by McLeod as he threatened to kill their pet if she ever left him because of his violence.
Finally, after enduring six years of psychological torture as well as physical and sexual violence, Kara, who has waived her right to anonymity to raise awareness of the problem of domestic abuse, left her brutish partner.
However, she still lives with the guilt of not knowing whether little Hobo is dead or alive. Kara, 26, said: "Hobo was a gift after yet another beating, something McLeod did to make up for the violent outbursts, punches and beatings and he knew how much I loved him.
"Hobo's screams and whimpers when he hurt him were just the thing to keep me there and keep my mouth shut about the daily abuses and violence I suffered.
"Eventually, he knocked me out once too often, battered me with a baseball bat until I could hardly move for days, and I knew I had to flee if I wanted to stay alive.
"I had no chance to take Hobo, or any of the other animals McLeod hurt during our six years together.
"I'm so pleased Scotland has recognised abuse victims need extra help and support to leave knowing their animals will be kept safe from harm."
During their relationship, McLeod repeatedly beat and attacked another pet dog, a lurcher called Patches, before finally running over the animal in a rage.
Kara said: "As a puppy, I remember little Patches being run for miles until the pads on his feet burst open. McLeod threw a bottle at him because he wasn't 'keeping up' and there was no chance of getting vet treatment.
"He knew how much I loved animals, so Hobo was the perfect gift but something he could use as a weapon to keep me in line. He got an electric shock collar for Hobo, and threatened to use it on me if I tried to take it off the dogs."
After meeting McLeod, a tree surgeon from Dundee, when she was just 17, Kara moved in with him within weeks, and soon suffered the first of countless beatings.
She said: "I made a terrible mistake because I was young and naive. I believed all his lies until it was too late and I was under his control night and day. He even lied about his age. He'd said he was 24 when in fact he was 31. I was a perfect victim in so many ways. Violence and abuse became a way of life for six years.
"He'd lock me in and beat me unconscious unless I did exactly what he wanted.
"All my dreams of going to university were immediately stopped. I was cut off from family and friends and even when he injured me, I wasn't allowed to see a doctor.
"He'd go from smashing me in the face and telling me how ugly I was, to lavishing me with gifts. It was a nightmare and I was trapped and terrified.
"I remember he once slammed me in the face with a can of cat food, knocking me out.
He thought it was hilarious to call me kitty cat for weeks afterwards."
When Kara became so desperate to escape, she believed suicide was the only way out, McLeod battered her with a baseball bat and refused to allow an ambulance come to their isolated cottage to take her to hospital.
She said: "After that, he used my suicide attempt to say I was mentally unstable.
"I was just desperate to get away from the abuse."
By the time Kara was pregnant with her second child, she had already tried almost half a dozen times to take her own life.
She said: "Even when I was pregnant, I was a target. I knew I finally had to break away or I would die one way or another."
With the help of Police Scotland and Women's Aid, Kara finally found the strength through the support she received to not only leave, but give evidence against him.
Police Scotland contacted three other past partners, and last June, McLeod, now 40, was jailed for almost 14 years for an 18-year reign of terror against four victims, with 15 charges including repeated rapes, assaults and three charges involving animal cruelty.
The head of Police Scotland's specialist Domestic Abuse Task Force, detective superintendent Gordon McCreadie, said: "McLeod was a monster, he was one of the worst of the worst."
Kara said: "I was so scared, I gave my evidence from behind a screen. But now I'm a very different person. I feel empowered and strong.
"He's behind bars and can't hurt anyone for a long time. I realise now he's someone who just hates women.
"He even told me he hated his own mother. I know I will have to move before McLeod comes out of jail, but at least I will be able to bring our children up in peace.
"Things have changed with the new abuse laws, so I'm urging women not to do what I did for far too long.
"Leave and get help. There is support and somewhere safe for you, your family and your pets. Don't live in fear."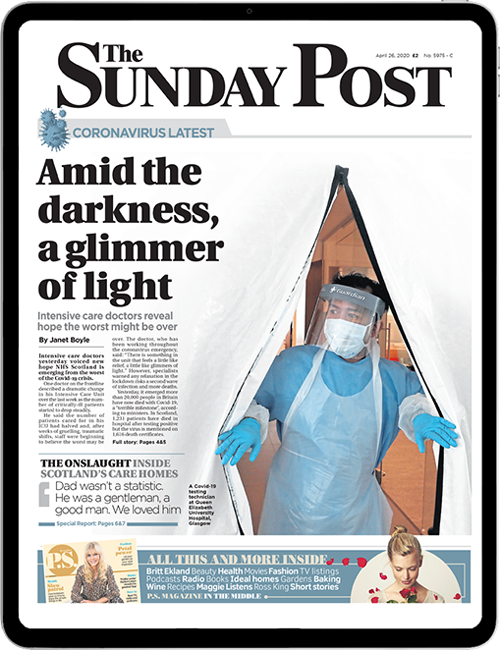 Enjoy the convenience of having The Sunday Post delivered as a digital ePaper straight to your smartphone, tablet or computer.
Subscribe for only £5.49 a month and enjoy all the benefits of the printed paper as a digital replica.
Subscribe