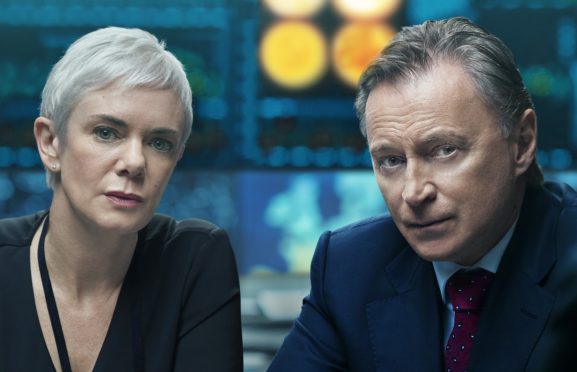 The chances of anything coming from Mars were a million to one, they said.
But those might still be better odds than the chances of a Scottish Conservative Prime Minister in Number 10.
If you think Robert Carlyle's most recent TV role as the scientist who discovered Martians launching an attack on Earth in last year's BBC adaptation of HG Wells's sci-fi novel War of the Worlds was fanciful, then wait until you see his latest part.
The Glasgow-born star of Trainspotting, The Full Monty and Hamish Macbeth is playing something many would consider even more far-fetched than aliens on the heath – a Scottish Conservative PM, in Cobra, a new drama on Sky.
The role was a stretch for the working-class actor and one he decided he needed to shed his native accent for. Acknowledging that Glasgow Tories were as likely as Scotch mist in Downing Street, the 58-year-old revealed he honed in on a specific Scottish accent.
From his home in Vancouver, Carlyle said: "I thought it was interesting to play him as Scottish, but once I decided to do it I realised I couldn't ever play this guy with a Glasgow accent, because there's just no way it would happen.
"So I had to try to find something else, and thought this is why that guy emanated from.
"I remember that Scottish rugby player voice…Borders, Jedburgh. You know how they only sound sort of vaguely Scottish? A bit of Scottish tone coming through, but with that Oxbridge education? Well, this is what this guy's background is."
He added: "It's interesting to talk to another Scot about this, because we get it. My English mates don't understand it."
Cobra sees Carlyle play PM Robert Sutherland opposite Victoria Hamilton as his Chief of Staff Anna Marshall and Lucy Cohu as his wife.
The drama centres around the devastating fallout from a solar flare and the government's response. Events are complicated further by a crisis in the Prime Minister's personal life.
Carlyle explained: "There's a solar storm and the brunt of it hits the UK. It wipes out all the different IT systems and satellites and huge swathes of the country go into blackout.
"The government of the day, led by myself, are the ones who have to cope with this.
"In tandem with that, it concentrates on three or four other characters and their life stories. My character's daughter has just graduated, goes to a party and her pal ends up in a coma with fentanyl poisoning, so you can imagine the press reaction around that.
"So he's trying to cope with this solar storm, this massive chaos, but also chaos in his personal life. There's a real human element to it which is going to make it really interesting to watch, I think."
Carlyle admits that the script for Cobra – named after the government's emergency response committee which, in turn, is named after Cabinet Office Briefing Rooms – afforded him a degree of empathy with the previous incumbent of Downing Street, especially as the country deals with protracted periods of political turbulence.
He said: "The big thing, of course, was looking at them as people. I remember seeing Theresa May going back and forth to Brussels. She just looked knackered – her voice was gone, she looked like a skeleton of a person, and from one human being to another you cannot help but feel for a person going through something like that.
"I was actually doing Cobra at that time, watching this unravel."
Of December's General Election result, he said: "Being away in Vancouver watching this thing unfold has been interesting. If you're in the middle of it in Britain you have an opinion on everything, but when you're away you have less of an opinion to some extent – in a sense you just see it as disaster.
"The part is a great challenge for me. I've been fortunate in my career to have moved around a bit and to have had different parts to play. This is not something I thought I would be offered."
The actor has lived in Canada with his wife, Anastasia Shirley, and teenage children Adin, Harvey and Pearce Joseph since landing the part of Rumplestiltskin in American telly hit Once Upon A Time, which sent his profile soaring across The Pond. Yet, for all its big budget and special effects, the actor admitted he drew on the skills he honed at the very start of his career when playing the legendary character first created by the Brothers Grimm. He said: "There was so much green screen acting and I had to get my head around it. But then it's almost like you go back to the theatre where you have to suspend your disbelief in that situation and just direct your energy into your own head.
"I think you have to do the same thing when it comes to green or blue screen acting.
"You just suspend the fact it's there and in a strange way, even though it's very technical, you can employ the same theatrical techniques to that work."
That said, it has been a while since he trod the boards. Carlyle set up Glasgow theatre company Raindog, with Caroline Paterson and Sandy Nelson in the early 1990s. But acclaimed roles in low-budget flicks like Priest, Riff Raff and Carla's Song saw his film career bloom.
His CV now includes everything from James Bond movies to T2 Trainspotting, in which he reprised his role as Irvine Welsh's psychopath Francis Begbie. He also played John Lennon in last year's Danny Boyle's Beatles-inspired flick Yesterday, which also featured Lily James and Himesh Patel.
Yet Carlyle hasn't written off theatre – and has one ambition in particular which would see him return to Scotland.
He said: "I would love to work with Laura Fraser together in a production of Macbeth, and have said before that I think it would be a great for the National Theatre of Scotland.
"I have said so before, and not heard anything. But I'm a huge fan of Laura's."
---
Seeing what goes in these rooms was fascinating and absolutely terrifying
Taking a glimpse inside the workings of Government crisis action meetings was an eye-opener for the stars of Cobra.
The Crown's Victoria Hamilton and Killing Eve's David Haig star alongside Robert Carlyle as the Prime Minister's chief adviser and Home Secretary, respectively.
The Sky One series tries to replicate exactly what would go on in a Cobra meeting, from the layout of the room – the Cabinet Office Briefing Rooms – to the senior politicians likely to be involved in planning the response to domestic and international crises.
Victoria said: "Certainly, the crisis room we filmed in is pretty much what the crisis room would look like, in that it's enormous and full of things showing you terrifying information from all over the country.
"As far as the people in it – the senior members of the cabinet and then the higher elements of the armed forces and the security services and all of that – it certainly felt as though, if this was going to happen, this is who would be in the room.
"One of the really interesting things about it is when you see that group of people together at the Cabinet, the hatred between people who are sitting in the same room, around the same table apparently representing the same government line, is astonishing.
"I think people will love learning about how these characters personally feel about each other. It's a constant juggle of who is actually acting in the way they are acting for idealistic purpose.
"Can you see why this person went into government in the first place? Or is it literally just a lust for power, in the sense you've been born into privilege and you would do anything you have to do to retain your crown?
"It's all quite frightening considering what's happening at the moment."
David, who plays the abrasive Archie Glover-Morgan, agreed.
"You get a flavour of the sort of civil unrest and polarisation, which actually is very resonant with present British society and in the world," he said.
"I was so surprised by the scale of the room, the number of people who would have been in the meeting like that.
"Obviously, only several characters spoke in each of these meetings, but it's on a huge scale, and there are all those contemporaneous screens around the room, just monitoring activity all over the country.
"It's that sharp end that you forget is happening politically when something like this happens."
---
Cobra, Sky One, Friday, 9pm