Jackie Kay's five-year tenure as Makar, Scotland's national poet, came to an end on Sunday when First Minister Nicola Sturgeon hailed her "outstanding contribution" during her term as the country's third Makar, after Edwin Morgan and Liz Lochhead. Her successor is still to be announced.
When Helen Kay, my mum, was just a little girl, aged 10, she lived next door to Mrs Primrose in Lochgelly in Fife. Lodging with Mrs Primrose was one 33-year-old Dudley Watkins.
He taught my mum how to draw cartoons and let her watch him while he drew his. If I had my life again, she was always saying, "I would have been a political cartoonist."
I could almost hear what Maw Broon would have said to that.
When she was 20, she decided to take the boat to New Zealand; she wanted adventure and she wanted away from Fife. Off she went on her own, on a six-week odyssey; she left those cartoons she had drawn with Dudley with her Uncle Willie, telling him not to throw them out. Needless to say, they were thrown out – can you imagine! But her creative life was never thrown away.
Jackie's parents dancing after she read her poem Threshold on the occasion of the 2016 opening of that new session of parliament in Edinburgh. 
She was a creative force – always encouraging others to be creative too. I am sure I am a poet because of my mum's love of poetry and her way of reading it and am pretty sure I would have never been Makar had she not been my mother.
She was somebody that was so lively and so creative that putting her into the past tense so soon feels awkward, even rude. She loved singing so much that many of her conversations were in song.
She always loved drawing; would decorate her school classrooms and the school hall as a primary teacher for, first, Wester Cleddens and then Auchinairn; would relish organising Burns Suppers, which often made it into the local paper.
Helen Munnoch Gourdie Kirk (she hated that whole name and I loved teasing her by saying it aloud with a flourish) was born on October 28, 1930 at home in Lochgelly. She was the only child of Margaret and Stewart Kirk. She was brought up in a bustling house of miners and grandmothers. Her father, a miner, was twice buried alive in the pit, and twice saved.
She used to remember telling us that when she was wee, she got a penny for washing her uncles' backs in the steel tub on a Tuesday, and by the Friday they were asking for it back to go dancing.
When she was 16, she was chosen to be the Peace Queen of Cowdenbeath and held aloft in the milk float through the streets of Fife, peace crown on her head. She stayed at the famous Cowdenbeath High till she was 18 and was always saying that her high school years coincided exactly with the war, 1939- 1945. She vividly remembered the drill for the gas masks.
Always imaginative, a passionate reader, she was gutsy, witty, ebullient, stylish, had a real sense of fun, and could make you laugh at the least likely times. She met my dad, John, in 1954, in Christchurch New Zealand, in the Coffee Pot, where she had a waitressing job and married him the next year.
"No point hanging around if you are sure," she used to say, debonair. Together they joined the Communist Party in New Zealand (my dad later going to work for them in Scotland) and went exploring the Routeburn track. When back in Scotland they climbed the hills together, singing all the way.
On her way to New Zealand, my mum had spent her money by the time she got there on a snake charmer and her first curry. On the way back, six years later, my dad got food poisoning and they had to get off the ship at Napoli. She always loved telling me that it was the first time she ever saw a television in a crowded Italian living room where everyone was gathered around a Spaghetti Western.
They tried to have children and couldn't and so decided to adopt. In 1959 they got my brother Maxwell. After being told they had no babies, my mum made a chance remark, "By the way we don't mind what colour the baby is."
Oh really, they said, well in that case we have a baby for you. My brother was five months old in an orphanage in Edinburgh. My mum decided she wanted to get another child his colour to keep him company and so a couple of years later, the woman rang from the Scottish Adoption Agency to say that a woman was coming down from the Highlands and the father of the baby was from Nigeria.
I'll have that baby, my mum said. It was the closest she could get to giving birth herself, she used to say. She didn't know what sex I would be, if I would be healthy or not.
When I was born, I was injured by forceps, and my mum was asked to pick another baby. But she couldn't. She had her heart set on me.
Recently, she kept returning to that story and saying over and over again: "Fancy asking me to pick another baby. Imagine if you had given birth yourself, imagine them saying to you the baby has got a scar down her face, give her away."
She kept still, all these years later, trying to understand the skewered thinking that did not somehow allow adopted children and their parents to have the same kind of rights or emotions as so called "normal" families. "Think about it," she'd say to me, doing the Scottish elbow. Nudge. Nudge.
Helen Kay had a real sense of outrage at any kind of injustice. She was secretary of the Scottish peace movement and would often regale us with the time when she was arrested in Dunoon and locked up it the jail.
She was most indignant that the police had stolen her piece! There were too many protesters that time, so my dad got locked up in the Catholic Church. She would be down at the school if anyone was racist to my brother or me.
She would march against apartheid, and every Christmas get me to sign cards to the political prisoners of South Africa. "It's not just Nelson, you know," she'd say.
She loved the natural world too, and would be agog watching documentaries about wolves or polar bears or unfathomable creatures under the sea with her grandchildren.
She was constantly cheered by and interested in children and young people; always able to see things from their point of view. She used to say: "I don't feel 90. I feel just the same. It is the body that has let me down. But it is all still going up here," she'd say, pointing to her head.
Recently she broke her hip. The surgeon explained to her after the operation: "Mrs Kay, you'd broken your hip."
"Oh really," she said. "It is usually only hearts I break." That story went whirling round the ward, and they named her the wit of the ward.
But we are heartbroken. The only way to cope is to keep her in the present tense, still singing, still laughing, still having a wee dance.
When I became Makar five years ago, my dad who was 91 at the time said: "How long is your term in office?" Five years, I told him. "Well, your mother and I will just need to see out your term in office," he said. And they very nearly did. My mum died the day before Valentine's day, aged 90. My dad died the day after her 89th birthday in October the year before last.
On Mother's Day just past, I wrote a poem for her and for all the people separated from their mothers due to Covid. We kept trying to find, as many people have done throughout this crisis, creative ways of being together apart.
We're lucky that my mum made it home for the last six months of her life, to the same house that she brought my brother and then me to, the same house that she and my dad lived in for 60 years, where they planted a cherry blossom tree to mark the adoption of my brother.
The house still holds them for now, it feels, all the memories of all the sing songs from all the party socials reverberating through the walls.
Though I am not particularly religious, I like to think of my mum and my dad having a massive singsong somewhere, still making each other roar with laughter, knocking back a dram or two.
---
Poet Jackie Kay remembers her parents in moving poem: 
Let me then bring you a last wee latte,
laced with a whisky, the Irish way,
for you my mum who would always say
Nothing like a wee latte last thing at night:
you'll always be my wee lassie – moon bright.
I'll kiss your forehead and turn out the light.
You don't stop being my mum because you're dead.
Your voice is still singing across the loch in my head.
I can still reach out, my arm round your shoulder.
You are still my mother. I am still your daughter.
Though there is nothing now between me and the sky,
I will still be saying Hello as you say Goodbye.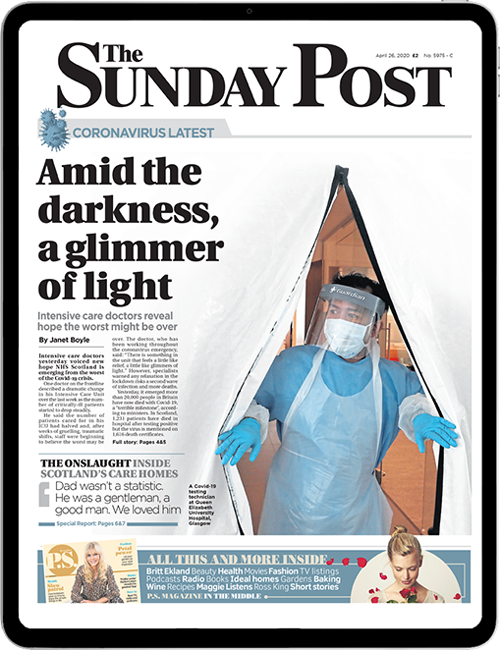 Enjoy the convenience of having The Sunday Post delivered as a digital ePaper straight to your smartphone, tablet or computer.
Subscribe for only £5.49 a month and enjoy all the benefits of the printed paper as a digital replica.
Subscribe