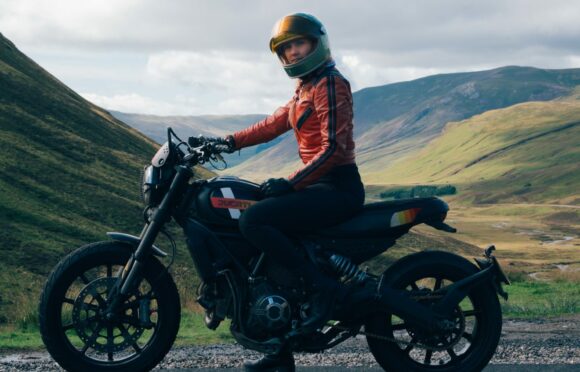 A record number of Scots bikers are hitting the road as motorcycle tests reach an all-time high.
Experts suspect the years of lockdown have encouraged a new enthusiasm for the open road as the Driver and Vehicle Standards Agency reveals the number of people taking their motorbike test across the UK has hit new heights.
In the 2019-2020 year, before restrictions, there were 51,921 motorcycle tests, but last year there were 67,355 after the number of would-be bikers rose year on year.
Experts say the number of women turning to two wheels is shooting up too, with female-only groups of riders surging in popularity.
Instructors revealed they were inundated with people signing up for lessons after the pandemic. John Macdonald, director of Pro Scot driving school, said: "Last year we had our most profitable year and it was all down to the bike school. Cars weren't going as well – but bikes were the opposite.
"I have been in the industry for a while and seen it evolve, from a time when biking was male-orientated to the different reasons people sign up for biking lessons.
"It used to be that people perhaps saved it for after the kids had flown the nest or it was a midlife-crisis thing, or simply for commuting.
"But it's different now. Bikes are so much more accessible in terms of styles and power. And Covid meant more people wanted one. Whether that was for commuting because they didn't want to share space on public transport or it was something on their bucket list.
"Now more people want to get out and enjoy the freedom that a motorbike brings, get out into the countryside and enjoy the scenery and the roads – and the sense of community that comes with biking. That time of reflection led a lot of people to start making more time for themselves and the things they've always wanted to do.
"And it's infectious. When they tell people about that great road trip they did at the weekend, or how they rode with friends or went somewhere beautiful for a picnic, other people start to realise they want to try it too."
Motorcycle retailers are reporting a similar flurry of interest. Calum Murray, CEO of Saltire Motorcycles in Edinburgh, said: "In the wake of the Covid pandemic we have seen a considerable shift in both the demographic and the number of potential new riders. Pre-Covid the majority of enquiries came from professional men at an average age of 45. Upon our return from lockdown, the shift towards commuter enquiries was pronounced and immediate. It would appear that where there was once a want there is now also a need as demand in our rider training department is at an all-time high.
"This has resulted in an increased requirement for beginner motorcycles, to such an extent that used 125cc motorcycles are a rarity in our showrooms.
"It's also worth noting that, within this recent shift, there has also been a notable increase in enquiries from women, along with a considerable reduction in the average age across the board."
George Hunt, a writer for motoring magazine Influx, said: "With periods of our lives spent in lockdown, the need for freedom has been greater than ever and there is nothing more liberating than getting out on the open road, especially north of the border. The stunning roads and routes are among some of the finest in the world.
"Back in 2019, a trend of increasing women riders was already visible, with YouGov figures showing numbers were rising by about 6,000 a year in Scotland as girls-only biker groups soared in popularity. If it's not the act of riding that's getting people hooked, it's definitely the social side of being a biker. "
John Fergusson, author of The Motorcyclist's Guide to Scotland, said: "There's definitely been a marked increase in the number of books I sell to women, particularly over the last 18 months. I would say women make up about 20% of my customers now."
It is just a really therapeutic experience
When Dani Hair decided to move back to Scotland from Australia, there were two reasons. The first was to reconnect with her family, and the second? The open road.
Hair, 31, who lives in Edinburgh, was bitten by the motorbiking bug while living in Sydney but says Scotland is a petrolhead's paradise.
"The roads in Scotland are epic," Hair said. "Scotland has some of the most amazing landscapes I've ever seen, and some of the most amazing roads I've ever ridden. Nothing beats Scotland for me. I just love it. The scenery is a big pull. But the variation in the landscape and the weather means you can do the same road again and again and it will look and feel different every time."
Hair, who emigrated from Ardrossan in Ayrshire to Australia with her mum as a toddler, came back to Scotland in 2019, just before the pandemic hit – and she was on the road straight away.
"Riding a motorcycle is completely different from driving a car," she said. "You don't have anything protecting you.
"You have to rely on your balance and you have to have a lot more concentration because there's no room for error. Basically, if you hit anything, you're going to hurt yourself.
"But, that being said, you have so much more spatial awareness on a bike you could see where it ends and where it begins. The helmet and the leathers are there, but you feel everything more. If it's hailstones or rain, or windy, you feel it.
"It's just a really therapeutic experience because you are battling the elements. It requires a certain amount of concentration and that kind of concentration is like a form of mindfulness. It's just you inside your helmet, on the machine. It's just personal freedom.
"Focusing on something that's inherently dangerous is a way to shut off the noise in my head. If there's a lapse in focus, then you're going to have an accident, so you can't not focus."
Hair says a lot of motorcycle riders nowadays are actually really receptive to talking about their mental health issues, a topic she speaks about in a new feature film made for online motoring magazine Influx.
She said: "I know that bikers like to come across as super-tough and cool but everyone's dealing with their own demons. They're all very nice and supportive people."
Hair, whose dad still lives in the house in which she was born on the west coast, got her bike licence in Australia when she was 28 and bought herself a vintage Honda. Prior to that she'd spent a lot of time on motorbikes – but always as a passenger.
"I'd always dated motorcyclists but been the person on the back of the bike. But I reached a point where I felt like I wanted to be in control.
"I wanted the freedom that my partners had."
Hair – who now has her dream job as a graphic designer for the Royal Enfield motorbike brand – has ridden all around Scotland, from Skye and Mull to the Borders and gone overseas. But she says there's nothing better than getting out on the open road in Scotland.
"I knew that as soon as I got to Scotland, because there's such beautiful riding there, I'd buy a bike and travel around," she said. "But it's different. Here it's more dangerous and more difficult.
"When we first got here, I decided to go from my vintage Honda to a Ducati which is a little sportier and quite a bit faster. I didn't really know much about the roads here. We were doing a tour and only had one day left until we got back to Edinburgh.
"It was pouring with rain and my tyres were bald. I was coming down a hill with gravel at the end and my tyres slid out. I came off and I broke my arm. Thankfully it has never happened again, because I've learned. I didn't know what it was like to ride in Scotland.
"The weather is different so you have to do different things to prep your bike."
Hair says when she first started riding in Scotland, it was hard to find other bikers, but now there's a huge community. "I've met everyone I know here through motorcycles," she said. "It's a really exciting time to start riding in Scotland."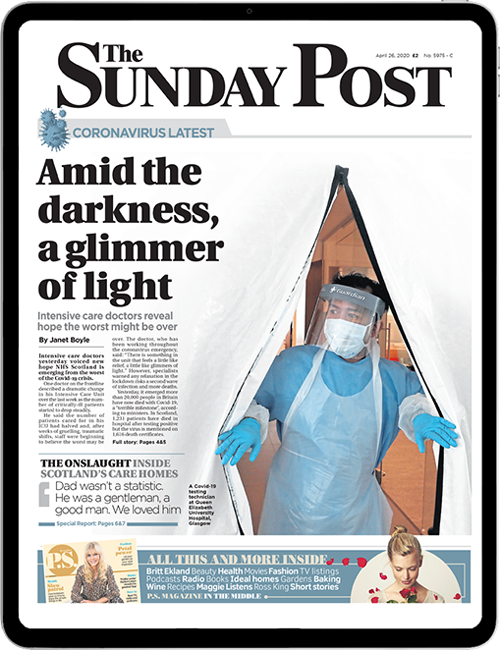 Enjoy the convenience of having The Sunday Post delivered as a digital ePaper straight to your smartphone, tablet or computer.
Subscribe for only £5.49 a month and enjoy all the benefits of the printed paper as a digital replica.
Subscribe