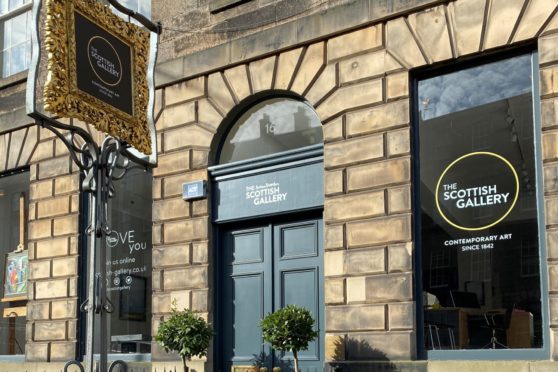 Due to the coronavirus pandemic, Edinburgh will be without its world-famous arts festivals for the first time since 1947.
The streets of Scotland's capital are likely to be a lot quieter this summer, with tourists, performers and leafleters alike having to make do with the hope of an altogether much brighter 2021.
But a city attraction which will see visitor numbers cut by the cancellation and the need for social distancing is hoping to still put on an exhibition worthy of the festival.
The Scottish Gallery, Scotland's oldest privately-owned gallery, will celebrate the slow, cautious emergence from lockdown with an exhibition entitled Modern Masters Women.
With female talent consistently prominent throughout the gallery's history, the new collection will examine the modern period and working women artists building on the work achieved by the "pioneer, persistent, creative women" at the end of the 19th century.
Ahead of re-opening later this month, director Christina Jansen said that the team have been focusing on the positives as they decipher what the new-normal will look like for staff and visitors.
"We're really looking forward to it," she said. "We're not delusional about things because obviously we're all looking at the world. Things aren't going to be straightforward.
"It's about really looking at the positives. We have to give a lot of comfort to people that we've put in measures to make the experience safe for the staff and the audience that's coming in.
"We already have a demand from people who do want to come in and see us. In a way, it's probably going to be a transformational customer service experience and it's going to be much more intimate.
"During the festival you can have hundreds of people coming in and out the door – sometimes it's like having your desk in the middle of Piccadilly Circus! It's not going to be like that.
"I don't like the fact we've got a doorbell on our gallery because we've never been like that. But we'll make the experience for people as pleasant as possible."
The absence of the festivals will still be a big loss to the gallery.
One of the world's biggest celebrations of the arts, millions flock to the capital to take in exhibitions and shows every summer.
The Scottish Gallery is a popular spot for people from all over the world to come in and see exhibitions specially crafted for the festival months.
"It's going to be quite strange not having it this year," Christina said. "But we might get visitors precisely because it's not the festival.
"Presumably there won't be the inflation on hotel rooms and suddenly Edinburgh could be an attractive place for a staycation. It's a beautiful city anyway and has great things to offer.
"I think it'll be great for the citizens of Edinburgh to see what it's like without the festival too. But don't get me wrong, it's a sad loss to everyone not to have that world cultural event happening."
Throughout lockdown, the gallery has been offering private viewings via Zoom, which have been getting more and more popular.
While nothing compares to seeing the art in person, the online platform has proved useful for hosting visitors from around the world, as well as getting the artists involved.
"It's about how we keep that social aspect of what we do going," Christina explained. "Most exhibitions take years to put together and it's always been a kind of celebration, so we just thought it was better to try than not to.
"We've actually been working really hard since the bank crash in 2008. We realised we needed to do something more substantial than just waiting for people to come in through the door.
"We've built this great community of individuals who really like what we do, whether they live locally or further afield.
"For the Great Scots in Isolation exhibition, we had 16 artists in an online 'Meet the Artist' session. It was a bit like speed dating!
"The artists were from all parts of the UK, so they were all able to be there live at the one time whether they were in York, London, Perthshire, wherever.
"And then we had an audience who were both local and from much further away. The barriers are taken away."
The Modern Masters Women exhibition came to fruition as the gallery had to radically change their upcoming programme due to the pandemic.
Celebrating the work of female Scottish artists from the past 125 years, the exhibition reflects the fact that the gallery has championed female talent since opening.
"Everything suddenly changed so we took a sharp intake of breath, and thought about a really strong, positive thing that we could do," Christina said.
"We've been around for a very long time as a small independent organisation, but we have done things that are remarkable. Some didn't seem so at the time, but they've become remarkable.
"One of those things has been exhibiting women artists since the 1890s. When the festival came in in 1947, women were solo exhibitionists from the word go.
"It wasn't a feminist stance, it was just that Scotland had phenomenal talent both male and female. We didn't make a big thing of it, the women were really talented so they had a festival show. It was as simple as that.
"We're a commercial gallery and people wanted to buy their work. Buying someone's work is the highest compliment you can pay an artist. It's been a very positive thing we've done."
Scotland has always had a vast number of talent female artists, but most have been swimming against the tide.
While the contemporary scene is a lot more equal, subliminal ideas of what women were and weren't meant to do have played a large part in a dearth of female-created work in many national collections.
"There are still gaps that need to be filled within national collections where women are missing," Christina added.
"It's just to do with the way society was built, and the expectation especially among middle-class women that you didn't work or once you got married you weren't allowed to work anymore.
"Women had it slightly more difficult, and the Scottish art schools have produced phenomenal talent. We're accentuating the positive, which is a celebration of these great artists.
"Most women do not want to be in a woman exhibition, they just want to be shown amongst their peers, end of."
Modern Masters Women, The Scottish Gallery, Thursday 30th July – Saturday 29th August 2020
---
---
The exhibition
Christina picks out some of the highlights of Modern Masters Women.
Anne Redpath
"She was a total trailblazer from the Borders. When you look at photographs of her, she occupies the photograph. She's a woman who knew who she was and wasn't frightened of her own talent. She was a really inspiring figure.
Joan Eardley
"It's her centenary next year. We represented her during her lifetime and have done a huge amount of work subsequently. She's this talent that was cut down short by ill health.
"A romantic figure, so powerful. What was she about to go on to achieve? She was about to go on show in New York. There she is, having depicted the corner of the street in Townhead in Glasgow and then the edge of the field in Catterline. Those two powerful, diverse subject matters should set the world on fire."
Other works
"We've got Elizabeth Blackadder, and Wilhelmina Barns-Graham – one of the first abstract expressionists.
"There's also Frances Walker, a phenomenal north-east painter who's 90 this year, and we've brought a few people back who've been overlooked and that's important.
"Our strapline is 'contemporary art since 1842'. We champion talent, so we've got heroes from the past and then we bring it right back up to date.
"We've got our commitment to the future as well as looking back to the past. We hope to be open by appointment to come in and view this exhibition, but will also have the virtual room and films, blogs and other materials as well as the events. We're hoping that we're covering all options. "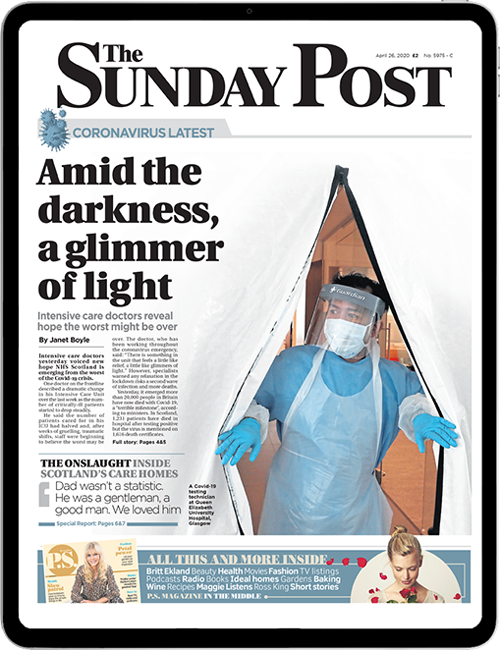 Enjoy the convenience of having The Sunday Post delivered as a digital ePaper straight to your smartphone, tablet or computer.
Subscribe for only £5.49 a month and enjoy all the benefits of the printed paper as a digital replica.
Subscribe