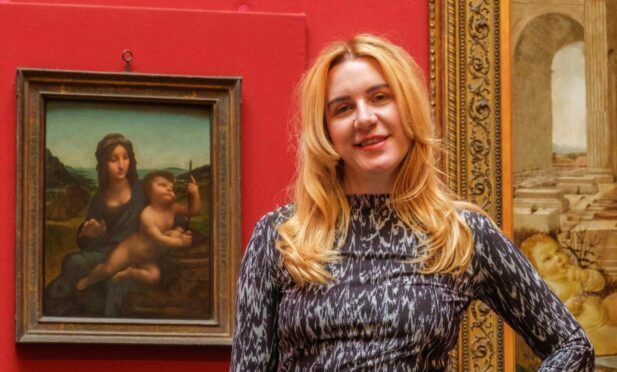 At the centre of a new podcast detailing the story of one of Scotland's most infamous art thefts is a highly valued masterpiece but, for host Olivia Graham, the real treasure is her father's role in its recovery.
Her dad was Robbie Graham, an everyday Scouser who found himself embroiled in a tale worthy of a Hollywood blockbuster after Leonardo da Vinci's The Madonna Of The Yarnwinder was stolen from Drumlanrig Castle in Dumfries and Galloway in 2003.
As private investigators, he and his friend John Doyle managed to ascertain its whereabouts in 2007 and, in a saga that involved cash exchanges in pub car parks, undercover police stings and an eventual fight to clear his name in court, the painting became a pivotal part of the Graham family's lives, and continues to be even after Robbie's death in 2013.
"I've always thought it would be amazing to tell the story," Olivia said ahead of new series The Missing Madonna launching on BBC Sounds next week.
"My dad had a list of actors he thought would play him if there was a film ever made. It's the maddest story but it's the most normal thing as well."
An emotional journey
It was an emotional journey for Olivia, who was initially upset when the BBC approached her, unsure why they felt they were the right people to tell the story.
They responded saying that, as she was already involved in podcasting, they wanted her to tell it.
"I basically decided that if I don't, either someone else is going to tell it or it's never going to get told," she said. "I'm really grateful to the BBC. I'm used to doing this sort of thing, not to this scale, but sharing stories and voices you don't often hear.
"With this, it was just so big. I'm so used to doing everything on my own or with a really small team so it was amazing to work with the BBC – I'd come back every time beaming."
The podcast marks the 20th anniversary of the heist that set the record for the most valuable painting ever stolen in Britain.
The nine-part series features never-before-heard secret recordings and interviews with some of the main players in the real-life drama.
The theft from Drumlanrig Castle made headlines worldwide, and the FBI put the painting on its list of 10 most-wanted pieces of stolen artwork.
The audacious raid took place on August 27 2003. Posing as tourists, two of the thieves purchased £6 tickets to view the art collection before overpowering an 18-year-old female tour guide and grabbing the painting from the wall.
At the time, the Earl of Dalkeith, the Duke of Buccleuch's son, described it as "an enormous treasure… brutally removed from the castle".
The guide, Alison Russell, was one of the people interviewed for the podcast.
"She's like the epitome of what you want in podcasts," Oliva said. "I wanted to tell what would be considered by everyone else a normal person's story.
"She was just so real. We went to her house and it was gorgeous and the kids were great. Most of the other big hitters in the story have done this before but she'd not done much with media, so we got a really honest account."
Filling in the blanks
Unravelling all the parts of the tale helped Olivia fill in the blanks left from what she knew from tales told by her dad.
Four years after the theft, he had spoken of an amazing opportunity and, from then, he became obsessed with the painting.
He and John Doyle had a website called Stolen Stuff Reunited, which aimed to return items of sentimental value to their rightful homes.
Much of the story centres on pubs, and that was where John got information about the painting's whereabouts – and the money needed to reacquire it.
"We just thought it would be the best advert for our website," Robbie said in court in 2010. "If you could get a da Vinci back, you could get anything back."
Having looped in local solicitor Marshall Ronald, two Glasgow lawyers and a man claiming to represent the painting's legitimate owner, the Duke of Buccleuch, a reward fee was negotiated. The money and later the painting were exchanged in Merseyside pub car parks.
After spending the night in a hotel with the painting – where they took photos posing with it on a disposable camera – Robbie and John headed to Glasgow to return it to its rightful owner.
Here, the story took a twist that saw the men arrested and accused of conspiring to extort £4.25 million for the painting's return.
In a trial lasting more than seven weeks, during which Robbie's wife, Susan, passed away, the men fought to clear their names. As a result of that turmoil, the podcast was an emotional experience for Olivia and her family. "I started really angry and I think I've ended it really grateful and a bit more calm. I didn't think I would do that," she said.
"The driver in the end was more about the beauty and joy in the story, the funny Scouse element, how mad it is. That's where my dad comes through."
The family
While the story has surrounded her family for most of her life, it wasn't until the podcast that Olivia realised how much it has filtered through to her.
Working for an arts platform in Liverpool for LGBT artists in the city, she's realised the importance of art being accessible for all and being something we can all connect with.
"We never grew up going to art galleries," she said. "My dad took me to the footie and we had what I thought was a really normal childhood. Then, all of a sudden, he was involved with this painting and he really got obsessed with it. He was in love with it and da Vinci, and wanted to go to galleries on holiday.
"What I think I realised through my dad was that you can connect to something even if no one's ever told you that was for you. He's brought that into our world and it's opened up doors.
"In school I never really thought I'd work in the arts or be a creative person or anything like that. My dad just normalised it.
"It was the greatest and maddest thing to see him in his forties, fifties just get into painting. He just started painting round the house and I've got loads of his paints. I recently went to Florence to see some more da Vinci artwork – I've really got into it. And then I was like, I'll get the paints out when I get back, where's the easel! Everyone should be able to just have a go."
Perhaps most importantly, Olivia feels the journey she has been on in putting together the podcast has allowed her to connect more with her late father. "I've never felt disconnected from him, but I think I've put a guard up," she admits. "Going into this story has forced me to be more like him.
"I spent all this time thinking about all the stuff that would have p****d him off, and eventually the podcast made me think about all the stuff that made him happy and made him feel proud.
"I don't want to do it a disservice but I think this is like a normal Scouse story – mad, loads of chaos, unbelievable. I want it to feel like you've met a sound fella in the boozer, you've had a couple of pints with him and he's told you something about his character, resilience, strength. His joy and sense of humour."
---
---
The painting
A small painting, but hugely valuable, The Madonna Of The Yarnwinder now hangs in Edinburgh's Scottish National Gallery, on loan from the Duke of Buccleuch.
It has been a part of the family collection since 1767, when the 3rd Duke married Lady Elizabeth Montagu, the heiress to a substantial collection of works assembled by her parents, the Duke and Duchess of Montagu.
After its recovery in 2007, it was loaned to the then National Gallery of Scotland in 2009. The thieves have never been caught.
The painting depicts the Virgin Mary and an unusually large Christ child, who is gazing at a cross-shaped yarnwinder, foreshadowing the crucifixion.
There is some debate over how much of the painting is actually da Vinci's work, but most agree that the overall design and the figures are by his hand. The landscape behind the figures was likely added by another artist.
Olivia Graham hadn't seen the painting in person before until she documented the story in The Missing Madonna podcast. Her reaction to seeing it for the first time is included in the series.
"I remember thinking, 'Oh my God, I'm going to see this painting and I won't care'.
"But the more of the story I knew around it, by the time I went to see it, I was so overwhelmed," she recalled.
"The last time I was in Edinburgh was with my dad in court and then all of a sudden there was this painting that was connecting me to this fellow who painted it god knows how long ago, but also to my dad. It was a strange but beautiful feeling.
"Because it's beautiful, it's outlived everything around it. People think it's so important because of how it makes people feel. When you see it, it makes total sense – it's there against all odds. It's gone missing, it's been robbed, it's been in the back of a car."
---
The Missing Madonna is available on BBC Sounds from August 25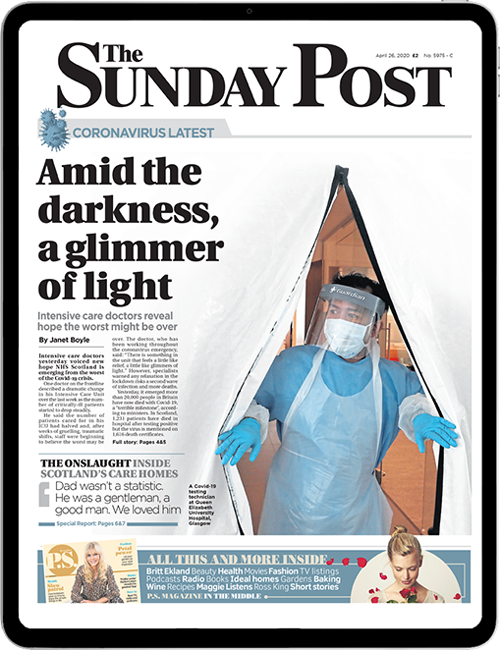 Enjoy the convenience of having The Sunday Post delivered as a digital ePaper straight to your smartphone, tablet or computer.
Subscribe for only £5.49 a month and enjoy all the benefits of the printed paper as a digital replica.
Subscribe