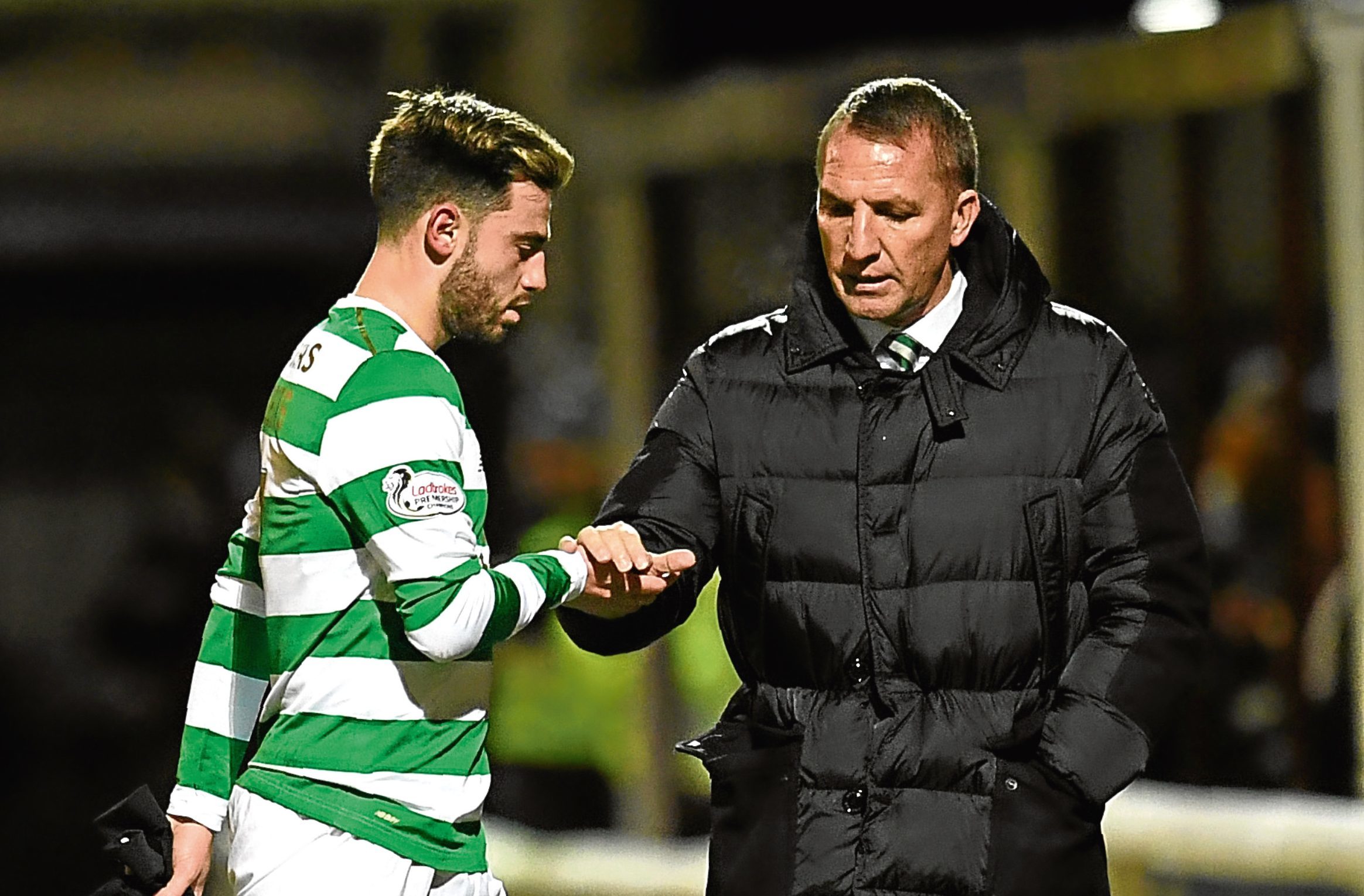 CELTIC re-signed Patrick Roberts on loan from Manchester City in August to help them make an impression on the Champions League.
On paper at least, it hasn't quite worked out.
The Hoops have lost their seat at Europe's top table for another season, and Tuesday night's visit of Anderlecht will be the third group game the diminutive winger has missed due to injury.
In the three he did start, he was eventually substituted – each time by James Forrest, each time in the 78th minute.
Roberts is missing again this week.
But it's fair to argue he has, in fact, played a crucial part in the campaign.
His goal in Brussels knocked the stuffing out of Anderlecht when the clubs first met, and the 3-0 win has set Celtic up for progression to the Europa League, barring a meltdown at Celtic Park.
As far as the 20-year-old is concerned, that will be job done.
"The Europa League would still be a massive competition to be involved in for a club like us," said Roberts.
"Our goal was to try to make sure we had more big European nights to come after Christmas, and if we can take care of this tie, we will have made it.
"Yeah, of course, we have lost matches along the way, but the Champions League is a massive competition.
"We were learning in it last year, and we have been learning as we go in this year's campaign, too.
"The manager obviously has ideas for us to compete regularly at this level. For us to do so would be massive for the club, and if we keep plugging away, we will get there.
"For us as players, it is just about going into every game with no fear and enjoying our football.
"We played really well in Brussels that night. To win 3-0 away in the Champions League was a big result for us.
"I think the feeling before the group games started was that the Europa League place would be between ourselves and Anderlecht.
"The other two – PSG and Bayern – are of high quality, and we knew all along that is was going to be tough going up against them. It turned out that way.
"Through our performance away to Anderlecht, though, we showed that we have real quality and are capable of performing in this competition.
"Now we have them at home, back at Celtic Park and hopefully it will be a similar story for us.
"You have to take things stage by stage, but I do believe we have all the qualities you would need to then kick on and have a good run in the Europa.
"We have the ability in the side, we have the confidence and we have the winning mentality.
"If we can get Anderlecht out of the way, then I think we can go on to enjoy ourselves in the competition."
Roberts is the top earner at Celtic and in the country.
What the Hoops get for their money – and, remember, the Scottish champions failed with a £8m bid to sign him outright last summer – is a player with the capability to shine on the big occasions.
No-one though, could foresee the hamstring injury which ruled him out of the trip to Bayern's Allianz Arena and, because of his insufficient game time in the run-up, saw him left as an unused substitute in the Parc des Princes.
The same problem has laid him low again, possibly for up to three months. But the player remains philosophical.
"When the injury came, it was a bit disappointing. Injuries are going to happen in football, though. They are part of the game," he said.
"It just means when you are out on that pitch, you have to try to enjoy it all the more. You can't let your focus drop. That won't happen with me.
"I love playing football, and I love the big occasions. I thrive on them.
"We go into the Anderlecht match on the back of another Cup Final victory at Hampden last Sunday.
"Winning a trophy this early gives us the confidence to really kick on.
"That is why I am here, to get first-team experience of playing in the big occasions.
"It is not the only reason I came back instead of going somewhere else. I enjoy playing for this club and I enjoy playing football here.
"Playing under Brendan Rodgers is going to help make me the best I can be. So for me it was a no-brainer to return."