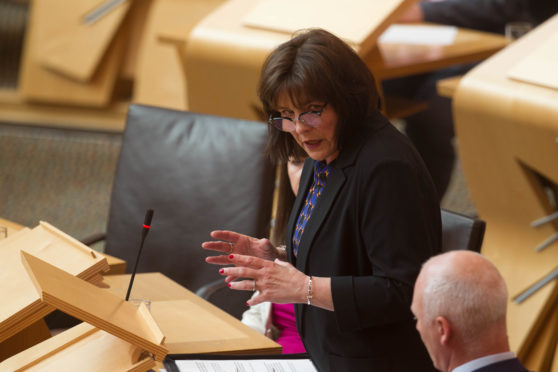 Victims of mesh have demanded to know if Health Secretary Jeane Freeman deliberately misled MSPs on plans to reintroduce the controversial implants.
She had dismissed a Sunday Post report revealing an expert group, meant to have been established to help victims, had previously met to discuss how and when mesh would be used again as "false and without foundation".
She insisted there had been no plans to reintroduce mesh and the groups were different. However, minutes of ­meetings published by the Scottish Government last week reveal it was, in fact, the same group and that it had, in fact, previously met to plan the reintroduction of the implants that have inflicted life-changing injures on thousands of women around the world.
Yesterday, victims demanded to know if Ms Freeman was unaware when she spoke to MSPs earlier this month that her chief medical officer, Catherine Calderwood, had told health boards a halt on the use of mesh was not intended to be permanent and that a group of accountable officers had been planning how it would be reintroduced.
The group, chaired by Terry O'Kelly, deputy to Ms Calderwood, met on February 22 and the minutes reveal planning was underway for "clinically straightforward primary mesh operations". The group decided: "With the likely publication of key guidance later this year, it will be helpful to look at how reintroduction of the surgical service will work in practice.
"It is important to capture numbers [of potential mesh referrals]. A scoping/ mapping exercise could be carried out to provide a clearer understanding.
"The options for delivering the service will have to be looked at in some detail. It was agreed that only those trained in this area should carry out surgery.
"There will have to be a degree of workforce planning. Future workforce planning should be looked at in more detail by the group."
The group agreed three action points to be taken forward to establish the shape of a future service.
Last week, Ms Freeman faced MSPs again when Neil Findlay, who has campaigned for mesh victims, accused the minister of lying or incompetence when she denied plans were under way for the reintroduction of mesh.
He was thrown out of Parliament after refusing to withdraw his remarks when he said: "The cabinet secretary has either lied to the women of Scotland, lied to this parliament, or she hasn't a clue what the chief medical officer is doing on her behalf. Which one is it?"
Ms Freeman said: "Whether or not mesh will ever be returned will be my decision as cabinet secretary.
"I have made it clear I have not instructed any work to plan for that return, and I have not had any work undertaken by the Scottish Government to plan for that return."
Shadow Health Secretary Monica Lennon has now written to the First Minister demanding answers and requesting Ms Sturgeon meet Scottish Mesh Survivors.
Ms Lennon said: "I've asked the First Minister to clear up the uncertainty over the minutes, whether this work was sanctioned by the cabinet secretary or the chief medical officer, and what knowledge Jeane Freeman had of the contents.
"It is important to understand who is responsible for the instruction for the preparatory work on the potential reintroduction of transvaginal mesh implants."
Another set of minutes published last week appeared to undermine Ms Freeman's claim the so-called short-life working group, she claimed to have established solely to help mesh survivors, had not met before.
The working group was, in fact, the accountable officers' group with the same members, apart from one new addition, and same chairman.
The first action of the group which, according to Ms Freeman, had never met before, was to approve the minutes of its meeting in February.
During the Holyrood debate, Ms Freeman announced she was finalising plans to bring US-based mesh specialist Dr Dionysios Veronikis to Scotland.
Campaigner Susan Doyle, who met the health secretary in March to urge her to bring Dr Veronikis here, said: "We finally have a Health Secretary who is doing the right thing.
"But we're under no illusion this 'good news' was announced as 'bad news' was uncovered.
"Ms Freeman is facing some uncomfortable questions. The minutes prove her statements to parliament were misleading. The question is whether they were deliberately misleading.
"We can see for ourselves there is clear evidence that government and health officials were planning to bring back mesh. The minutes show that.
"To continue to insist there was no planning under way and this group had never met before is playing with words, dancing on the head of a pin. The women damaged by mesh deserve an awful lot better than word games. They deserve the truth."
Last night, MSP Neil Findlay said that, despite being expelled from parliament, he had "no intention" of dropping the issue.
He said: "Despite repeated questions, Jeane Freeman has yet to answer who is responsible for what was planned at that February meeting,
"I've submitted a Freedom of Information request which she will have to answer. I am not dropping this issue. In fact, the longer it goes on, the more determined I am to get to the bottom of it."
---
Last week, we asked the Scottish Government three questions:
● Was Jeane Freeman aware the chief medical officer told health boards the halt on mesh was intended to be temporary?
● Was she aware the short-life working group was, in fact, the accountable officers' group and had already met to plan the reintroduction of mesh?
● Did she now accept her statements regarding the accountable officers' group and its original purpose were misleading?
This is the response:
Within 100 days of being appointed health secretary, Jeane Freeman instructed the use of transvaginal mesh in NHS Scotland was to be halted.
Through the CMO she set out to health boards that the halt would only be lifted if a Restricted Use Protocol could be developed to her satisfaction and that high vigilance procedures needed to be put in place in every board – actions that were set out in Parliament in September.
That halt remains in place and the health secretary has repeatedly stated there is no prospect of it being lifted.
As has already been set out, a meeting of accountable officers in February summarised their high vigilance scrutiny and observed that no new transvaginal mesh operations were being carried out, but that mesh removals were being performed.
At the meeting, in discussion of the concept of a Restricted Use Protocol, the group '…agreed that when the future nature of the service is more certain, it will be helpful to get clear direction and guidance from the Scottish Government.'
As the health secretary reiterated in Parliament this week, she has not asked for any planning to be carried out on the reintroduction of mesh.
She also set out that she has given clear direction and guidance that the halt will not be lifted, and that she can see no circumstances in which that position would change.
The mesh complication group that Jeane Freeman asked to be created in March was tasked with explicitly working to improve mesh complication services and it has taken forward a number of pieces of work toward that – including beginning work to create a national complex case unit to assist women affected by mesh complications.
Any suggestion that this group was set up to reintroduce mesh is entirely false and without foundation. In Parliament this week the health secretary repeated her thanks to the Scottish mesh survivors group.
The halt in the use of mesh instructed by the health secretary came as a direct response to their work and campaigning.
With the halt in place the women have rightly sought the attention and care that they themselves are due.
As a result, the health secretary has instigated steps to improve mesh complication services in Scotland, including by seeking to bring Dr Veronikis here to provide treatment and training.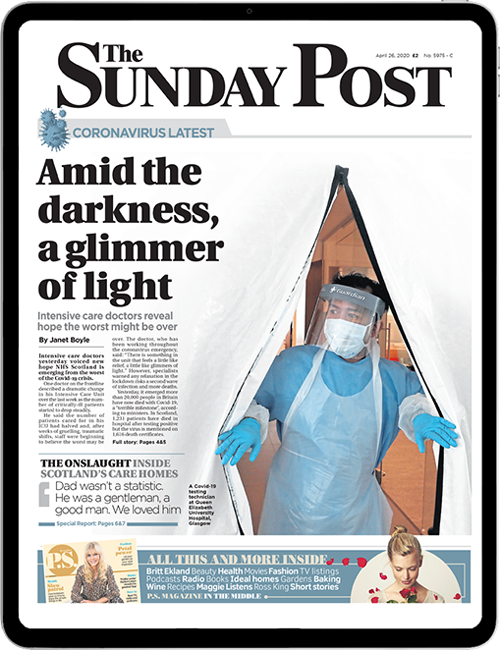 Enjoy the convenience of having The Sunday Post delivered as a digital ePaper straight to your smartphone, tablet or computer.
Subscribe for only £5.49 a month and enjoy all the benefits of the printed paper as a digital replica.
Subscribe