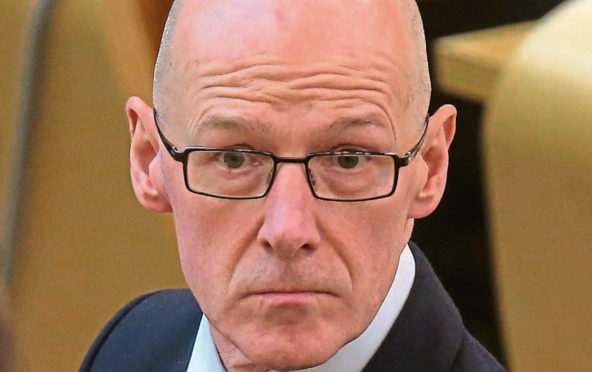 Education Secretary John Swinney was yesterday urged to enlist more staff to cope with an expected flood of pupils appealing their exam results.
The Scottish Tories said urgent action was needed after reports suggested some appeals might not be decided until next year.
The exams authority have denied the claim but there is expected to be long delays as pupils appeal grades downgraded by the Scottish Qualifications Authority (SQA).
Conservative education spokesman Jamie Greene said the SQA did not have enough staff or resources to process the huge number of appeals expected. About 124,000 estimated grades were lowered by the exams body, with pupils from deprived backgrounds seeing grade estimates drop far more than wealthier pupils.
A timeline posted on the SQA's internal website last week appeared to show some appeals would take nine months. The May 31, 2021 date, was later removed from the site and the SQA said it was "meaningless data" to allow their online system to work.
Mr Greene said: "The ­teachers and education experts I have been speaking to are all warning that the SQA simply does not have the resources to deal with the volume of rightly angry pupils it is facing. Pupils, parents and teachers have already been completely let down and confidence in John Swinney has plummeted to new depths.
"This latest fiasco, after years of falling PISA rankings and subject choice constraints, is surely the last straw for Mr Swinney as Education Secretary. But as it stands, the appeals process that Nicola Sturgeon says will fix all of this mess is also doomed to fail – unless the SNP acts now.
"There is no chance the SQA will manage to deliver for every pupil over the next month with their current level of staff. They need more Scottish Government staff and potentially former teachers to be urgently drafted in to help."
Mr Swinney, who is due to make a statement to the Scottish Parliament on Tuesday, is facing a motion of no confidence over the SQA exam results. The motion by Scottish Labour is being backed by Conservative MSPs and Labour is also holding discussions with the Scottish Lib Dems and Scottish Greens.
Scottish Labour education spokesperson Iain Gray said: "John Swinney's last act as Education Secretary should be to revert the results from the SQA's disastrous methodology, which he signed off on, and go back to the marks given by teachers, the people who know the pupils and their work best. Then John Swinney must go."
However, ministers claim simply accepting the recommendations of teachers would devalue the results as pass rates would climb by up to 20% to a record high in some schools.
Scottish Lib Dem leader Willie Rennie: "For the sake of the students we need to focus on resolving this issue and therefore we want to hear from the Education Secretary on Tuesday about his plans. If we are not satisfied he has a plan that will work we will consider backing a motion of no confidence."
Scottish Greens education spokesperson Ross Greer said: "Mr Swinney must show some humility, admit he got this wrong and set about fixing it."
England's exam results will be published this week, with an even higher percentage of predicted grades to be downgraded than in Scotland. Almost 300,000 out of more than 750,000 A-level results to be published this week – nearly 40% – will be lower than ­teachers had submitted.
SNP MSP Annabelle Ewing said: "Reports this weekend that A-level and GCSE results in England are set to be downgraded far more than in Scotland – with pupils having no right to appeal on academic grounds – shows up the Tories as the opportunists they are. This is rank hypocrisy."
The SQA described claims it does not have enough to deal with the appeals as "unhelpful speculation", adding: "We are confident we will have ­sufficient resources in place for our appeals service."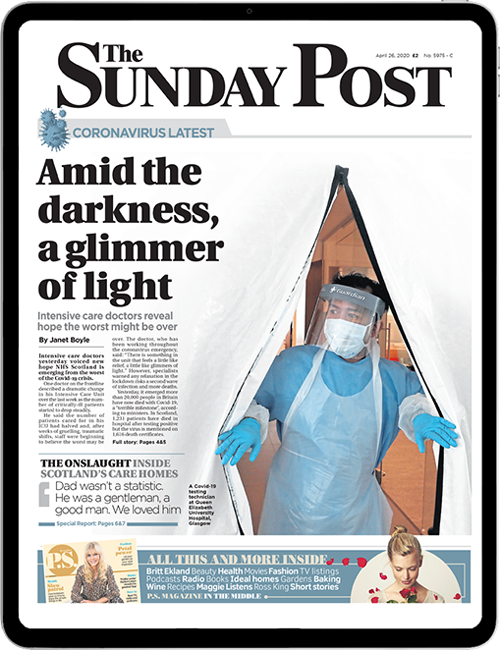 Enjoy the convenience of having The Sunday Post delivered as a digital ePaper straight to your smartphone, tablet or computer.
Subscribe for only £5.49 a month and enjoy all the benefits of the printed paper as a digital replica.
Subscribe