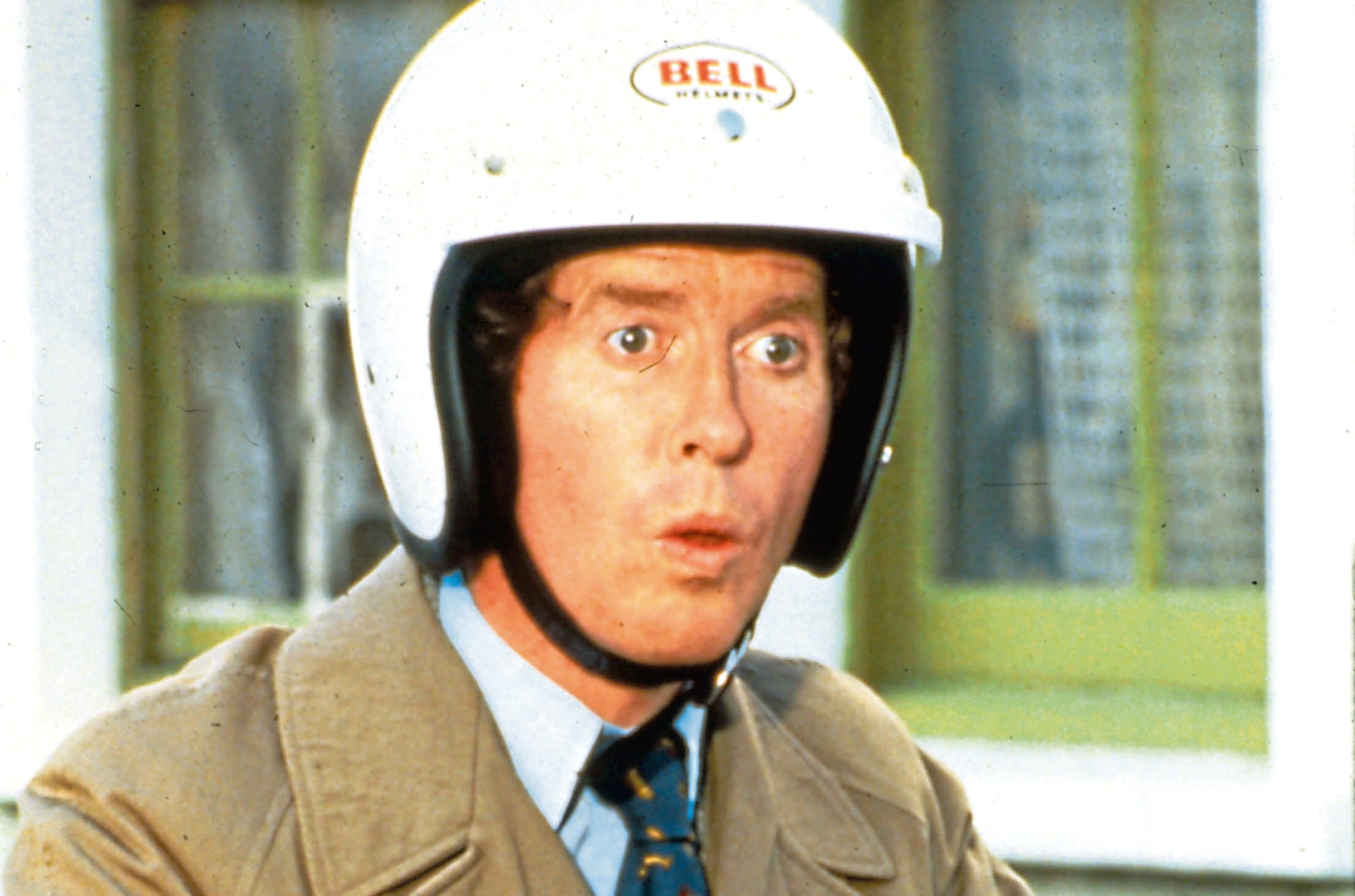 AT its peak, we couldn't get enough of Some Mothers Do 'Ave 'Em's Frank Spencer.
While more than 25 million people tuned in to watch the 1975 Christmas Special, Learning To Drive, seemingly every stand-up comic was impersonating the mac-and- beret-wearing misfit.
So it's no surprise that BBC executives were desperate for more.
Even before the first series had finished its run, a second had been commissioned, leaving writer Raymond Allen with little time to deliver the scripts.
"When I was given the deadline, I was in an absolute panic because I hadn't written anything," said Raymond (pictured below).
As the series progressed, Michael Crawford – who played Frank – had a bigger hold on the direction it took.
Although some writers may have demanded a greater say in how their creation evolved, Raymond preferred working in an environment where he was told how the scripts should look.
Still a novice in terms of TV scriptwriting, Raymond respected producer Michael Mills and Crawford's input, particularly as he was finding it difficult to think of new storylines.
The show became more of a group effort, with other members of the production team chipping in with ideas.
Michele Dotrice – who played Frank's wife, Betty – was aware of the direction the sitcom was taking.
"I was probably frustrated my character didn't seem to be heading anywhere," she admits.
"As the number of stunts increased, it wasn't going to push the boundaries to bring Frank back to the house and restrict the physical comedy.
"But I understood where the success of the show lay, and it was certainly with Frank.
"There was only a certain amount of ways you could extend the character of Betty.
"She didn't really have much of a life, but then the series wasn't about her, it was about Frank."
Stunts became more elaborate and hair-raising as the show progressed.
In fact, the very first episode, The Job Interview, quickly set the tone for what was to follow.
Although Michael Crawford executed the stunts himself, a team of experts were needed to set up and advise. The late Derek Ware and his company HAVOC were hired to assist.
Today, health and safety issues would almost certainly prevent the leading actor from carrying out stunts himself – but this was the 1970s, an era of more freedom within the TV world.
For the famous roller-skating scene where Frank is seen whizzing underneath an articulated lorry, the driver was paid a fiver to travel at five miles per hour. Afterwards, the film was under-cranked to make the action look faster.
But such reliance on stunts had its downside, creating tremendous pressure for those who strove to dream up, design and deliver them.
"Sometimes I'd write the stunt, but Michael would want to develop it further, like in The RAF Reunion episode," recalls Raymond.
"There was one incident where Frank ended up inside a wardrobe.
"I wrote in the script that the wardrobe topples over, suggesting it could fall down a step.
"But Michael thought it would be better if it rolled down a flight of stairs, which I wouldn't have written as it was too dangerous."
Raymond recalls the moment they tested it out with a dummy.
"The door came off and the dummy's head rolled out. It was in bits," he recalls.
"Obviously when Michael did it, he had lots of straps inside, but it still took some doing."
Among the most memorable stunts was the Spencers' Morris Minor – which cost £40 from a scrapyard – teetering on a cliff edge, with Frank hanging precariously from the bumper.
The scenes were filmed in Dorset with the car rigged onto two RSJ girders and a pivot plate.
Once the car was hinged, it could be tilted up and down with the help of a large scaffold pole connected to the vehicle.
It was a challenge for Michael – who wore a safety harness – because as well as executing the stunt, he had to say his lines.
Spotting a car hanging dangerously over the edge of a cliff, many people passing by in boats contacted the coastguard.
Thankfully, the authorities had been pre-warned by the BBC.
Michael Crawford survived 22 episodes of disasters on land, sea and air, and still managed to make people laugh.
"I soon realised that although writing can be just as stressful as acting, it was a lot safer," smiles Raymond.
"At least no-one expected me to entertain an audience while hanging over a cliff!"
Nearly five years passed between the second and third series, which turned out to be the last.
There were significant differences in the way Frank was played when Crawford reprised the role in 1978 – and not everyone liked the change.
But the third series remained a ratings winner, with most people simply grateful to have the character back on their screens.
There were those, however, who preferred the original version of Frank, the naïve, vulnerable character whose child-like innocence elicited feelings of sympathy from viewers.
In growing up, Frank's confidence almost verged on arrogance.
Michael Crawford felt that after a gap of a few years between series, it was time for the character to grow up.
But in trying to swap innocence and ineptitude with confidence and maturity, the character became sarcastic, outspoken, bossy and, at times, arrogant.
Instead of quaking in his boots, Frank was almost finding proceedings highly amusing.
Raymond understands why Michael felt Frank had to change, but he wonders if anyone would have questioned it if he'd remained the same.
"Other characters like Steptoe never changed, but Michael felt strongly about it," he reveals.
"Being the one who had to interpret it, I was happy to go along with it."
Raymond admits he found writing scripts for the third season extremely difficult, and if it hadn't been for Crawford's input, he may not have got through it.
"I always found storylines difficult but, luckily, Michael, who was always very enthusiastic, was good at suggesting ideas."
Although an assiduous cast and experienced director tried their hardest, the sitcom lost its way during the third season.
While it continued pulling in big audiences, it was a series too far in the life of Frank Spencer.
By the time Raymond had written the final word for the closing episode, he knew the time was right for Frank to hang up his beret and mac.
He'd written 22 scripts – a startling fact for the Isle-of-Wight writer who'd never envisaged his idea being anything other than a one-off comedy play.
"It would have been difficult knowing where the character could have gone from there, so it was the right time to bring it to an end," he adds.
Some people might expect Raymond to have felt saddened when the sitcom came to an end, but he was relieved.
"When the first two series finished, it was almost like a bereavement," he admits.
"I began thinking: 'That's it, I'll never see Frank again.' But with the third series and the Christmas Special, it had been a struggle.
"I was relieved we'd got through it.
"And I didn't see any future for the character as we'd just about done everything. So, no, it wasn't a bitter disappointment."
Now, more than 45 years since Frank Spencer first appeared on our screens, new generations of TV viewers are watching the Spencers stumble through life via regular repeats, a sure sign Raymond's creation can be regarded as top-notch material.
Richard Webber is author of the authorised book celebrating Some Mothers Do 'Ave 'Em, published by Boxtree.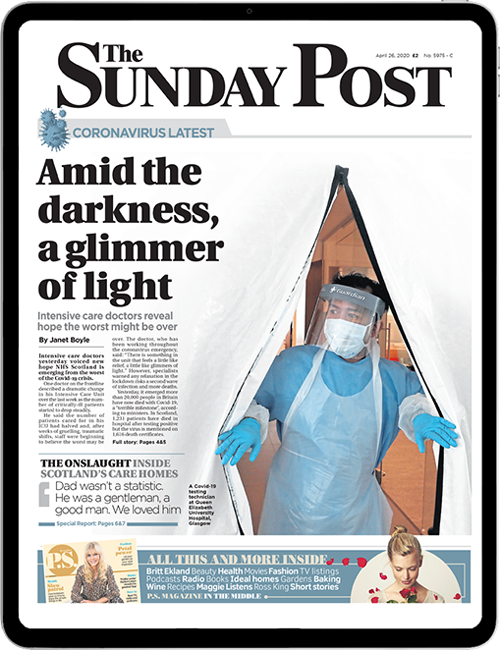 Enjoy the convenience of having The Sunday Post delivered as a digital ePaper straight to your smartphone, tablet or computer.
Subscribe for only £5.49 a month and enjoy all the benefits of the printed paper as a digital replica.
Subscribe