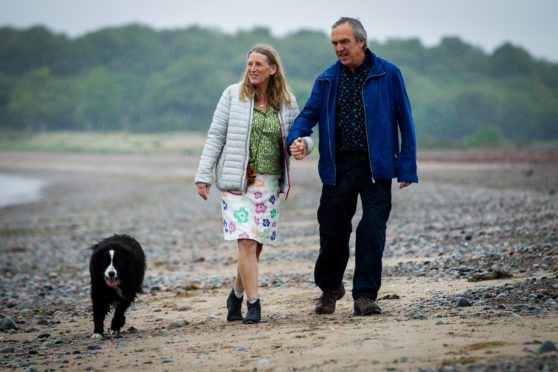 The first Scottish woman to travel to the US for full mesh removal says she would have taken her own life if she had not spent her £15,000 savings on the surgery in the States.
Two weeks after surgery with acclaimed mesh removal expert Dionysios Veronikis, environmentalist Maggie Brotherston is back home and recovering in Argyll.
Maggie, 63, said: "It cost me virtually every penny I had to go to St Louis, but at least now I believe I can regain the active life I had before mesh destroyed me.
"I was in such pain and felt so abandoned and disillusioned by the NHS, if Dr Veronikis hadn't helped me, I don't think I'd be here today.
"Dr Veronikis saved my life. I will forever be indebted to him."
Maggie spoke out as pressure increased on Scottish Health Secretary Jeane Freeman to give the go-ahead for Dr Veronikis to travel to Scotland to ease the agony of victims and help train surgeons.
Ms Freeman has formed a committee to review options but mesh victims say surgeons do not have the skills needed to help them and are unwilling to learn.
Maggie said: "Bringing Dr Veronikis over here shouldn't be about politics. It should be about doing the right thing for all mesh-injured women.
"I feel very strongly that our own surgeons need to leave their egos in the scrub room, be more humble and admit they cannot do full removals like Dr Veronikis.
"Our surgeons need to accept they can learn much from him. Until they do, Scotland will not be able to offer mesh-injured women what they deserve and desperately need – a full and safe removal system – not partial removals with no guarantee of the outcome.
"I'm upset to hear the excuses and lies being given to mesh-injured women."
Maggie's mesh was implanted after she was persuaded by NHS surgeons it was a "quick and simple procedure" to treat mild urinary stress incontinence, a complication of childbirth.
She said: "As the pain and discomfort began to take its toll on my life and mobility, I was no longer able to walk or cycle for miles or continue with my campaigns and outdoor activities. I was left in utter despair.
"I continually suffered from urinary tract infections, my legs, feet and face were numb and tingling. I had terrible constant pains in my groin and would not be able to function for days on end.
"My GPs knew little or nothing about mesh and the surgeon who implanted me seemed to be in denial.
"I only found out earlier this year I had erosion – mesh was coming through internal tissue.
"I was shocked to be told there was at least a six-month waiting list just to see an NHS removal surgeon and I could be facing an interminably long wait for surgery.
"The waiting lists appear to be getting longer as the scandal unfolds."
She said: "I'm feeling stronger every day, and will soon get back to doing the things that are so important to me.
"All the research I'd undertaken implied that what is being offered to desperate mesh-injured women in Scotland is not 'full' removal.
"Dr Veronikis has done thousands of full removals, and he shows patients the mesh removed in one piece, not fragments."
After reading about Mary McLaughlin in the Sunday Post, the Irish lawyer who went to see Dr Veronikis, Maggie was determined to do the same.
Maggie's mother, Helen, died a year ago and left her a small inheritance. She decided to use it to see Dr Veronikis.
Maggie says the NHS even refused to provide the post-op medication, such as pain­killers and antibiotics.
She said: "I was told the antibiotics I'd been advised to ask for were 'red-flagged' because they were 'too expensive'.
"In the end, I bought and paid for them in the US and it cost me about £4."
The Scottish Government said:"Having met personally with a group of women affected in April, the Health Secretary announced an expert group.
"The group is looking at the sharing of experience, techniques and learning with colleagues in Europe and the USA, and examining the complex education and training requirements we must have to ensure a sustainable high-quality service. The group is aware of Dr Veronikis' offer.
"The decision to remove mesh will be made by the patient in consultation with her clinician and will take into account her particular circumstances."
The cost
Fees and hospital costs for Dr Veronikis at Mercy Hospital in St Louis cost £10,700, and Maggie spent another £1,800 on flights, visas and insurance.
The bill for hotel accommodation for herself and partner Andrew Holder, was £1,300. Food and pharmacy plus other small expenses were a further £1,200 – total £15,000.
They arrived in St Louis for the operation and within hours, Maggie was in the operating theatre.
After a short time in recovery and an overnight stay, she was ready to check out of hospital and spend the following week recuperating in a nearby hotel.
She said: "I'd been in the operating theatre for just over two hours, and Dr Veronikis removed 15cms, the full mesh implant in one piece."
"He said all the pain and symptoms I'd been suffering were absolutely connected with the mesh implant."
"Now I'm back home, every day I'm getting better and stronger and feel I can look forward to regaining the life the mesh took away from me."
The surgeon
Despite making his sincere offer to come to Scotland to help mesh victims, Dr Veronikis says the Scottish Government has still not been proactive in taking up his invitation.
We revealed in January how he was moved by the plight of Scottish mesh victims, who have suffered crippling injuries because surgeons here used the transobturator style mesh device that causes major groin pain and mobility issues when things go wrong.
He said: I'm happy to say that Maggie Brotherston has had an excellent outcome.
"I operated on her for two hours and was able to fully remove her TVT-O device in its entirety, and can confirm it was the cause of the pain she had been suffering.
"I have stayed in touch with her and we are both very happy at the progress she has made now she is back home in Scotland.
"My offer to come and help as many women as possible is still open."
The campaigner
Campaigning MSP Neil Findlay said it was a "disgrace" that any Scottish mesh victim was having to finance their own treatment in the US .
He said: "We've been campaigning on this issue for almost seven years now and it's clear this is the biggest medical disaster of modern times, but not once has our First Minister even met with mesh campaigners to see for herself what they have been going through or what they need and want.
"We've gone through every official channel available, and still nothing positive has been done about getting these women what they want – full and safe mesh removal.
"Instead, they have been let down and fobbed off with endless committees, reports and flawed reviews.
"Nicola Sturgeon needs to meet the women now.
"She needs to stop listening to those who have a vested interest in protecting the surgeons and officials who have presided over the mesh scandal, either get Dr Veronikis here or finance victims to go to America for the best treatment."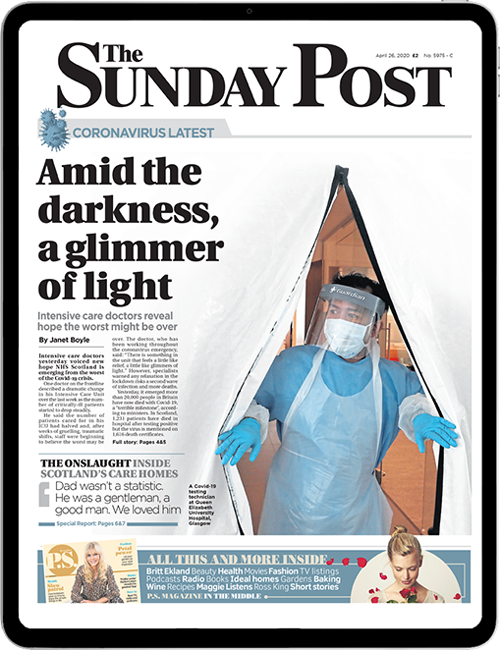 Enjoy the convenience of having The Sunday Post delivered as a digital ePaper straight to your smartphone, tablet or computer.
Subscribe for only £5.49 a month and enjoy all the benefits of the printed paper as a digital replica.
Subscribe