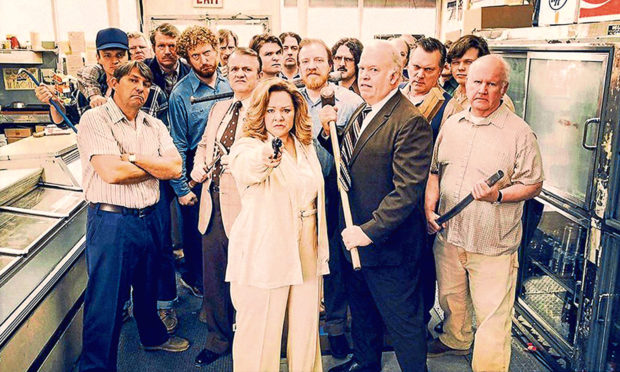 Melissa McCarthy is moving even farther away from the comedy films that made her name.
In The Kitchen, McCarthy, Elisabeth Moss and Tiffany Haddish play the wives of three Irish mobsters, living in New York – specifically the titular Hell's Kitchen neighbourhood.
When their three bozo husbands get arrested by the FBI, the women take it upon themselves to manage Hell's Kitchen and all the criminal activity that comes with it.
And McCarthy hopes it's a step in the right direction for studios to "stop questioning whether things are viable and equally lucrative" if they're female driven.
"I think we need all people – women, people who support equality – to show up and support these movies when they come out," she says.
"Because some accountant is sitting there with a ledger going 'Female movies don't make as much, they're not as worthy.'
"You can say everything you want, but until you prove that number, show that number is wrong, you got to put your money where your mouth is."
In her new movie, McCarthy's follow-up to her Oscar-nominated turn in Can You Ever Forgive Me?, the men who used to run the neighbourhood aren't too thrilled and things turn messy and very violent.
But the stars managed to find the funny side, as co-star Elisabeth Moss says: "I liked the guy in the bathtub, in the scene where me and Domnall Gleason are cutting up his dead body.
"He would just be on his phone, in between takes, just lying there, and then he'd just put his phone down and be dead!"
Adds McCarthy: "I think even just sometimes talking about it, like when you're out in the water disposing of body parts and you're having just a very technical conversation.
"Listening to people talk to the director about how the body parts are floating out and if there's a current going, it's kind of funny.
"The movie's about taking power and it's women working together, but it's not without repercussions.
"So part of what's not making this crime story too glamorous is that yes, they gain power, they gain money, they take control of their lives, but there are definite repercussions on not only the three of them as a group, but on each individual.
"I think that's really important for a story that you want to keep tethered to the world, so it's not like 'And then we all went out and ended in a big blaze of glory in a dance sequence.'
"Yes, people got what they wanted, but at what cost now? It does make you kind of walk out going, 'Am I rooting for you? Now I feel weird rooting for it.' I love that grey area.
"But as dark as the movie is, the set life was really fun and just relaxed. We all got along really well. There's a disco scene I loved – like how often do you dance as hard as you can? That's not a bad day at the office."
Moss agrees, saying: "The disco scene, unfortunately, was not long enough. This is the most fun scene that we've done in the whole movie and for some reason we're not shooting this for 12 hours.
"It was the only scene we did that day, and they were like, 'That's it, we got it!'. Normally, we'd all be super-happy to go home, but we were all like, 'Wait, maybe we should do another one? Just one more twirl around?'."
The Kitchen is in cinemas from Friday September 20.