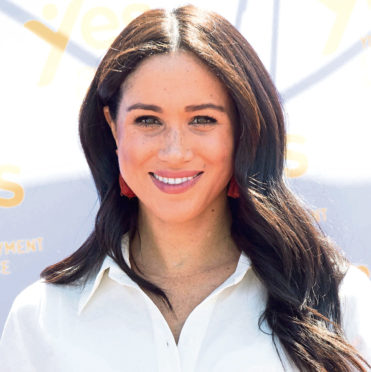 The world keeps on turning, despite the small matter of a global pandemic.
You forget that there are things going on other than cowering from a microscopic baddie floating around.
But things are still happening here in mad old La La Land.
Prince Harry and Meghan Markle are of course now in North America, starting their new life.
And they're not being quiet, as you'd expect.
Meghan Markle gave her first TV appearance since she and Prince Harry stepped back from their senior royal duties.
The Duchess of Sussex appeared on ABC's Good Morning America to discuss Elephant, the Disney+ documentary she has narrated for the streaming service.
These animals famously have a long memory. I wonder if they have memories as long as her grandmother-in-law…
Meanwhile, Meghan showed her support for a campaign to deliver food to the elderly and vulnerable in London.
Meghan took part in a Zoom conference call to speak with the women from the Hubb Community Kitchen, launched in 2017, following the Grenfell Tower fire.
Given her new interest in elephants, does that mean it was a trunk call?
Meanwhile Prince Harry appeared in a podcast and said the coronavirus crisis was "better" than people were being led to believe by, you guessed it, the media.
Harry was criticised for his stance but there's obviously no love lost between tabloid newspapers and the Duke and Duchess of Sussex.
The pair sent letters telling four major UK newspapers they won't "engage" with then any more.
Thankfully, The Sunday Post isn't on the list – even Harry and Meghan can't resist The Broons.
Speaking of royalty, I see Dame Judi Dench is enjoying life in lockdown.
The 85-year-old national treasure had some fun with her 22-year-old grandson, Sam Williams, on TikTok, doing the "Juice, Sauce, Little Bit Of Dressing" challenge earlier this week.
Basically, it's a dance craze – but that title sounds like a list of things I spill down myself as soon as I put on decent clothes.
It's great to see people enjoying themselves in lockdown.
One person trying to ensure your children are having a nice time is Michelle Obama.
The former First Lady is doing a series of online videos, Mondays With Michelle Obama and reading books such as There's A Dragon In Your Book, Miss Maple's Seeds, The Very Hungry Caterpillar and The Gruffalo.
She's doing the show early here in the US – at around midday, so you might be able to stream it for children back in the UK about 5pm.
I was going to say "after school" but I'm not sure that helps these days!
There's no school and, of course, no films in the cinemas.
Which is a shame, I could use a trip to the movies – and part of my job is manning the red carpet to interview celebrities!
Director Taika Waititi, who made the Oscar-nominated JoJo Rabbit tweeted last week: "At least the Oscars will only be 30 minutes long next year", he said.
Well, at least I'll be home before bed time…