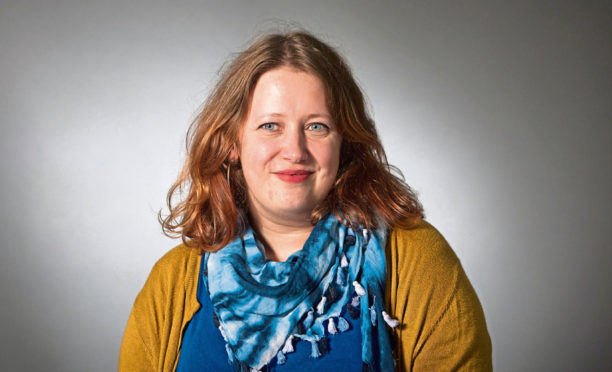 The plot for Edinburgh-based author Claire Askew's third thriller in the award-winning DI Birch series was a gift from her mother.
Claire, 34, who grew up in the Borders, tells P.S: "The whole story of the book came out of this one very small, by-the-way conversation I had with my mum. She is really interested in genealogy and has done the family tree. She had been looking for a distant relative from the 18th Century who she just couldn't find.
"Then she discovered that the reason she couldn't find him was because he went by several different names. Every time they did the census, he had put down a different name.
"I started thinking that it was really interesting and wondered if, in this day and age of CCTV, surveillance and social media, you could still evade officialdom using different names."
And Robertson Bennet, her protagonist in Cover Your Tracks, was born. He is returning to Scotland's capital after a quarter of a century's absence, to find his parents, and his inheritance. But both have disappeared. Detective Inspector Helen Birch is on the case, and as she begins to unearth the truth, chilling crimes rise to the surface.
Claire – whose brother Nick, 32, is a part time artist and illustrator – says of their 61-year-old childcare worker mum Chris Askew: "She takes the mick out of us and claims that when she talks about genealogy the light goes out in our eyes; that we find it really boring. So I am now able to say to her that as a result of her talking about it I was able to write a whole novel!"
But the author – who says she found "her tribe" in other writers while studying English Literature at Edinburgh University – revealed it was her father, retired Scottish Borders Council communications chief John Askew, 64, who set her on the path of authorship.
She recalls: "I was able to see, through him, that writing could make a real difference in the world. He and my mum have always been very interested in books and my dad was a real stickler for good, quality writing. He made sure that when I was doing my English homework I was getting my apostrophes in the right places," she laughs.
It paid off. Claire's debut All The Hidden Truths – exploring the aftermath of a fictional Edinburgh college shooting – took the McIlvanney Debut Prize, and was longlisted for the McIlvanney Prize Scottish Crime Book of the Year and Shortlisted for the CWA Gold Dagger and CWA John Creasey (New Blood) prizes. And the second in the series, What You Pay For was shortlisted for the McIlvanney and the CWA awards. Claire could be in for a hat trick with her latest offering.
She says: "People ask why I don't write nice things, but we are all drawn to the dark side of life. I think it is because getting to the bottom of why people do bad things comforts us. I go to some dark places as I need to try to answer questions.
"At moment I am working on DI Birch number four. It is an interesting time to be working on it in the midst of Covid-19 because this book will come out in a world that I imagine will be different to the one I started writing it in. I don't know if police stations in the future will have to be socially-distanced or if police will still go out in pairs. I don't know how the world in the future will operate. That is proving a challenge."
---
Claire Askew – Cover Your Tracks, Hodder & Stoughton, £16.99