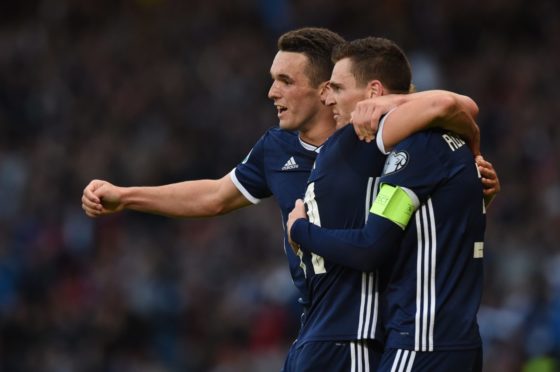 John McGinn is fed-up being on the receiving end of jokes about Scotland's inability to qualify for a major tournament.
In the Aston Villa dressing-room, the midfielder has to deal with Jack Grealish, Neil Taylor and Conor Hourihane winding him up.
Ross Barkley – just signed on loan from Chelsea – is the latest addition to the squad, and McGinn knows he, too, will make reference to it.
That's why the former St Mirren and Hibs star – who turns 26 later this month – wants a victory against Israel on Thursday night to set up a make-or-break clash away to Norway or Serbia for a place at the Euro 2020 Finals next summer.
McGinn told The Sunday Post: "I always get some stick about us not being at a major finals.
"Ross Barkley has just joined us, and he is in and around the England squad. It's the same with Jack Grealish.
"We then have Neil Taylor with Wales and Conor Hourihane with Republic of Ireland.
"I feel left out because we haven't been to one. It hurts me, it really does.
"I think it will be the same for all the Scottish lads playing in England.
"We are fed up getting a slagging all the time. Hopefully, we can change that.
"It may well be the same for Andy Robertson.
"We play against one another today, and Liverpool, like us, have started the season with two wins in the league.
"Andy and I will be enemies, trying our very best to win the game.
"But afterwards, I hope we are both fit and raring to go for Thursday night, to help Scotland get that big win."
This international has been re-scheduled from last March, when it was postponed due to Covid-19.
McGinn was sidelined at that stage with an ankle injury, and wouldn't have been available. It was the same for Kieran Tierney at Arsenal.
But the delay has worked in his favour as he is back playing, and at the very top of his game.
It has taken him a wee while to hit the heights we have been used to in the past three years, but he was playing through the pain barrier post-lockdown, and it had an adverse effect on his game.
McGinn said: "It was a tough six-month period, between injury and lockdown.
"I was desperate to pay in the Carabao Cup Final against Manchester City, but didn't make it.
"We then had football stopped for a few months, and when I came back in June, I was only at 60 or 70% capacity.
"I wasn't very good in the games for Villa, but we were in a precarious position, on the brink of relegation, and that was unthinkable.
"The manager was well aware I wasn't fully fit, and in a lot of pain.
"However, I felt I managed to help the team get over the line in the last couple of games. I just wanted to make my contribution.
"I'm now free from pain, feel fully fit and on the road to getting back to my best."
McGinn – now rated in excess of £45-million by Villa – certainly showed ability and personality on Monday night as Dean Smith's side defeated Fulham 3-0.
The Scot was trending on social media for an outrageous piece of skill – a Zinedine Zidane-style roulette – that had every fan congratulating him, and giving him nicknames such as McGinnedine Zidane and John McGinniesta.
It was a move he honed as a kid on the books at St Mirren, and he smiled: "When I was up the road, because of the position I played, that sort of skill was few and far between.
"I was known as a runner, and for getting stuck in. But I liked to think I had skill.
"That skill was developed under the old stand at Love Street on a Friday night, when I used to train with the coach, Davie Longwell.
"The last time I tried the trick was playing for Hibs against Falkirk in 2015, with Mark Kerr my opponent, and I ended up getting sent off.
"I tried to do the same roulette, and went over the ball and caught him.
"Luckily I was brave enough to still try it, and it worked against Fulham."
Israel will no doubt be well aware of McGinn's skill and ability to influence the game for Steve Clarke's side.
He doesn't mind being marked by opposition players, and said: "You need to deal with whatever is thrown in front of you.
"That's fine, as long as you give 100% and leave nothing out on the pitch.
"That is the case with Scotland, and that will be the mindset on Thursday night.
"Israel will be tough opponents, and we know that from the 1-1 draw against them last month. We will need to be at our best to win.
"We would have preferred to have the backing of the Tartan Army for the game, but that's not to be.
"I've played 23 times for my country, but I've yet to play in front of a full-house at Hampden.
"That would have changed against Israel, I'm sure, and that's the type of game I have dreamed about playing in.
"But I'll just need to be patient. It will come.
"We also want to do well for the manager. He is really good and let's us express ourselves.
"He also has a good backroom staff around him.
"When Steve Clarke was appointed, there were boys at Aston Villa who had worked with him when he was assistant manager here.
"I also spoke to one or two of the Kilmarnock lads. They were all very positive about him.
"Now, together, we need to go and do what is required."
McGinn hopes one day his brother, Paul, will be capped by Scotland, insisting: "I think he is in the best form of his career.
"He is playing very well for Hibs and has a manager who trusts and believes in him.
"I'd love for Paul and I to be playing in the same Scotland team in the next couple of years.
"Our brother, Stephen, has also moved to Hibs. I think St Mirren were premature in letting him go. He would still have been able to contribute.
"Stephen has a good relationship with Jack Ross, and whether it's on the field of play – or in a scouting or coaching capacity – he'll do very well there."
The whole country hopes the youngest of the McGinn brothers will do very well at Hampden on Thursday night.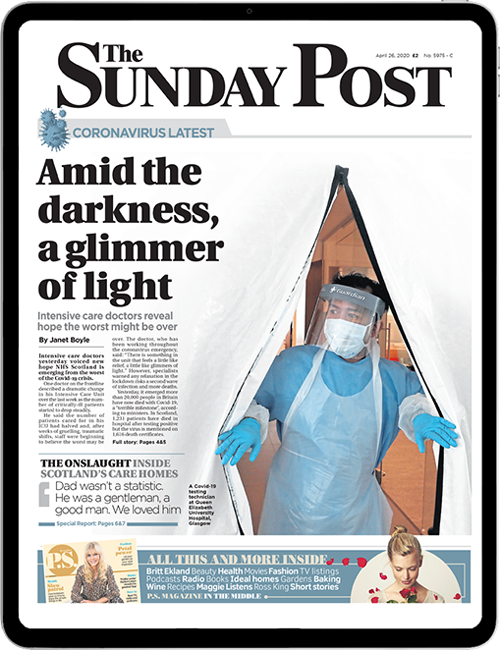 Enjoy the convenience of having The Sunday Post delivered as a digital ePaper straight to your smartphone, tablet or computer.
Subscribe for only £5.49 a month and enjoy all the benefits of the printed paper as a digital replica.
Subscribe