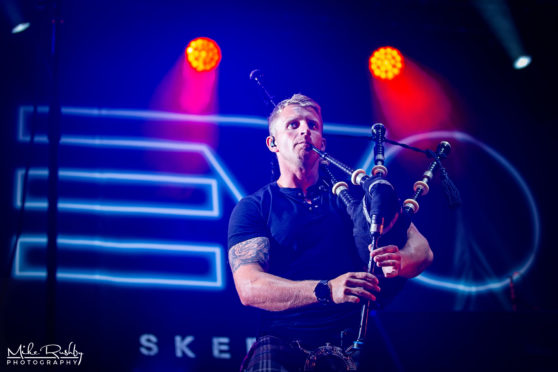 The supercharged, electric atmosphere of a live music performance seems like a distant memory. The feeling of intense anticipation before the band comes on, and the elation that lasts even after the encore is finished and the lights go up now seem like feelings reserved for characters in films.
Before the Covid-19 crisis, no one could have predicted the gaping hole left by the lack of gigs, concerts and festivals. And, as it stands in Scotland, there is no indication of when we can expect these events to resume.
Yet, this indescribable ambience and sheer energy of the live performance has been captured by a Scottish band's new album, quenching our thirst for the real deal.
Trad-rock band, Skerryvore, have recorded their first ever live album, Live Across Scotland, to celebrate their 15th anniversary. It features tracks recorded all over the country – from Aberdeen's Tivoli Theatre to Stramash in Edinburgh – during the band's 2019/20 winter tour.
Martin Gillespie, the band's pipes, whistles and accordion player who founded the group alongside his brother Daniel, Fraser West and Alec Dalglish on the Isle of Tiree in 2005, said the idea for a live album has been in the making for years: "It's something that's always been requested by fans, but we've never got round to doing it. It was great to finally get one recorded and great to do it all in Scottish venues as well."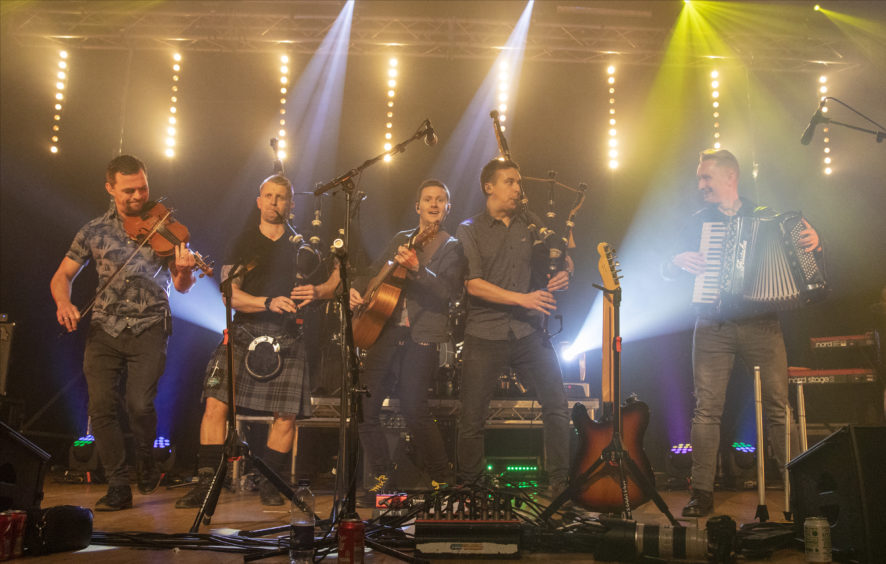 Skerryvore – who have been twice named Live Act of the Year at the Scots Trad Music Awards – now has eight members and they have gained a loyal, global fanbase which has led them to perform in more than 25 countries worldwide.
Martin said it is "strange" for the band to have ceased performing due to lockdown restrictions closing venues and prohibiting mass gatherings.
"We have coped fine during lockdown, and have been having a band Zoom meeting every week, but it's weird in the sense that performing is what we do all the time. It's definitely weird not being on tour, as last year we were away for the majority of the year. And it was only in March this year that we were touring America."
Coronavirus panic hit during that same tour, forcing the band to fly back to a locked-down Scotland.
"It was straight into lockdown in Glasgow," said Martin. "The time has actually passed so quickly – I can't believe it. It's scary. But it has been fine, I've been doing a lot of practice and there's still the business aspects of planning shows and the launch of the album so I've been keeping busy."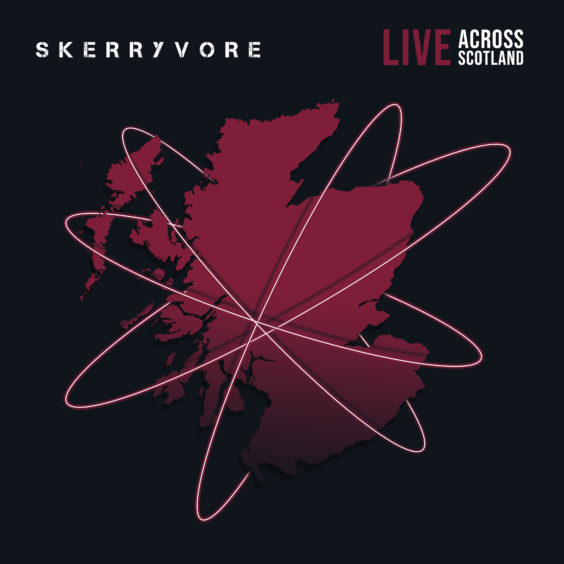 The band had planned to celebrate their milestone 15 years by hosting a one-day festival, named XV, at Inverary Castle in Argyll, which has inevitably been cancelled. And with Skerryvore's schedule usually packed with festival performances both at home in Scotland and further afield, Martin says they are "gutted" to be missing this year's events.
"We usually perform at so many. Myself and my brother are from Tiree, so it's gutting for the Tiree Music Festival to be cancelled. And we had loads planned this year worldwide. It was going to be a great year for us, so it's just a shame it's ended up like this," he said.
"We would be getting ready for a lot of festivals now and would just be back from Germany, then we would have had Tiree, Heb-Celt Festival, one in the Czech Republic, and at the end of July we were supposed to be back to the States for a month. Reminders on my phone flashed up saying I should have been in Germany! It's weird when that happens and you're meant to be somewhere but you're not."
Despite being confined to their separate houses during lockdown, the band, incredibly, managed to produce and release a charity single for the NHS, Everyday Heroes, in collaboration with other Scottish trad bands and musicians.
The track, which featured former Downing Street press secretary, Alastair Campbell, an amateur piper, reached the iTunes top spot within hours of being released. How was such a feat made possible?
Martin said: "The idea just came into my head on a Sunday night and by the Monday I'd written this piece and sent it to the guys. I just didn't expect to record it as well as we did because at that point we couldn't even see each other. Scott's got his own studio and a couple of the guys have recording equipment at home so we managed to pull it together.
"It was a learning experience for us and now we know we can record from home. I've ordered more equipment so we've all got some sort of basic set up and we could actually put some good stuff together. We've got a plan for a lot of stuff we can do in this way if restrictions continue."
No government guidelines have yet been released to give some indication of what is in store for the live music industry in Scotland in the aftermath of coronavirus. Martin said it is "hard to imagine" what the already struggling sector will look like, pointing to the conversations about gigs and events being hosted at just 30 percent capacity.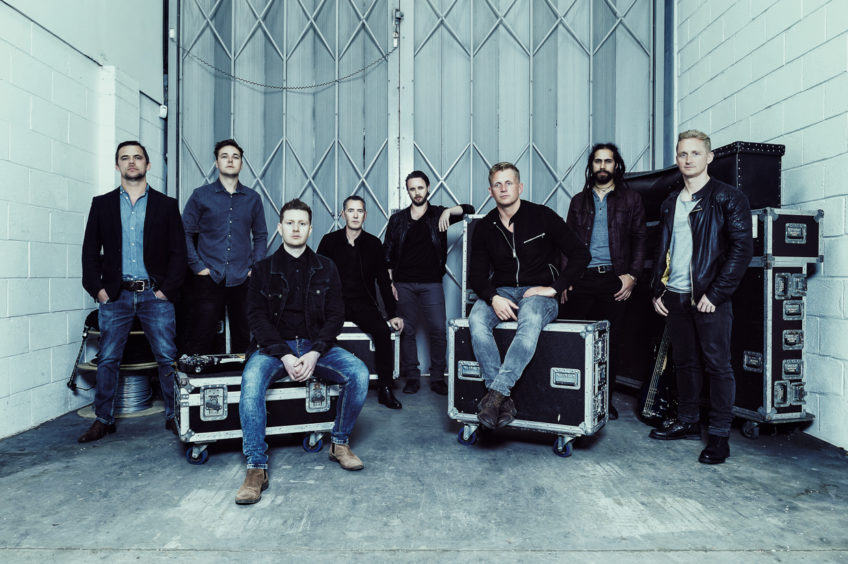 "If they're cutting the audience for festivals as well… I honestly don't know. When it actually happens we will be able to work it out. But for a band like us with nine members, including our sound engineer, playing a normal sized venue with the capacity dropped by 60 to 70 percent would be very hard to do. But, we would definitely play socially-distanced events – as long as it's done in a safe way we're open to that."
He questioned whether audiences will be as keen to attend live music events as they were pre-pandemic: "Things aren't going to be normal for a while, and even if they do go back to normal, what is going to be 'normal' after this? I think a lot of people are still going to be reluctant to go to gigs and events unless there's a vaccine. They won't want to put themselves at risk. I think everything is going to change.
"I'm hoping to get a vaccine because if we're going to get another wave of this, and if we do go back into lockdown, then you're talking about a disaster for our industry. A lot of venues are going to struggle to reopen. It's an area, considering how important it is for Scotland and the UK, which is very underfunded compared to what other countries are putting into it at the moment."
Skerryvore are still hopeful to tour Denmark at the end of November, but until then Martin is happy to settle with a trip home to the clear waters and white sands of his beloved island of Tiree with his brother.
"We'll be there the weekend the festival should have been on, which is nice. I've not been home for a year or so, so I'm really looking forward to it."
Live Across Scotland is out now and will be available on CD and to download and stream. CD is available to pre-order now at www.skerryvore.com. 
Skerryvore will be performing in Tiree Music Festival 2020: Air Chuairt which will be broadcast on BBC ALBA this Saturday, July 11 from 9pm to 11pm.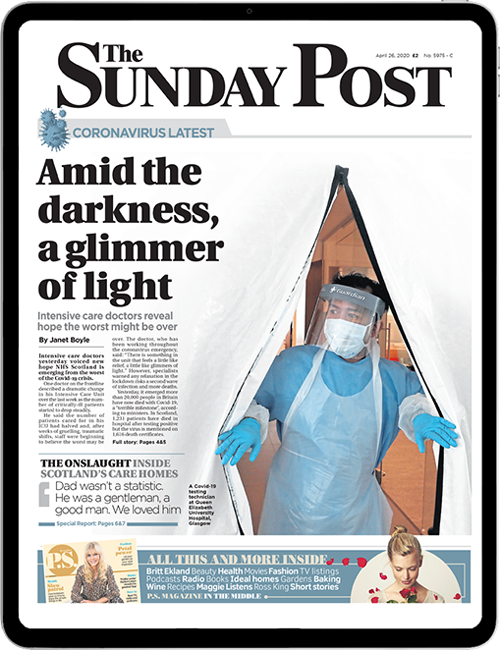 Enjoy the convenience of having The Sunday Post delivered as a digital ePaper straight to your smartphone, tablet or computer.
Subscribe for only £5.49 a month and enjoy all the benefits of the printed paper as a digital replica.
Subscribe