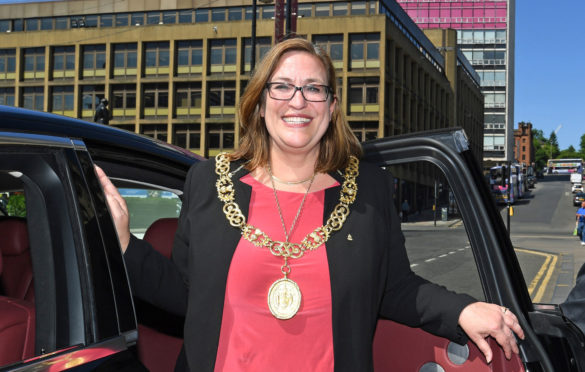 Hillary Clinton once joked that if she ever wanted to "knock a story off the front page", all she had to do was change her hairstyle. Unfortunately, for Glasgow's Lord Provost, it is her haircuts that have become the story.
And in a cash-strapped city where the council is being taken to court for not fulfilling its legal duties to house the homeless, that is not a good look.
Over a period of two years, Eva Bolander claimed £8,000 in expenses for clothes, beauty products and 23 pairs of shoes, earning her the moniker of Glasgow's Imelda Marcos. She spent £435 on seven blazers between May 2017 and August this year, and claimed up to £992 for 14 dresses, £665 for five coats, £374 for six jackets and £152 for underwear.
Bolander, an SNP councillor, who earns nearly £40,000 a year as the civic leader of the council, also filed expenses of £751 for 10 haircuts, £479 for 20 nail treatments and £66 for make-up. On one day alone, she spent £500 on shoes.
As James Kelly, a Labour MSP for Glasgow, said: "In just one trip to John Lewis, she spent more on herself than what a worker being paid the national minimum wage earns in a whole week."
The Lord Provost also claimed £358 for a pair of spectacles and £240 on two hats from the milliner William Chambers.
While one defence has been that Bolander did not claim as much as she could have from an annual pot of £5,000 reserved for the civic leader and the deputies to help with personal expenses, there is no defence for why she thought it appropriate to spend the money on nearly two dozen pairs of shoes, £75 haircuts or getting her nails done.
The fight for equality is a battle hard fought. But the price of political power has often been the unequal scrutiny of women's bodies and their wardrobes. And that is plainly not fair.
As The Handmaid's Tale author, Margaret Atwood, said in conversation with classicist and historian Mary Beard for Front Row Late on BBC2: "Politics is hell in general but I think it's probably double hell for women because not only do you have to have a position, you have to have a hairstyle."
And it is true female politicians endure endless commentary about their hair, their looks, their make-up. So, I do have sympathy for women and the cost of keeping up appearances, but it's also why I am so angry with Bolander. Her shopping list has done us all a disservice by denigrating her position and allowing it to be reduced to a debate about the frivolous.
Her extravagances have only fed into the mindset that what women wear matters more than what women say.
Women have fought hard for equality and we still have a way to go, but we can't shout "sexism" when we are scrutinised for what we wear and then defend a woman's right in high office to claim for such fripperies as having her nails done.
Bolander's crime wasn't in using an allowance to ensure she was turned out respectfully as a representative of the city, it was in not being cognizant of how, in one of the country's poorest council areas, this would be seen, and, instead of putting her hand in her own pocket, she dipped into the public purse.