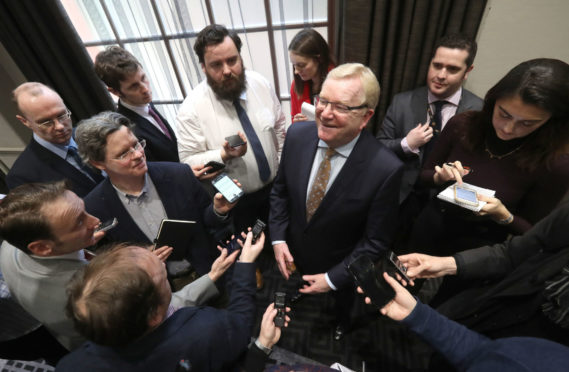 Every Christmas until his boys were old enough to refuse to watch it, Jackson Carlaw would hold a puppet show in the living room of his home on the south side of Glasgow.
And during the pint-size panto, which laterally he held for neighbours' children and youth groups, the now Tory leader would pull the strings of 68 marionettes, controlling a five set extravaganza with a finale which always ended with a chorus of "You Cannae Shove yer Granny off a Bus".
If only his job now was so easily controllable.
Carlaw is an amiable soul. He looks like a man born to lead the Scottish Tories. And by rights he should be able to attract support from middle-of-the-road Scots who are against independence, scunnered with Labour, socially liberal, but who do worry about the pound in their pocket enough to think that not knowing what currency their pension might be paid in matters.
In other words, he should be able to make the Scottish Conservatives a real alternative to break the SNP hegemony and find his way to Bute House. But this leadership contest has been a bitter one. It has exposed factions within the party that don't sit well with the softer image portrayed by Carlaw.
And while Michelle Ballantyne may have lost decisively to the Eastwood MSP, she did voice a real and uncomfortable fact – the party, under his stewardship as interim leader, lost a lot of ground at the last election, losing seven of its 13 MPs.
She also argued the party had a policy vacuum and needed to be more than just a one-issue campaign against a second referendum.
The Scottish Tories might want to believe that they are a government in waiting, but right now they look nothing like one.
Nicola Sturgeon's party has been in power for 13 years and, despite daily headlines screaming about failures in all areas of public service delivery, she remains the most popular leader across the UK and her party sits comfortably in the polls.
In the 2011 Scottish Tory leadership contest to replace Annabel Goldie, Jackson and Ruth Davidson were rival candidates. He lost the leadership battle then but gave a hint at the kind of socially liberal leader he would aim to become, citing former Tory MP, Teddy Taylor, as someone who "represented the people that don't live in big houses". Indeed, given Carlaw's first political foray was with the Labour party as a teenager in the 1970s, this is no surprise.
As an MSP he has campaigned for equal marriage, believes in assisted dying, and is even rumoured to be considering mitigating against his own party's two-child cap policy and its so-called rape-clause.
But with just over a year before the next election, Carlaw will have to ride two horses at the same time. Be a social democrat, offering an alternative to the SNP, while answering for hard-right policies implemented by a Prime Minister who Scotland quite evidently did not vote for and took us out of Europe.
When asked about his love of producing his festive puppet show, Carlaw said that inside every politician was a frustrated actor. To survive and thrive as Tory leader, He might now need to show his mastery of both.