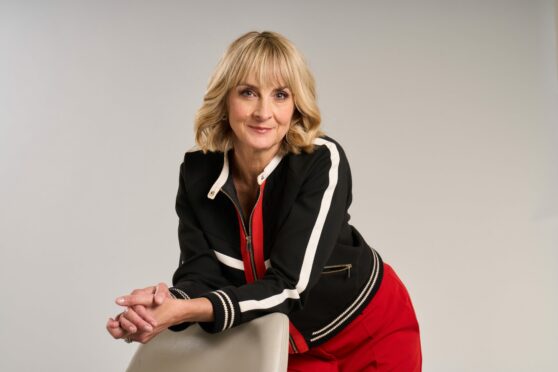 In the space of 13 exhilarating but exhausting months, former BBC Breakfast presenter Louise Minchin travelled round the world taking part in 17 incredibly physical adventures – while somehow also finding time to have a knee operation.
She swam in the shark-infested water of Alcatraz, cycled across Argentina, free dived under metre-thick ice in Finland, and explored wild caving despite being claustrophobic.
The 55-year-old, who has been competing in triathlons for the past decade, took part in each of these challenges with remarkable women who are at the top of their respective fields, and she did so to shine a light on their formidable accomplishments.
It was an idea borne from her time on the famous red sofa of BBC Breakfast, where Louise worked for two decades. Noting that the "and finally" segment at the show's conclusion was often a story about an ordinary person doing an extraordinary challenge – something intrepid or brave or courageous – Louise was disheartened that most of the stories were about men.
She knew women were having adventures too, so decided she would find them and accompany them to discover first-hand the motivation, resilience and bravery that pushed them to do these incredible feats.
Fearless adventures
In Fearless: Adventures With Extraordinary Women, she shines a light on the legacy these women were creating. Mum-of-two Louise has left a legacy of her own at BBC Breakfast, and it was one that took much longer than 13 months to accomplish and was as tough, she says, as any physical challenge.
She not only waged a lengthy battle to be paid the same as her male co-presenters, but fought for equality when it came to the sharing of interviews and show introductions each morning.
Speaking ahead of her appearance at Wigtown Book Festival later this month, as well as tour dates in Edinburgh, Dunbar and her old university town of St Andrews, Louise explained: "It was a really long battle and I had to dig in. It's interesting to look back, sometimes I think they didn't know what they were dealing with. They were dealing with an endurance athlete, so I was going to carry on; it didn't matter what happened because I would keep going and that gave me the power.
"I talk about what you get out of challenging yourself in an adventure, and what I got out of competing at a very high level in triathlon was an ability to say, 'Okay, this is a battle, sometimes we lose skirmishes but let's carry on'. That was really helpful. Having sport as the counterpart, my careers ran in parallel from 2012, and I think it helped me."
Regarding spreading the load of presenting duties more equally, she said: "I spent two or three months writing down who did what and when." When Louise raised the issue with her boss, he denied presenting duties were tipped in the male presenters' favour, but when she offered to show her evidence, change was quick in happening.
She continued: "It's not about me – I've moved on and I'm doing something different, but it hopefully leaves a legacy where the person coming after me on the sofa gets paid the same amount of money, and the person after that and after that, and it becomes unacceptable for it not to be the case. And the next person shares duties – I don't care who does what but just share stuff. You should be able to share interviews because you're doing the same job.
"Hopefully it is a legacy. These things can get lost – I might have done this, but we need to be very careful going forward that we don't go backwards."
There is no sign of Louise going backwards since rediscovering her athletic prowess during a Breakfast presenters challenge in 2012, when they cycled against each other in a velodrome. Remarkably, within a few years, she was representing her country's age group at triathlons.
"I had let go of competitive sport, so it was wonderful to come back to it and discover I didn't love it because it was competitive, but because it made me feel amazing – all those endorphins and adrenaline," explained Louise, who had been a competitive swimmer as a teenager but gave it up overnight when she was 15 because she didn't like how muscular it was making her body. "That's been the real lesson – that I don't need to do it competitively to enjoy myself."
Out of the comfort zone
Enjoy herself is what she did when accompanying endurance athletes of all ages, backgrounds and body shapes in their sport of choice – despite the apprehension that would creep up when she found herself out of her comfort zone.
"Christine Grosart is a cave explorer and scuba diver and is extraordinary at what she does," Louise said about her time wild caving in The Mendip Hills in Somerset. "I'm claustrophobic in lifts, so to go into a small space where I couldn't get out quickly, with water cascading around me, was way beyond. Safety was incredibly important. I like pushing at what I find scary, but I will never do that again.
"Now I know how dark it is underground, and it's dark like a black hole dark. I remember having a sense of rising panic – my heart rate was going up, I was hot, I was breathing faster – and these only make a person more panicky. I had a quiet word with myself because you must quell these feelings otherwise it will only make it worse. I've said I won't do it again, but I probably will!"
One challenge she definitely will do again is ice diving. Having swum under metre-thick ice for 15 metres in Finland with Guinness world record holder Cath Pendleton, the two have been in touch to arrange when next to do it.
"She's an incredible athlete who can deal with the cold in a way I can't. When she said let's go freediving, that's my idea of heaven because I'm a water baby and a scuba diver. When she said under ice, alarm bells started ringing. When I looked at pictures of where we were going, I was filled with fear. It's extremely dangerous, so I had to complete a two-month course."
When it comes to danger, swimming from Alcatraz is near the top end of the scale. When Louise learned about a race from the infamous prison to the California mainland, she knew she had to be involved. She swam with sisters Anaya and Mitali Khanzode, aged just 17 and 20, who have each completed the treacherous stretch more than 70 times. "It was the last thing I did and I felt so lucky to do it," said Louise, who also went climbing in Glencoe for the book.
"People couldn't escape from Alcatraz for two reasons – either the currents will kill you or the sharks will. It's a stark location, this tiny desolate island in extraordinarily vast waterways. I've come a long way in my swimming but to jump off the side of a ferry into murky water and have something that wasn't human touch me in the water, well, I survived to tell the tale."
Having spent time with these incredible women in equally incredible circumstances, Louise says she has learned a lot – their philosophies for life, their resiliency, their meticulousness – but one quality shone through each time.
"The one thing that really struck me about them, and it was the reason I wrote the book, is they are all so modest about their achievements. They don't shout about them, so it was important I do it for them. This is just the tip of the iceberg because there are many hundreds of women who could be in the book. They don't do it for the kudos or accolades; they do it because it's part of their identity, it makes them feel good about themselves, and it's their safe space."
Louise is looking forward to returning to Scotland, with wild swims planned for each of the tour destinations. I've travelled loads in Scotland – mostly around the west coast to places like Skye and Fort William," she added. "I've never been to Wigtown, so someone has been in touch to take me on a loch swim after the festival, which I'm excited about.
"I'm looking forward to coming back to Scotland – I did a five-year degree there and it was some of the happiest times of my life, so to be coming back is just beautiful."
---
A special friendship with Bill
The friendship between Louise Minchin and Bill Turnbull was cemented during a voyage on a container ship.
The pair worked together on BBC Breakfast but also filmed Around The World In 80 Days for Children In Need.
"We went from Mongolia to LA," Louise said. "We were on the Orient Express and then a container ship from South Korea to the west coast of America. When you've done something like that with someone, you either like them or you don't."
They were good friends, which made his death last year even more devastating for Louise.
Bill, who started his career with Radio Clyde, died aged 66 after a four-year battle with prostate cancer – a fight he shared with others to save lives.
"He was a very private man yet spoke very openly. It saved lives," Louise said. "I know he'll be remembered forever for that – it's an incredible legacy.
"I was in Ikea the other day and a man came up to me and said he was only here because of Bill. He got tested, was diagnosed and had an operation, and he's fine. That's not the first time someone has told me a story like that.
"Bill was really funny, a brilliant journalist, a stickler for grammar, and he taught me a lot on that sofa. Anytime I'm doing a speech, I'll mention him, because if it helps just one person in the room, it keeps forwarding the message."
---
Fearless: Adventures with Extraordinary Women by Louise Minchin is available to buy now. She will be in conversation at Wigtown Book Festival on Tuesday, September 26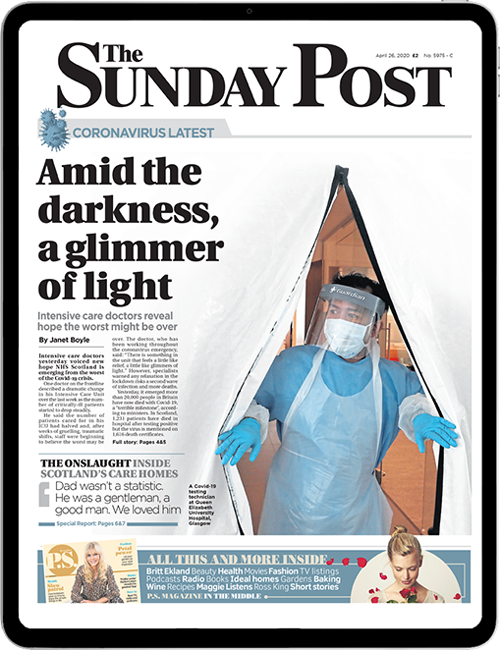 Enjoy the convenience of having The Sunday Post delivered as a digital ePaper straight to your smartphone, tablet or computer.
Subscribe for only £5.49 a month and enjoy all the benefits of the printed paper as a digital replica.
Subscribe