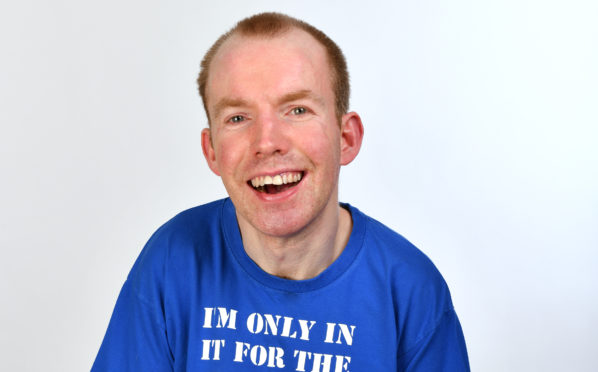 Britain's Got Talent winner Lee Ridley says finding fame left him struggling to cope.
Speaking before his first solo tour comes to Scotland this week, Lee – better known as Lost Voice Guy – says the nationwide exposure affected him mentally and physically.
The 38-year-old comedian, who uses a Stephen Hawking-style voice app to communicate, was diagnosed with cerebral palsy at six months and has never been able to speak.
But that hasn't stopped him pursuing a stand-up career. He became a regular at the Edinburgh Fringe before his life-changing appearance on BGT, which led to him performing for the Duke and Duchess of Sussex at the Royal Variety Performance.
"Winning the show has meant I'm in the public eye a lot more than I used to be and people recognise me everywhere I go now," Lee, from County Durham, said.
"I have a lot more followers on social media, too, so it's been quite hard to cope at times – mainly because I don't have the same amount of time to just switch off and relax.
"Straight after winning the show, I couldn't really find any time for myself and that affected my sleeping patterns, but I think I'm starting to become more used to it now."
Lee's success has inadvertently helped people with disabilities be viewed in a different light.
"People are engaging with me a lot more than they did in the past and, for the first time, they seem comfortable talking to a disabled person," he continued.
"I'm used to being stared at for negative reasons, so it's nice to be stared at for positive reasons for a change.
As well as his upcoming Scottish dates in Glasgow, Inverness, and Dundee and a return to the Edinburgh Fringe in the summer, the second series of Lee's BBC Radio 4 sitcom, Ability, returns in April.
"It's about a bloke called Matt who use a communication aid to speak, so obviously it's purely fictional!," he added.
"The reaction to the first series was incredible. I didn't know how well it would work but thankfully everyone seemed to really like it and it was nominated for a Writers' Guild Award, which I'm very proud of."