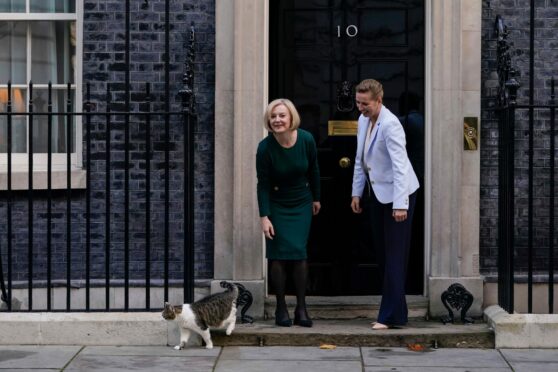 Liz Truss will face a party angered and panicked by the disastrous impact of her tax-cutting plans as she fronts this weekend's Tory conference, according to her own MPs.
Only 113 MPs voted for her in this summer's leadership contest and the mood among them is said to be febrile after Chancellor Kwasi Kwarteng's so-called "mini-budget" nine days ago collapsed the pound and provoked panic among mortgage providers and pension funds.
Many are in despair as some polls suggest Labour has surged 33 points ahead, while some are openly questioning the Prime Minister's future in Downing Street less than four weeks after she took charge. Former Cabinet minister Sir Alan Duncan described the recent budget as a "colossal disaster" ahead of the party's annual conference, which begins in Birmingham today.
Meanwhile, a senior MP said "colleagues are petrified, perplexed and very angry" while another told the Financial Times: "Those MPs who were already sceptical, have looked at the events of this week and started panicking."
Duncan, former ­international development minister, said: "What the budget did was clear the decks of a lot of irritating taxes that a lot of Conservatives over the last 15 or so years have not liked.
"But it was delivered at the wrong time in the wrong way and into markets which were fragile and jittery. So it has been a colossal disaster. I'm afraid the judgment of people is going to be very, very harsh.
"The inevitable ­consequence of what happened last week is that people are going to pay more because interest rates are going to go up and the pound is under strain."
Yesterday, Truss – who will be interviewed by Laura Kuenssberg on her BBC show today and make her first speech as party leader at the conference on Wednesday – warned there was a difficult winter ahead and, for the first time, acknowledged her economic plans had caused problems.
She said: "I recognise there has been disruption but it was really, really important we were able to get help to families as soon as possible.
"That help is coming because this is going to be a difficult winter and I am determined to do all I can to help families and help the economy at this time."
Meanwhile, Kwarteng said: "The British taxpayer expects their government to work as efficiently and effectively as possible and we will deliver on that expectation. Not all the measures we announced last week will be universally popular, but we had to do something different. We had no other choice."
However, the pair have been accused of arrogance and incompetence after provoking panic on financial markets by announcing unfunded tax cuts without proper analysis from the Office of Budgetary Responsibility, which would have been mandatory if the announcement had been a budget.
Within days of the plans being announced in the House of Commons last Friday, the pound plummeted to an all-time low against the dollar and the Bank of England was forced to spend billions buying up government debt to prevent a collapse of the pensions industry.
In the penultimate round of the leadership contest before the vote went to party members, Truss received 113 votes from MPs and Rishi Sunak received 137.
Former Conservative MP Matthew Parris, now a respected political commentator, wrote in his Times column: "She's finished. The parliamentary Conservative Party must urgently cut itself free of what will soon be the political corpse of its leadership.
"An almost unknown prime minister and her almost unknown chancellor have trashed a golden opportunity to reach out to all sides in their party and consult and reflect during weeks of national mourning and, instead, blundered straight into a massively ill-considered move that has almost literally scared the country out of its wits.
"This prime minister must be dispatched. Sacking her chancellor won't save her now. Her own removal is not a matter of if but when, how and by whom."
One senior MSP said the party was determined to show a united front at the party ­ conference despite the concerns over Truss, who stood for the leadership promising to push through tax cuts intended to provoke economic growth. Commentators say the changes will demand huge spending cuts and warn cutting tax paid by the wealthiest while refusing to raise benefits in line with inflation would be politically disastrous.
Ian Blackford MP, the SNP's leader at the House of Commons, said: "This conference also marks a significant challenge for the Scottish Tories. It will be telling to see who actually has the brass neck to show up and support this disastrous UK Government after a turbulent few weeks in office.
"Liz Truss has no mandate to impose greater austerity in Scotland. And an ideologically-driven race to squeeze the poorest even harder will only turn more people in Scotland to back a fairer, greener, more equal future as an independent country."
Meanwhile, Deputy First Minister John Swinney and his counterparts from other devolved governments are seeking an urgent meeting with the chancellor to discuss immediate action needed to reverse the damaging effects of the UK Government's tax proposals.
Andy Maciver, a public affairs specialist and former political adviser to the Tories at Holyrood, said Truss was likely to get an easy time at the conference despite worries over her performance so far.
He said: "It is better for Liz Truss to be going to the Tory party conference just now than going to Prime Minister's Questions as she will be in front of a like-minded audience.
"You also could find that some people, MPs included, and those who are not fans of what she is doing, might not even bother going. We already know that Boris Johnson and Rishi Sunak are unlikely to be there, and these are people who might have grabbed a lot of difficult media attention.
"I would be surprised if Truss gets a hard time and there will be those who occupy the middle ground who still think there is a chance that things could improve a little bit and be tempted to be kinder to her.
"Two years is a long time in politics and so much could change, such as the situation in Ukraine, and interest rates could come down, along with energy and food prices."
Rachael Hamilton, Ettrick, Roxburgh and Berwickshire MSP, backed Truss in the leadership contest. She said: "The energy support will help my constituents, the reverse in National Insurance and other tax cuts will certainly help my constituents.
"I think it's just a case of we'll see how Kwasi Kwarteng develops the statement, the mini-budget. I think there is probably more to come and I look forward to that. We need to grow the economy."
Scottish Labour Business Manager Neil Bibby said: "The Tory government is taking a wrecking ball to our economy and handing tax cuts to those who need them least, while Douglas Ross and most of the Scottish Tories nod along.
"They can still do the right thing and take a stand – but if they don't, they are giving the green light to Liz Truss' disastrous leadership and her government's economic vandalism.
"Scots will know once and for all whose side the Scottish Tories are on, and they will not forget Douglas Ross cheering on these economically illiterate and morally bankrupt charlatans.
"Change is coming in the form of a Labour government, which will build a better future for Scotland and the whole of the UK."
Additional reporting by Peter Swindon and Russell Blackstock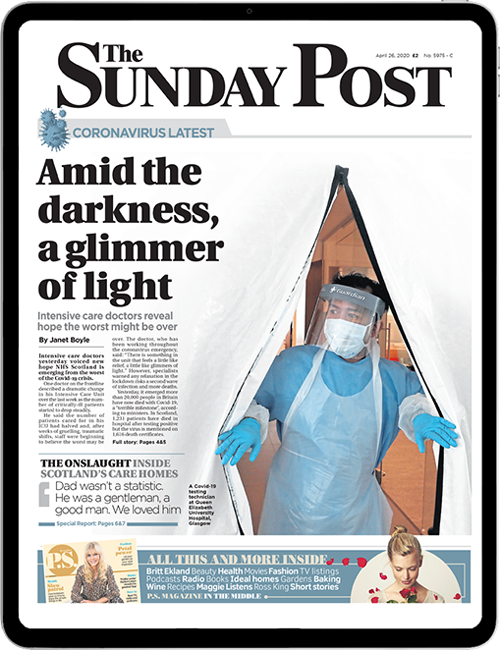 Enjoy the convenience of having The Sunday Post delivered as a digital ePaper straight to your smartphone, tablet or computer.
Subscribe for only £5.49 a month and enjoy all the benefits of the printed paper as a digital replica.
Subscribe