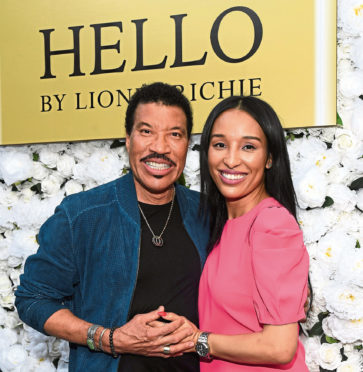 The first few notes on a piano are a giveaway. Those notes are so familiar because we have heard them hundreds, maybe thousands, of times. We know the song and we know the singer. So, let's say "Hello" to Lionel Richie.
"I think it is great when people know your songs so well and yet want to hear them again and again," said Lionel. "What better compliment can there be?
"Every time the piano plays those opening notes at a major concert there is a roar from the audience and I find it hard to sing – it just gets to me every time because you can feel the love in the air, the love of the song and the mutual love between the audience and me. Wow!"
It is hard to imagine that Lionel was quite intent on becoming a priest and might never have become an international singing favourite.
"I was surrounded by music when I was growing up in Alabama and a lot of that music was country and gospel, so it was a big influence," he said.
"I loved the music and I loved seeing the preachers – they always seemed so full of energy and audiences reacted to them. I really thought that it was for me right up to and including my early days with the Commodores.
"Then it changed because I found that the audiences loved the music, too, and were energised. The music won and I had to tell my tutors that I would not be continuing to learn to be a priest.
"I was not turning my back on my spiritual side but the music, creating it, performing it and helping people have a good time just felt absolutely right.
"We used to be support band to The Jackson 5 for quite a while and I couldn't help watching them, they were so good, brilliant at everything. They looked great, they could sing anything and their dancing was just stunning. I became friends with Michael especially – what a fantastic talent.
"Later, the Commodores had their own support bands and also I had the chance to record solo and that is where Lionel Richie started to do his own thing. It was never that I wanted to leave the band, it just kind of happened. I have been very lucky and it still amazes me that people like what I do so much. I just wish that people would get my name right.
"I have often been called Riches, Noel Ritchies and on one occasion I went into a motor showroom because I wanted to treat myself to a new vehicle. The assistant told me that he would get a senior sales person and asked me my name. I told him and then I heard him call out… there's a Mr Ricky interested in a car. It didn't make me angry, I just laughed."
Lionel Richie was due to tour extensively throughout 2020 and into 2021, including dates in the UK, although plans will obviously be subject to change.
"I love coming to Britain, I really do," he said. "When I get some time off, I like to visit art galleries and you have some of the best and not just in London either. I love to tour and I love performing and would be happy to work every night, but you have to have some time off or you just burn out, I have seen it happen.
"Some people tour by going to the gig, then back to the hotel, move on to the next place and do the same again. I like to get to know the people and places wherever I am.
"It's not just the art galleries, but the great buildings, statues of famous people and the countryside. I have seen mountains all over the world, but in Scotland they look different, almost haunting but welcoming."
In the Middle East, Lionel is a legend, even in Iraq where most people could sing you one of his songs.
"That is very flattering," he said. "I love the Arabic countries and I really wish there could be peace in that part of the world – well, all parts of the world, really. There are many beautiful places in the Middle East, but at the moment most people miss out on seeing them because it is too dangerous for holidays."
What is the secret of Lionel's amazing success of sell-out tours and millions of recording sales?
"I don't know, except that I keep the messages simple and people can relate to them," he said.
"The message I deliver is pretty simple – just the three words that mean so much from one generation to the next – I love you.
"Whether that is wrapped up in Hello, Three Times A Lady or any of the other songs, it is saying the same thing.
"People sometimes know what they want to say, but just cannot seem to get it right in their heads, so they play Hello and it says it all for them.
"I've heard that it is played a lot at weddings and that makes me feel really good. If couples have love in their lives they have the key to survival."
How much longer does he expect to keep up the pace of touring, TV and recording? After all, he is now 70, although he looks at least 20 years younger.
"I don't think about that," he admitted. "If you do, you start putting time limits on yourself and that must never be. Both of my grandmothers lived to more than 100, so I reckon I shall be around for a long time yet and there will be more tours and recordings still to come.
"I don't like to restrict myself. I found that I would convince myself that I could only write at home in Alabama and used to put myself off writing anywhere else. Then I decided I could only write in hotel rooms, so that convinced me that I couldn't write anywhere else.
"I don't have those crazy feelings now – I can write anywhere, any time – just so long as I am wearing a hat."
Despite being such a megastar all around the globe, Lionel is a very down-to-earth sort of person.
"I hope so," he said. "I am not someone special, I just happen to have been blessed with a career that has put me in front of thousands of people regularly and millions of course, when we are on TV, but I hope I never become 'precious' and expect people to move aside for me.
"If my car needs filling up, I don't ask someone else to do it, I just call in at the gas station and do it myself and if I get chatting to someone about the weather, sport, whatever, that's great. I like people, I like music and I like life."
Lionel engages with a lot of charities and was one of the main organisers of the Feed The World campaign in the 1980s. He wrote the theme song along with Michael Jackson.
"I don't like to think of people going without and I know if I were in a situation where there was no medication available, no food and I saw my family unwell and hungry, I would be praying for someone to take an interest and help.
"I know there are some people who don't seem to care too much once they have established themselves in whatever career they choose, but there are a lot of good people around the planet, people who do want things to be right.
"It saddens me sometimes that you try to organise a fundraiser and some of the artists or bands start making great demands on what kind of hotel suite they will have to stay in or how big the stage must be, those kind of things.
"I know where I come from and it is good not to forget the breaks you have had. I hardly ever refuse an autograph because I am thrilled that people are interested and like me enough to ask for one. It also means that they get my name right!"