HAVING turned 65 last year, you might think Paul Carrack would be winding down — but he's finding that music gets better at the age most are retiring.
With a charity single just recorded at the famed Abbey Road studios, and three dates at the Royal Albert Hall with Eric Clapton lined up, Sheffield-born Paul is as busy as ever.
He's also on a non-stop tour of the UK and is then heading further afield, but the man who has worked with The Eagles, Ringo Starr, Roxy Music, The Smiths and Elton John has no interest in fetching his pipe and slippers just yet.
"I'm crackin' on now, so I have to be careful with the old resources!" laughs Paul, who turns 66 in April.
"But it's all about the shows, and I'm not out there for a jolly.
"We enjoy what we do and have a lot of fun and enjoy good banter in the band, but it's unbelievable to be in this position at my age, where things seem to be going better than ever.
"It's what I've worked for most of my life, and I am just trying to enjoy it.
"I've been around the houses in bands, and my career hasn't really had a path to it.
"So to crack on and keep a roof over my family's head, make a living at it, it's good. To know there are people who are just discovering me now is great, too."
To listen to this modest summing-up of his own life, you wouldn't think this was the same bloke who sang on Ace's How Long, Squeeze's Tempted, or Mike & The Mechanics' The Living Years, Over My Shoulder and Silent Running.
It's typical of Carrack, that he just goes out there, no make-up or fancy lights, no boasting, and just delivers great concerts night after night around the world.
"I do consider myself fortunate, and when I started out I wasn't much cop!" he shrugs.
"I know plenty of good musicians who fell by the wayside for whatever reason.
"You need the right attitude to have a long career, and I have never been sniffy about doing anything. I always see things as worth doing.
"In fact, I can remember one case when we went over to Los Angeles to play live at The Grammys — we'd been nominated, but we didn't get any!
"I flew back to England and the next night I was playing at The Half Moon in Putney!
"To me, it was all a part of it, and I have never been afraid of hard work — I've never expected anything, either.
"When I started out, there was a certain attitude among musicians that you had to pay your dues."
In May, he'll be playing with one man who has certainly done that, becoming one of the greatest rock guitarists of all time, Eric Clapton.
Paul says the man known as Slowhand is a pleasure to work with.
"He is very down to earth, treats people fine, is great to the band, and he looks after you," Paul reveals.
"He's not one for telling everybody how to play."
See www.paulcarrack.net/tour-dates/ for dates of where to catch Paul on tour.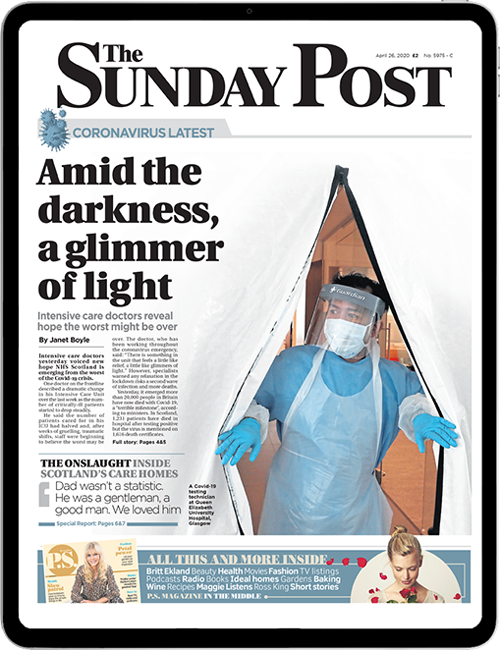 Enjoy the convenience of having The Sunday Post delivered as a digital ePaper straight to your smartphone, tablet or computer.
Subscribe for only £5.49 a month and enjoy all the benefits of the printed paper as a digital replica.
Subscribe